Three years ago, the weed sector got overheated.
In 2018 – biting the hand that fed him – Equity Guru principal Chris Parry advised – almost pleaded – investors to take profits off the table.
Some did.
Some didn't.
In 2019 we reported on a $1 billion cannabis website that didn't sell cannabis, a paper weed empire, vampire marijuana financing and toxic pot hustlers lining their own pockets.
Amidst this cocktail party of charlatans and crooks – a nerdy kid called Plus Products (PLUS.C) – sat quietly in the corner reading the Encyclopedia Britannica.
While the Nouveau-riche cannabis bosses partied with company credit cards, Plus Products put its head down, did the researching, the strategizing, eventually building products that sold like hotcakes.
On February 18, 2019 the stock was selling for $7.62/share.
It's now .47/share.
That's a 95% sale on Plus Products' stock.
If you think this company is flogging vapour, or a dream, read on – you're in for a surprise.
Plus Products's biz model is about as real as General Electric's (GE.NYSE).
On March 19, 2020, Jake Heimark, Co-founder and CEO of Plus Products, discussed the COVID-19 pandemic and recent company developments.
"We do not know how COVID-19 will affect our business," stated Heimark bluntly, "but we believe that we are well prepared to respond to this crisis."
Key messaging highlights:
Enough cash-on-hand to continue executing for all of 2020 without additional fundraising.
In 2019, PLUS was the largest brand in the largest category of the California edibles market
Plus had the two best-selling cannabis products, across all categories, in California
Plus Products is the least-bullshitty cannabis company on the planet.
And it's always been this way.
In May, 2019 Heimark spoke with Equity.Guru's Guy Bennett about his company-building philosophy.
"Plus released its unaudited financial & operational results for the three and six months ended June 30, 2019, expressed in U.S. Dollars," we wrote on September 3, 2019.
For the 5th consecutive quarter, PLUS "Uplift" was the #1 best-selling cannabis product in California in dollars sold, according to data from BDS Analytics.
Junk Research is problem in business and academia. "Approximately 10,000 bogus journals run rackets around the world," reported The Walrus, "with thousands more under investigation."
Given this, we did some digging and confirmed that BDS Analytics is a cannabis research company that publishes free articles on its website, and PLUS pays a nominal fee to acquire additional data.
BDS confirmed to Equity Guru via telephone – that is the only financial relationship between the two companies.
So – yah – Plus Products owns California – and it's got big plans for the national CBD market.
Conquering California with a brand-new product, was a real accomplishment.
"American families, on average, repeatedly buy the same 150 items," stated the Harvard Business Review, "Even Proctor & Gamble (PG.NYSE) routinely whiffs with product rollouts."
Q2, 2019 numbers vs. Q2, 2018
Revenues climbed to $3.6 million, representing a 125% growth
Gross margins improved to $700,000, or 20%, compared to $200,000, or 14%
Cash balance rose to $34.1 million, up from $22.4
The next quarter, Q3, 2019 net revenues pretty much flat-lined at $3.5 million, with a gross profit of $400,000.
In 2019, the North American Marijuana Index got chopped in half.  "Vice stocks' (alcohol, tobacco, gambling) often perform well in a recession, but the COVID-19 carnage hasn't stopped the bleeding in the weed sector.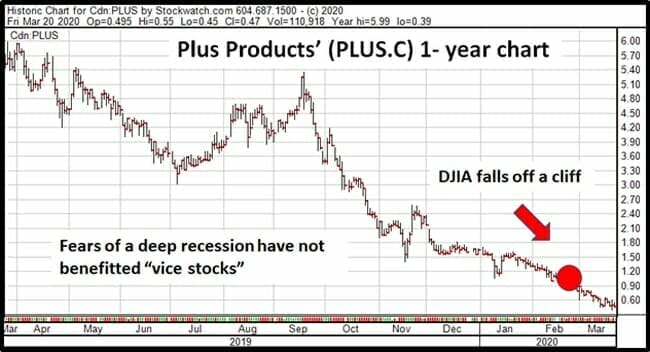 "Early in 2020, we made adjustments to our business to ensure that we are in the right position to succeed in 2020 and 2021," stated Heimark, "We believe that the current crisis will only serve to heighten the importance of these adjustments."
Plus Products' Key Financial Strategies include General Personnel Reductions: reducing its workforce by 13 full-time employees, and also Executive Salary Reduction: three executive officers have agreed to salary reductions ranging from 20% to 50%.
"If you can make it in New York," stated Frank Sinatra about wanna-be singers, "you'll make it anywhere."
For cannabis companies, California is New York.
"The California market remains disproportionately critical to becoming a global cannabis brand," confirmed Heimark, "In 2019, the state's emerging adult-use cannabis market was 38% of the global adult-use cannabis market and is expected to remain 27% of that market through 2024."
In Heimark's assessment, California's growing pains come partly from battling with "a highly active illicit market" and "an adolescent supply chain".
"We intend to build a strong portfolio of edibles brands, leveraging our core capabilities in markets where we have established distribution channels and a dedicated customer base," stated Heimark.
Plus Products now has a market cap of $20 million – which is roughly double it's yearly revenue and less than the cash they had on hand at last reported financials.
Full Disclosure: Plus Products is an Equity Guru marketing client.