On August 30, 2019 Plus Products (PLUS.C) released its unaudited financial & operational results for the three and six months ended June 30, 2019, expressed in U.S. Dollars.
Today, Tuesday September 3, 2019, by mid-morning, PLUS stock is up 3%.

Plus Products' Q2, 2019 revenues increased 125% Over Q2 2018 to $3.6 Million.  The company's cash balance rose to $34.1 million at June 30, 2019, up from $22.4 million at the end of 2018.  Losses for the last 6 months are about $7.6 million.
PLUS – all of 12 months old – gets a big, fat, shiny gold star for product development and market penetration.
For the 5th consecutive quarter, PLUS "Uplift" was the #1 best-selling cannabis product in California in dollars sold, according to data from BDS Analytics.
This is no small trick.
New company, new brand, new product.
"American families, on average, repeatedly buy the same 150 items," stated the Harvard Business Review, "Even Proctor & Gamble (PG.NYSE) routinely whiffs with product rollouts."
Despite the street-level dog fight for retail shelf space, California weed shops welcomed PLUS's new offerings, including "Classic Mint" a blend of peppermint and sweet spearmint containing 2.5mg of THC "for light elevation".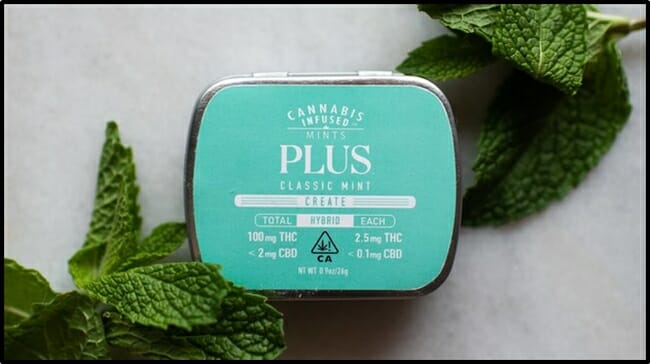 "PLUS is actively exploring entry into additional markets beyond California and Nevada," confirmed Plus CEO Jake Heimark, "We see this as a key growth lever as we work to build a national brand."
This summer, cannabis investment sentiment has soured.  Some burned investors have wondered if the problem with the weed business is that it is, after all, a weed.  Seed, soil, sun – a dash of water – and off you go.  Unlike Oxycontin or single-malt scotch, you don't need a laboratory or a distillery to manufacture cannabis.
But let's not throw the baby out with the bathwater.
Plus Products is not an agriculture company. It is a THC and CBD food company.
Q2, 2019 numbers vs. Q2, 2018
Revenues climbed to $3.6 million, representing a 125% growth
Gross margins improved to $700,000, or 20%, compared to $200,000, or 14%
Cash balance rose to $34.1 million, up from $22.4
Spending on operating expenses was $5.3 million, up from $1.3 million.
The biggest operating expense increase was in the "General and Administrative" (G&A) category.  This is not part of the cost-of-sales. Rapid expansion of labour force will typically cause G&A to swell.  This line item can often be trimmed through technological innovation or company-wide austerity measures.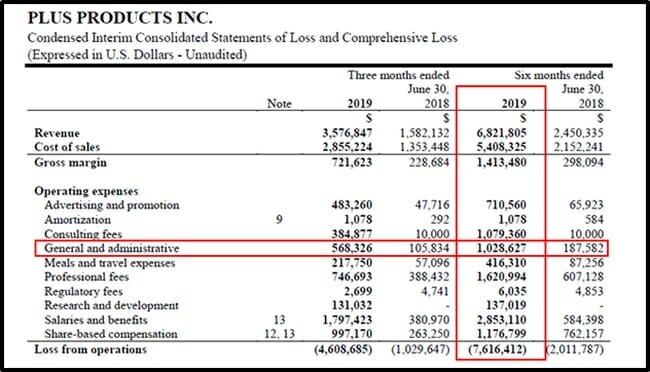 Plus raised $23.68 million from the sale of convertible debentures and as a result of warrant exercises in the first six months of 2019. Net working capital was $38 million in Q2 2019.
Six weeks ago, Plus launched its first California-wide marketing campaign with billboards and other out-of-home (OOH) media secured in highly trafficked areas across San Francisco, Los Angeles and San Diego.
OOH advertising typically includes signage on public benches, bus shelters, airports, stadiums, streets and inside stores.  Although traditional OOH cannot currently target in the same way that a Google ad can, it has two advantages:
you can't tune it out with an Ad-blocker
you can control the environment it's viewed in.
In 2018, the total global OOH spend was about $28 billion.
Q2, 2019 Operational Update:
Launched PLUS Mints, the Company's second product line in California
Launched new "Mango CBD Relief" product
Announced expansion into Nevada with partner with TapRoot Holdings
Top selling gummies targeted in Nevada dispensaries in the second half of 2019.
Marc Seguin, former president and CMO of Popchips is now Chief Revenue Officer
Jon Paul, a veteran senior corporate finance executive is CFO
Acquired an option to purchase California-based Emerald Bay Wellness LLC, one of the Company's largest suppliers of cannabis oil
Upgraded to OTCQX® Best Market from the OTCQB® Venture Market
"The launch of our new line of mints drove strong demand for our products this quarter, cementing our position as a top selling cannabis brand in California," stated Heimark who recently spoke with Equity.Guru's Guy Bennett about the vital importance of dosing and why his 60 California factory workers have the best job security in America.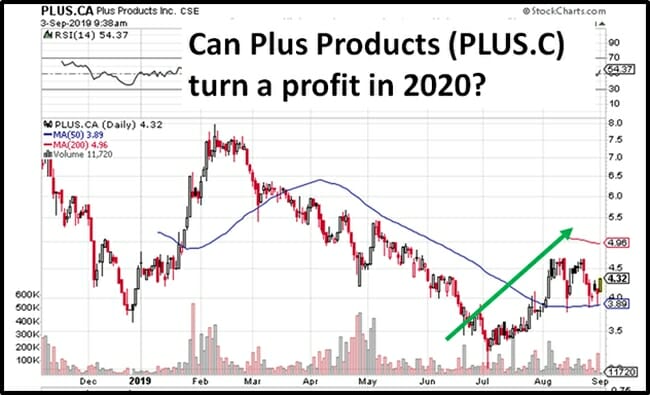 Since July 1, 2019, the North American Marijuana Index has fallen 25% while Plus Products has gone up 25%.
Why?
Because most cannabis stories amount to, "We're going to do this".
Plus Products also has a forward-facing narrative.
PLUS Mints line into more California dispensaries
Initiating sales of gummies in Nevada
Sales and marketing campaign in both states
Launching new SKUs.
But, unlike most cannabis companies, they can also look back – with some pride – and say, "We've already done this."
"We worked with experienced market researchers to find out why people use cannabis, then translated those findings into an easy-to-use system of cannabis," stated Heimark, "We are excited to help our customers Uplift their experiences, bring Balance to their everyday, and Unwind without getting unwound."
Heimark isn't just trying to drag black-market consumers to the legal market, he's targeting virgin consumers who may not have tried cannabis.  Converting those potential consumers is a process that currently entails friction.  Heimark is trying to remove the friction.

"The problem with a troublesome company like Canopy (WEED.T) being seen as a bellwether is, it lead many to wonder, 'If they can't make a profit, who can?' – Chris Parry – August 28, 2019.
With a best-selling product in the world's biggest (and most competitive) cannabis market, Plus Products could be the answer that riddle.
– Lukas Kane
Full Disclosure:  Plus Products is an Equity Guru marketing client.