Plus Products (PLUS.C) is partnering with Eaze Technologies to launch a co-branded, limited-edition cannabis gummy.
"We are ecstatic to be able to launch a product with Eaze…Not only is Eaze one of the largest cannabis delivery marketplaces in California, but, like PLUS, Eaze came from humble beginnings in the Bay Area before growing into a staple of the California cannabis market. We look forward to leveraging our best-in-class gummy manufacturing experience to work with a company so deeply embedded in the California cannabis marketplace," stated Jake Heimark, Co-founder and CEO of PLUS.
As Mr. Heimark states, Eaze is indeed one of California's largest delivery marketplaces for legal cannabis. However, a little over a year ago Eaze was in dire straits struggling to stay afloat as it was hemorrhaging money. In an attempt to transition into an independent company by supplying its own cannabis, Eaze faced plenty of hardships including having to layoff numerous employees to cut costs. Through various rounds of fundraising, Eaze was eventually able to establish itself as its own retailer and distributor. Prior to this, the company relied on third parties to supply the cannabis Eaze delivered.
Similarly, PLUS announced on February 16, 2021, that it would be executing a strategic shift to expand its sales team, internalize all account management, and transition to a self-service distribution partner in the California adult-use market. Sound familiar? Like Eaze, PLUS originally relied on its partnerships with full-service distributors, relying on a sales team consisting of internal and external personnel. However, with the Company's recent shift, every order through the Company will be completed by a PLUS member. Additionally, PLUS was able to expand its team by over 50% since the start of Q4 2020.
"PLUS is one of Eaze's oldest partners, and the brand is synonymous with innovation and product quality…For our initial CIRCLES edible product, we've taken our most popular vape flavor and worked with PLUS to recreate that experience in gummy form," said Rogelio Choy, CEO of Eaze.
PLUS' partnership with Eaze is a powerful collaboration between two California based companies looking to make a mark on the cannabis scene. Eaze has completed over 7 million deliveries in the California marketplace whereas PLUS has sold over 100 million cannabis gummies. In collaboration, Eaze and PLUS will be releasing the CIRCLES X PLUS gummy, Eaze's first edible product. The limited-edition gummy will be a Pink Lemonade flavored hybrid blend containing 5mg of THC per gummy. Overall, Eaze and PLUS have been partners in crime for some time. Plus has consecutively been the top-selling edibles brand on Eaze for the last three years and boasted two of the platform's top 5 best-selling SKUs across all categories in 2020.
PLUS has seem some pretty impressive growth following the end of 2020. On February 17, 2021, the Company's stock price reached a year high of $1.45 significantly overshadowing any of its previous highs. This can be attributed to PLUS' successful transition into a self-service distribution partner and overall success of the Company's cannabis products. If you're curious about PLUS, the Company will be releasing its Q4 2020 and full year results on April 7, 2021.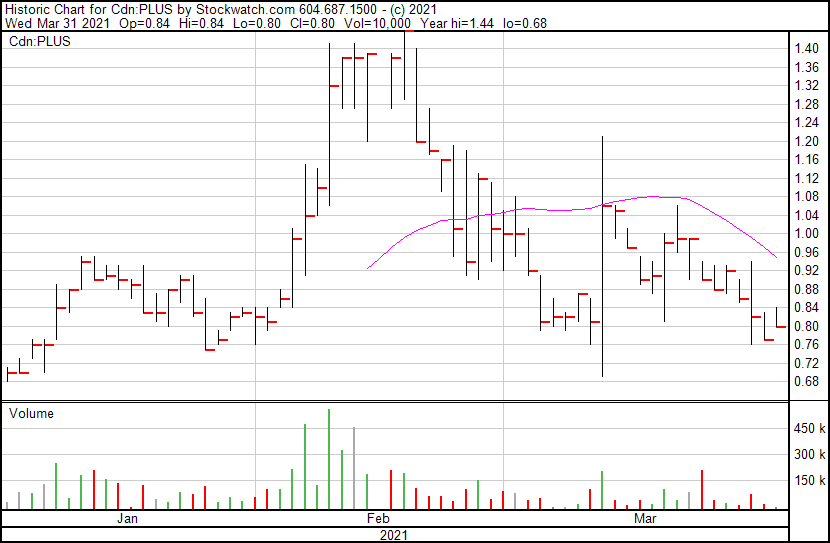 PLUS' stock price opened at $0.84 today, up from a previous close of $0.77. The Company's stock quickly rose to a high of $0.84 following the news and currently remains at $0.84.