Last year, before the exuberance for cannabis stocks soured, a video taken Aphria's (APHA.T) expansive but still unfinished Double Diamond facility produced a strangely synthetic moment: A member of The Cannalysts running through endless rows of hydroponic equipment, jubilant and laughing both at the facility's enormity and, presumably, the thought of what was soon to come.
After much, much ado, Aphria's strategic relationship with Double Diamond Farms in Leamington has been licensed by Health Canada, bringing "an additional 1,300,000 square feet of production space with an annual growing capacity of 140,000kg."
Aphria Inc. Doubles Production Capacity After Receiving Cultivation Licence For Aphria Diamond: https://t.co/PTIgX2dfHz $APHA pic.twitter.com/h7cWAq2hxj

— aphria inc. (@aphriainc) November 4, 2019
The Aphria Diamond is a 51%-owned subsidiary of Aphria proper, formed in conjunction with Double Diamond, a company with 40 years of hydroponic vegetable growing experience.
"Reaching industry-leading production levels coinciding with the expansion into new categories and new opportunities for cannabis in Canada and around the world is a transformative moment for Aphria Inc."
Similar to Village Farms' (VFF.T) partnership with Emerald Health Therapeutics EMH.V), Aphria seemingly aims to partner with an established vegetable cultivator to lower production costs, but the market doesn't seem interested in Aphria's announcement.
As of the time of this writing, Aphria is up only 1% off substantial volume.
Long awaited $APHA Double Diamond licensing turning into a 'sell the news' event! #PotStocks pic.twitter.com/BGBDx0HsC2

— Betting Bruiser (@BettingBruiser) November 4, 2019
Conversely, CannTrust (TRST.T) is up 7% off no news, leaving one to wonder what Aphria has to do to catch a break.
The company has access to the lucrative German cannabis market which Marijuana Business Daily says is on-track to import 3,000 kilograms of cannabis in 2019, and now has 2.4 million square feet of cultivation space to it's credit, putting it in the same weight class as major cultivators like Canopy Growth (WEED.T).
The company has nearly $450M in the bank, and is the third-largest Canadian LP. By all accounts, the company; stock should be trending upwards.
Narrator: But it was not.
Firstly, it's worth noting that the Marijuana Business Daily article above said Germany, the much-ballyhoo'ed export market, was on-target to to import roughly the same amount of cannabis in 2020 as it did in 2019: 3,000 kg.
Besides the implication of saturation abroad, the article also cites a concerning statistic: 37% of medical cannabis patients interrupted their treatment within one year, 45% of whom did so because of  a lack of effectiveness.
Nearly 70% of German patients were prescribed cannabis to treat pain, and MJBizDaily said nearly two-thirds of these patients were prescribed Dronabinol, a synthetic form of THC.
Only 21% of German medical can =nabis patients, seeking an respite from pain, were prescribed dried flower.
Next, below is a graph provided by Health Canada regarding total inventories and sales for dried cannabis. Sales of cannabis have largely stagnated while inventories, especially unfinished inventory, has skyrocketed.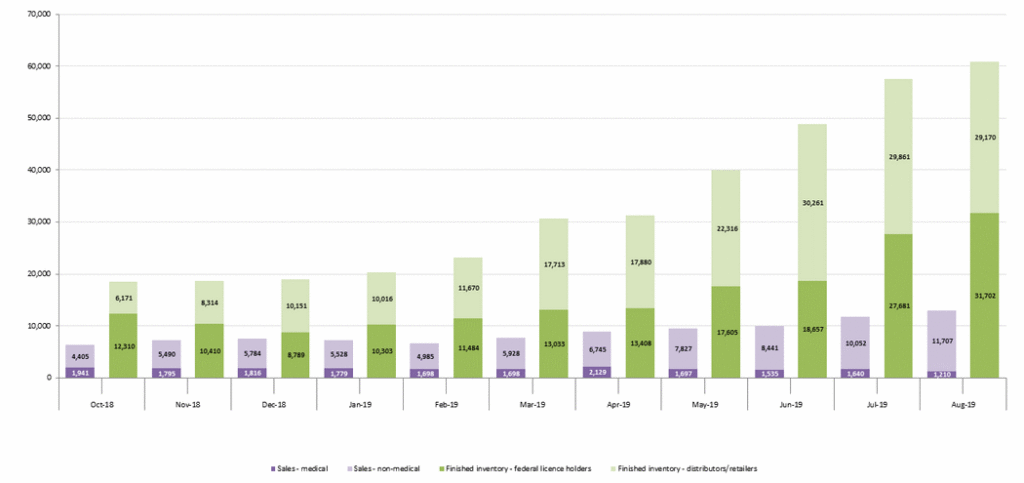 It is not surprising that announcements regarding increased production capacity are no longer moving the needle for companies trading so many times revenue–valued at $1.7B, Aphria recorded $126M in net revenue for the quarter ended Aug. 31, 2019.
Lastly, the company's enormous war chest is due in large part to a USD$300M convertible debenture closed April 23, 2019.
The debenture is due in 2024 and is convertible at a price of USD$9.38. Aphria is currently trading at CAD$6.84.
Although the company has plenty of time to recover, a largely-disappointing cannabis sector does not engender the same optimist it once did, leaving some bagholders to wonder if the sector will ever reach its 2018 peaks again.
–Ethan Reyes