I must admit that I DID play the Cannabis mania a few years ago. Back then, the bullish factor was all looking to the legalization in Canada. Legalization brought one problem to the space: brought prices down for weed. Marijuana was more pricier when it was illegal, as most things tend to be. However, with the market mania in equities, it is time to look at undervalued sectors. Cannabis fits the bill.
In my posts regarding Gold and the junior miners, I do believe there will be an upcoming mania as the retail crowd chases when the time comes. That mania is coming closer and closer. With blue chips and other sectors rising in this crazy macro environment, things such as commodities, energy, cannabis etc all can be seen as cheap, and will attract money flows to pick up these bargains. The thinking will be: "everything is going up, this sector is lagging". What I am personally interested in, is how much new money can Cannabis attract. I have friends who traded the crypto markets. They got smashed and are now bag holders, awaiting for the price to recover before exiting at break even, or for a tiny amount of profits. The whole experience was not great for the novice trader/investor. A lot of them do not want to deploy anymore money in the crypto sphere after being burned. The same can be said about Cannabis.
I think the path going forward will not be in speculation, but investing in Cannabis companies that are making profits and/or are part of the growing process.
You all know that I am a chart guy. I have used my same market structure approach to trade all types of markets, and even use the same approach for my longer term investments. I have found a few Cannabis charts which have caught my attention.
First thing is first, the trigger for the double digit moves in Cannabis was the Vice President debate last week. Kamala Harris said that the Biden https://e4njohordzs.exactdn.com/wp-content/uploads/2021/10/tnw8sVO3j-2.pngistration would decriminalize Marijuana. Some unbelievable price gains. Currently, the stock markets are pricing in a Democratic victory. If this remains, the Cannabis stocks will see a nice amount of bids. You can already see them being featured a day after the election under the headline, "what stocks to buy under a Biden Presidency"
Harborside (HBOR.CN) is the type of chart that I drool over. Markets move in three ways: uptrend, range, downtrend. My job as a trader/investor is to find when one trend is exhausting, which then increases the probability that a new trend in the opposite direction is about to begin. The range, or a bottoming pattern is a key element for this. As you can see, Harborside was in a long downtrend, but then price began to range between 0.25-0.87. But there is another pattern in the chart which stands out. I am talking about the inverse head and shoulders pattern. The right shoulder led to a breakout on the back of earnings. That was the breakout trigger, and we have continued higher. Remember, as long as we remain above the breakout zone, price will remain in an uptrend. You can also see from the chart that we did indeed pullback to retest the breakout zone, which did see a nice flux of buyers step in to defend the zone.
Going forward, there is a major resistance zone (price ceiling) approaching at 1.75. It will be a zone where some people will take profits, so we want to see whether the buyers will step in to continue the uptrend. For this, the fundamentals and the value the company brings is important.
Enter Lukas Kane. Lukas covered Harborside recently, and his full article can be read here.
Harborside's Q2 earnings came in at:
2020 net retail revenue of $10.9 million and net wholesale revenue of approximately $5.2 million, for total gross revenue of $16.1 million in Q2 2020, compared to $12.5 million in Q2 2019, a 28.8% increase year-over-year.

The 142% year-over-year increase in wholesale revenues was driven by improved harvest yields and higher average prices per pound at HBOR's Salinas Farm.

Last quarter's gross revenue was 73% of the company's current market cap.
In terms of an upcoming earnings play, and a similar chart set up…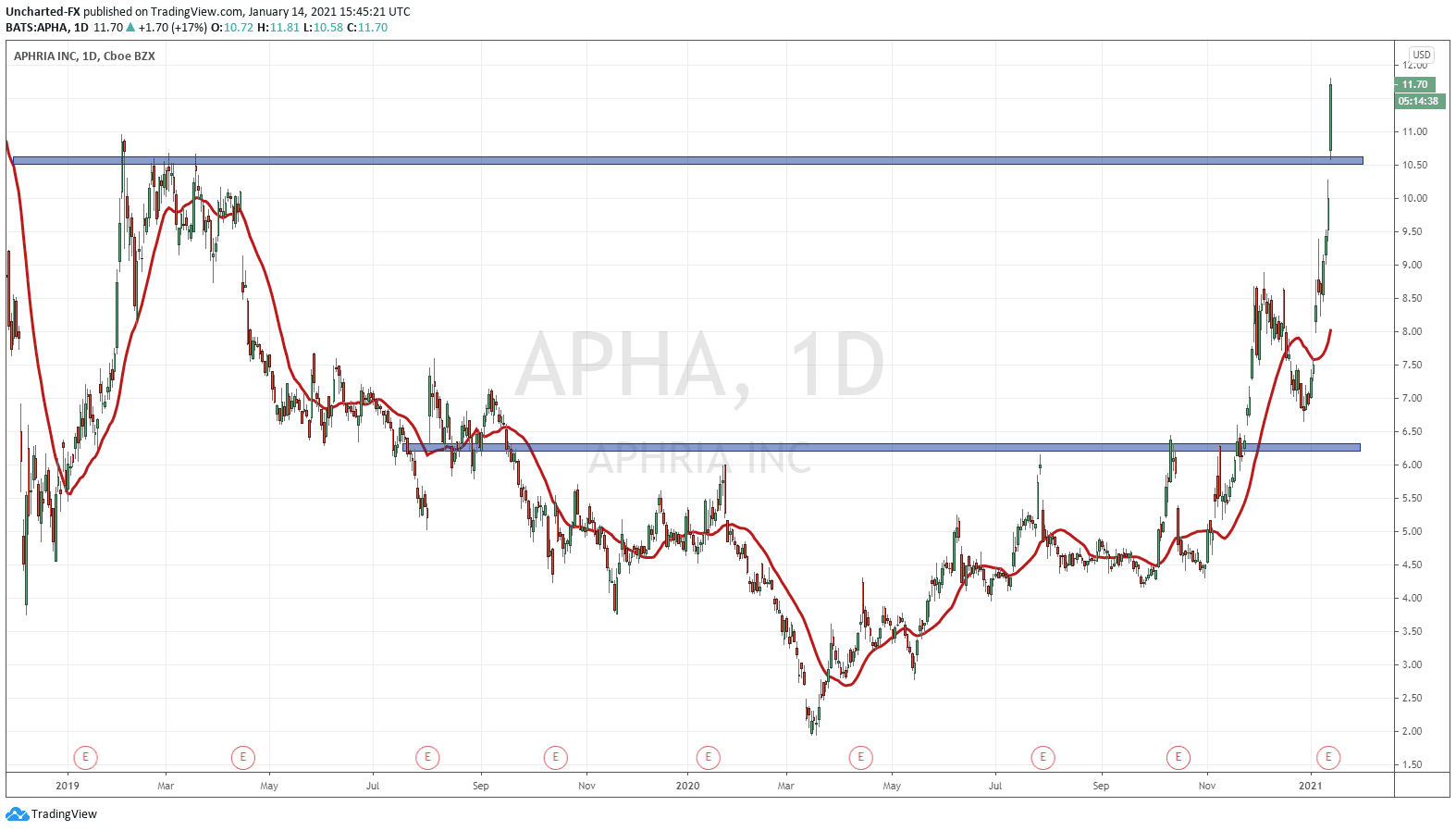 Aphria Inc (APHA) will be reporting earnings tomorrow, and though I cannot guess what the earnings will come out as, nor can I guess how price will react to those earnings, we can look at the chart for some signs of market structure.
What should stand out is the inverse head and shoulders pattern, very similar to that of Harborside. Currently, we are testing the neckline, or the resistance zone (price ceiling) of the pattern. The trigger will be a breakout, meaning a candle close above the neckline. Tomorrow's earnings can be that trigger for an entry. Alternatively, price initially sells off on earnings release, but then breaks above the neckline once they are digested… or money still chases cannabis due to the chances of a Biden Presidency.
The key here is to await the triggers of the patterns. I think there are some really nice Cannabis charts out there right now, and they do deserve your attention. The possibility of a second mania is real, whether that comes from the catalyst trigger of a new https://e4njohordzs.exactdn.com/wp-content/uploads/2021/10/tnw8sVO3j-2.pngistration in the US, or from traders chasing cheap and undervalued sectors.
Full Disclosure: Harborside is an Equity Guru Marketing Client.