It has been awhile since I talked about the cannabis stocks and sector. Marijuana stocks have been popping ever since Joe Biden won the election in November. Frontrunning the federal legalization in the US. This reality became more clear as the Democrats flipped the Senate last week (A 50-50 split with the Vice President getting the deciding vote).
I previously covered the charts of these companies and ETF either before they broke out, or when they were in the process of breaking out. In the case of the latter, the stock was in an uptrend and we should have expected more higher low swings heading to the upside. Let's take a look at the charts and where we can go from here.
Aphria (APHA.TO) is the marijuana stock on fire today due to reporting a surprising profit and revenue that beat expectations.
The Leamington, Ont.-based company said it made $160.5 million in revenue, a 33-per-cent increase from the same period a year earlier. The company also posted $12.6 million in adjusted earnings before interest, taxes, depreciation, and amortization (EBITDA), marking a sizeable increase from the $1.9 million reported last year.

Aphria reported a net loss of $120.6 million in the second quarter, which it attributed to rising general costs, an increase in share-based compensation, as well as expenses related to its acquisition of U.S. craft brewer Sweetwater Brewing Co. in November.

Analysts polled by Bloomberg expected Aphria to report about $153 million in revenue and $11.4 million in EBITDA.

Aphria's sales were largely led by its European pharmaceutical distribution business, in addition to its Canadian cannabis operations, which saw a seventh-straight quarter of increasing sales. The company said its average sale price for cannabis edged higher to $4.29 per gram in the quarter, from $4.15 per gram in the prior quarter. That increase is notable, given the influx of other competitors in the crowded Canadian market.
The stock is soaring with a gain of over 16% at time of writing.
On the technical front, Aphria was on our radar way back in October, where I shared the inverse head and shoulders reversal pattern. The breakout occurred a few weeks later in November, and we have been in an uptrend ever since. There was a resistance zone here at the 10.50 zone which we were testing pre earnings. But we have penetrated through this level on the upbeat report. 10.50 is now our new support (price floor) going forward. We would like to see price hold this, but technically, the uptrend remains as long as we stay above 8.50.
Taking a look at other targets above: 17.00 and then previous all time highs around 22.00-23.00.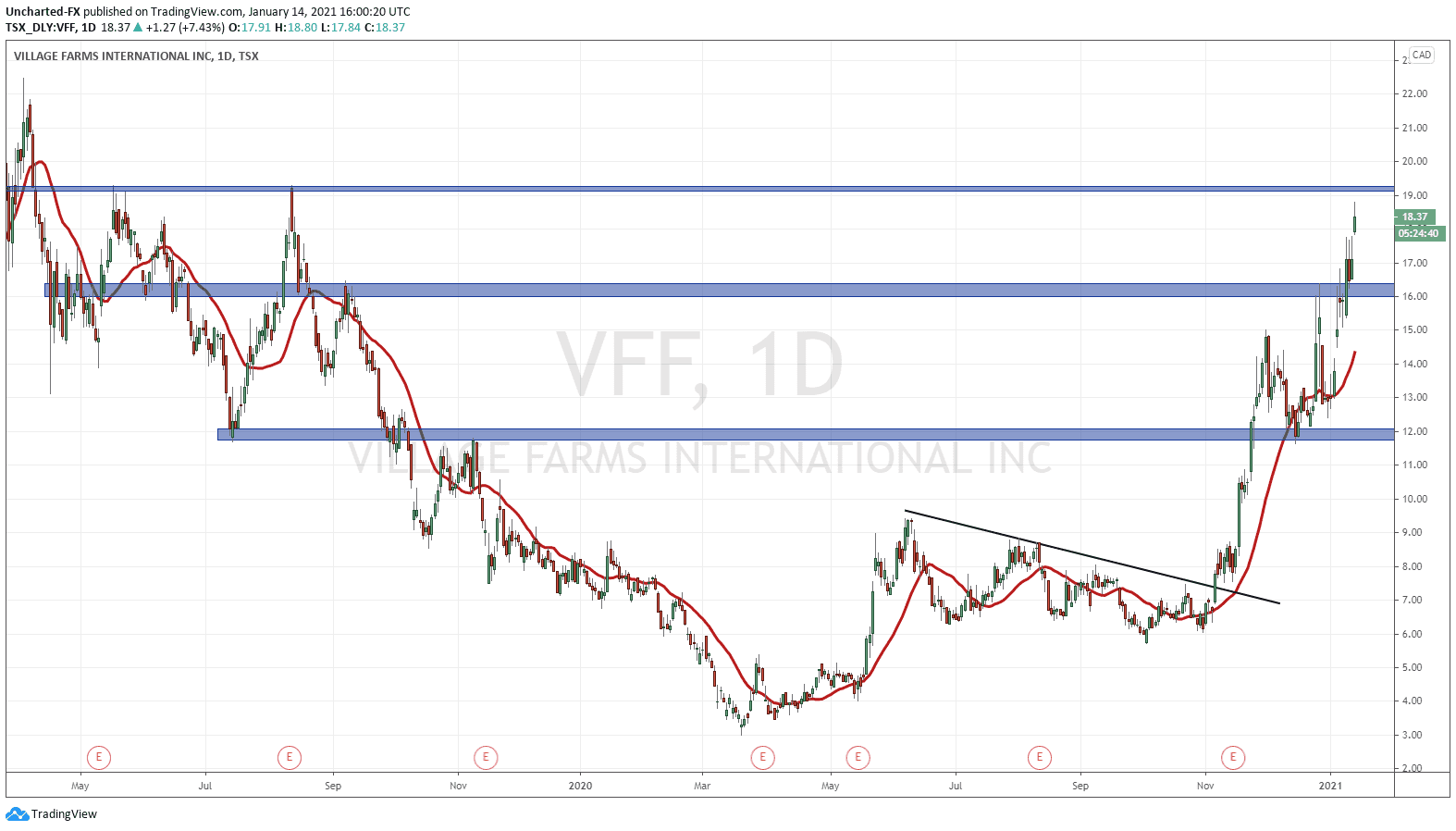 Village Farms (VFF.TO) has been one of the biggest winners for us, and for our Discord Trading Room members. We called this on the breakout back in November. A beautiful trendline break and Village Farms hasn't looked back ever since. 12.00 was our first major resistance zone which we took out easily. Price then pulled back to retest before continuing higher. Again, a very key component in trading that I mention in all of my posts. Price tends to pullback to retest the previous breakout or breakdown zone.
16.00 was our next resistance zone, and after a few days of resistance, we finally broke through. Once again, price pulled back to retest which saw buyers step in. Our Discord members were made aware of this just a few days back. 19.00 is our next resistance zone and we likely hit it today or tomorrow. If not, then very soon. Once we take this out, the next target would be previous record highs above 23.00. Can we make new highs? I think so given the fundamentals of this sector with the US catalyst, and also the fundamentals of Village Farms itself. I have told this story before, but I bought shares of Village Farms when it was under a dollar many years ago. My readers know that I am big on agriculture, back then I was more interested in the cucumbers and other produce rather than the cannabis. Village Farms is predominately a cannabis play, but I still like the agriculture component to it.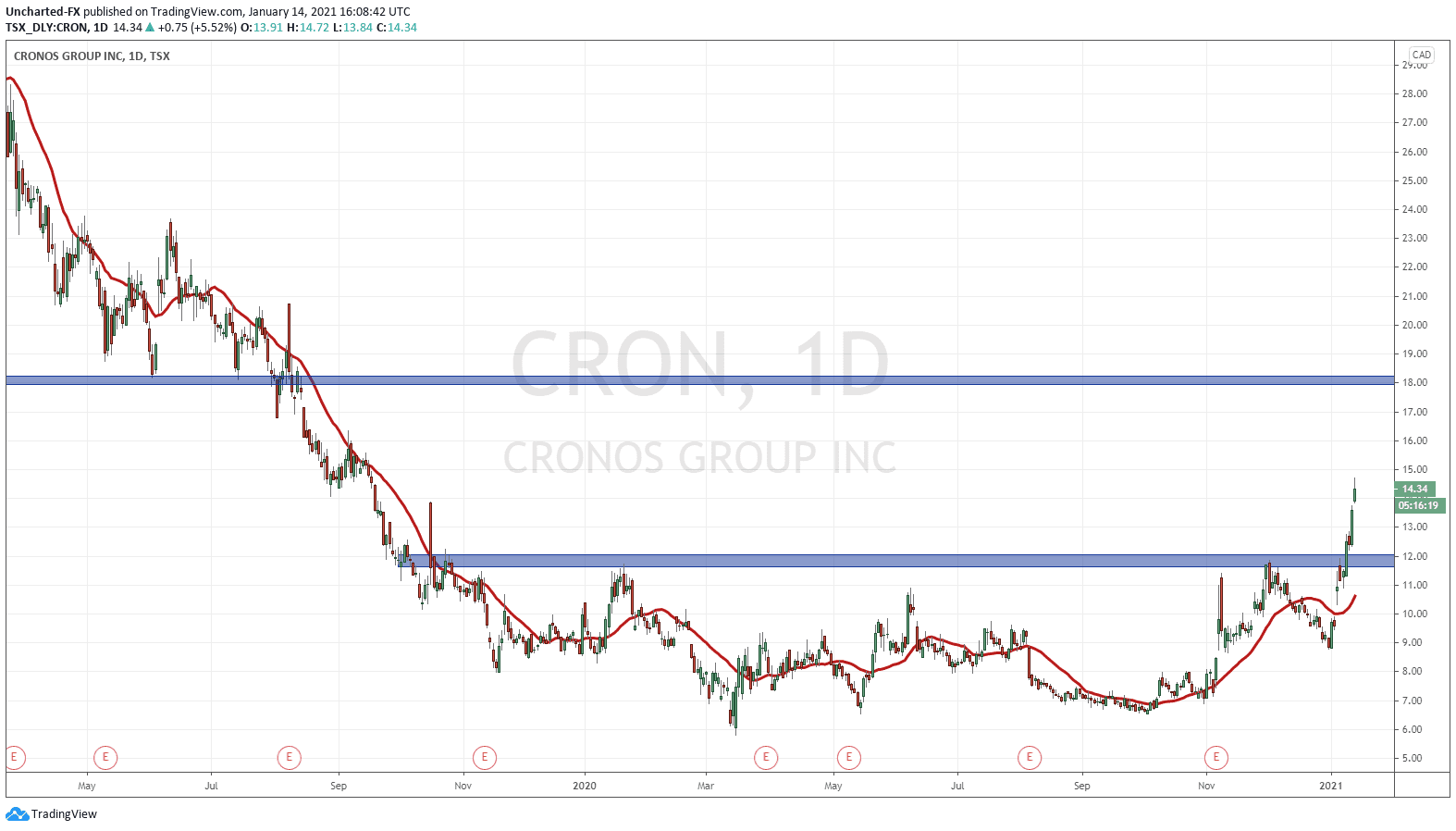 Cronos group is the most recent breakout, and a chart we have been scoping since November. I have spoken with people more knowledgeable about the cannabis sector, and what I keep hearing from them is consolidation. That big companies will buy out the smaller companies. Cronos Group comes to mind since they have a cash position of close to 1 Billion dollars.
On the technical side, we have just entered a new uptrend three days ago. We have been waiting for the breakout patiently, and we have been rewarded for it. 12.00 was the breakout level and since price confirmed this, price has run. Lot of room to the upside. 18.00 is the next target zone. As long as we remain above 12.00, the uptrend remains. Any pullbacks to 12.00 would see me buying shares.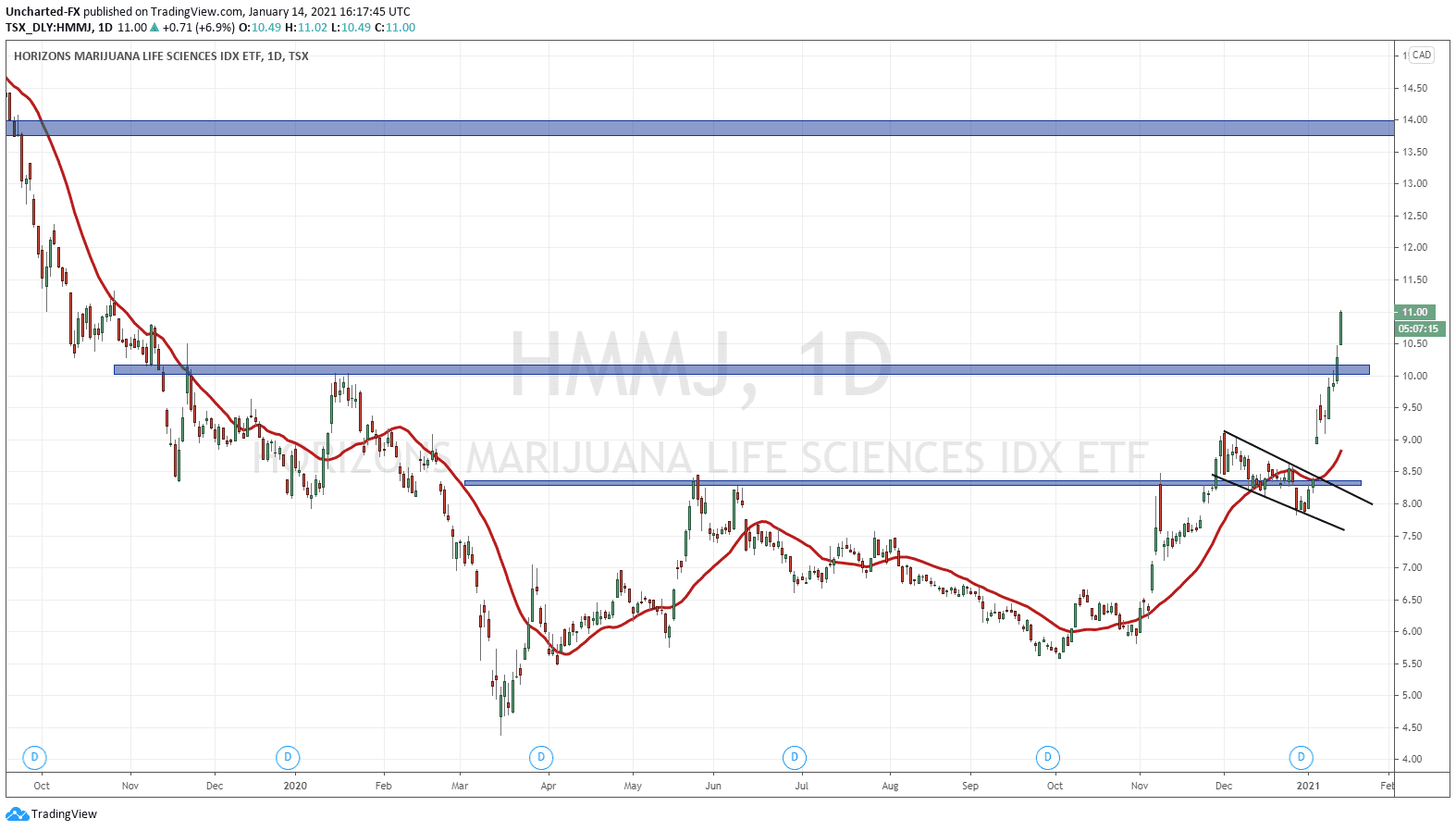 I want to end off with the Horizons Marijuana ETF traded on the Canadian markets with the ticker HMMJ. I covered this in December. We were watching the breakout above the 8.50 zone. We got it but the momentum did not continue. Instead, we broke back below the breakout zone, and it was a worrying sign. It seems investors did not like the fact that HMMJ's dividends were cut.
However, price began to form a flag pattern, and gapped up very strongly. Incredible actually. In no time, we were knocking on 10.00. Easily broken and going forward, this is our major support. I expect pullbacks to be bought and defended by the bulls. The next resistance zone comes in at 14.00.
In summary, massive moves in the cannabis stocks. The reversal patterns we saw a few months ago pointed to this. Remember, nothing moves in a straight line. Stock prices move in cycles: uptrend, range and downtrend. Our job is to look for the reversals and join in on the new trend. Fundamentals are important, and we have a large one with the US and the Democrats promise of legalizing cannabis on the Federal level. Technicals look good and the fundamentals do as well. We ride this wave.