Have you all seen the action in the Cannabis stocks?
It seemed that the WallStreetBets retail crowd short squeeze triggered trades were over. Gamestop, AMC Holdings, Nokia, Blackberry and a few others got clapped. Analysts saying that in the end, the fundamentals of those companies were the reason why these stocks sold off and returned to 'normal' values. Then Elon Musk, or Papa Musk, began tweeting about Dogecoin. Separate from WallStreetBets as one of the rules on the reddit forum is no crypto talk, but Musk was tweeting about Gamestop, and the WallStreetBets crowd took notice… and let's be honest, probably follow him on Twitter as well.
Things seemed to calm down…until this week.
As you can see, the most discussed tickers over on WallStreet were Sundial (SNDL), Tilray (TLRY) and Aphria (APHA).
As CNBC reports, part of the discussion over on WallStreetBets is focused on the pending merger between Tilray and Aphria. The YTD gains look like this:
Shares of Tilray soared 50%, bringing the stock's year-to-date gain to more than 670%. Canopy Growth rose 6%, adding to its 110% rally in 2021. Aphria popped 10%, adding to its 280% gain this year. Aurora Cannabis rose 20%, bringing its year-to-date rise to more than 120%.
Above is the performance of these Cannabis stocks at time of writing Thursday morning. A pretty decent sized pullback on them all expect Sundial Growers.
A lot has been said about the US Cannabis stocks versus the Canadian stocks. On the US side, the fundamental catalyst has been the legalization of Cannabis on a Federal level. This was confirmed at the beginning of February 2021 when Senate Democrats said they would pursue and prioritize "comprehensive cannabis reform legislation" in the current session.
Excellent. We have a fundamental reason for US MSO's to be spiking, and they have. Trulieve, Curaleaf, Cresco Labs, and Green Thumb have all broken out and are making new record highs. Here is the kicker: they are traded on the OTC exchange in America…and from what I have heard, Robinhood does not allow OTC exchange trades.
What about Canadian Cannabis stocks? Why are they ripping? They will not necessarily benefit from US legislation.
In fact, an analyst had this to say:
"We believe the rally in Canadian names is mostly driven by retail investors, maybe fueled by Robinhood and Reddit, that's really piling into the Canadian cannabis names in particular," Pablo Zuanic, an analyst at Cantor Fitzgerald, told CNBC. "I'm not going to say it's a GameStop type of case but the Canadian rally is not entirely based on fundamentals. But when we talk to clients we tell them careful trying to short these Canadian names because you know what happened with GameStop on the way up."
My readers know that I am mainly a technical trader. Sure the fundamentals do matter, but I believe that much of the upcoming fundamentals have already been priced in, and we can see money flows pricing this in by looking at the charts. Specifically my market structure method of trading charts. In summary, nothing moves up or down forever, but rather in market cycles.
Cannabis has given us these signals way before the WallStreetBets guys were jumping in. All we had to do was to look for good chart patterns, and then the eventual breakout. Our job is then to ride the waves.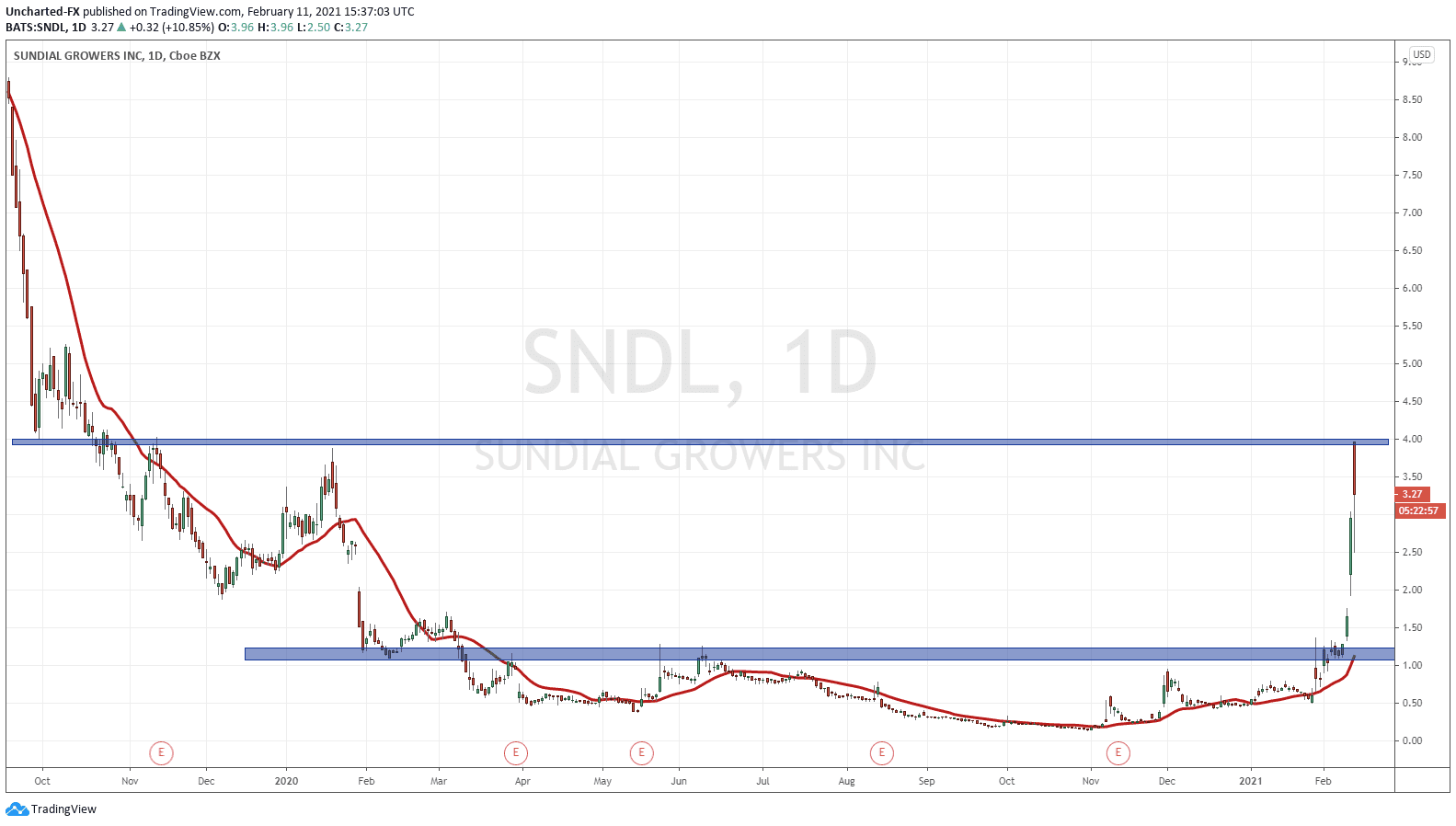 Sundial (SNDL) was a great example. This Cannabis company is one we have been watching since last month over on Equity Guru's Trading Discord Channel (link to join is at the top of our home page in the social media icon section).
We been watching this long basing, and just waited for the breakout which occurred Monday. As you can see, Sundial has hit our first target at the $4.00 resistance zone.
Plus Products (PLUS) is another Cannabis play we took, and I did do an initial write up on them this week on Market Moment. A nice popper on the breakout.
Members of our Trading Room also played the Cannabis ETF HMMJ, Village Farms (VFF), Aphria, Cronos Group (CRON) just to name a few. All because of great technicals.
All these stocks met Equity Guru's Breakout Criteria and you can read the original analysis from November 2020 here and from January 2021 here. Focus on the technicals. Look at how those charts look and notice the similarities. That is all we do. Rinse and repeat and make some dough. Our Market Structure strategy works for charts in any sector and for all asset classes.
Going forward, the real play to benefit from the Democrat Cannabis legalization will be the US MSO's, which can also be bought on the Canadian exchange. The excitement on the US side is that these stocks get bumped up from the OTC exchange.
Because most investors and traders are chasing yield, and we have a lot of new retail trader money. Need evidence? The US Russell 2000 (small cap index) is making record highs and in many days recently, has remained strong even when the larger indices are selling off. Retail money is here to stay. The chase for yield continues.
In terms of the Canadian Cannabis companies seeing large pop, it really is a sympathy play BUT it just confirms my theory on money chasing yield as the real economy deteriorates further. There is nowhere to go for yield except into stocks (some would argue crypto's too). Anything that looks cheap and undervalued will be chased, especially with the Reddit influence.
In this aspect, we know this is the fundamental backdrop of this market environment, and continue to play nice charts, and are taking our profits as we move higher and hit major resistance zones. As many analysts have said, the rise in Canadian Cannabis stocks are not met with corresponding fundamentals.
Just taking a look at what occurred in the aftermath of the WallStreetBets targeted stocks like Gamestop and AMC…just be cautious and remember to take profits. Even if that is closing half your position so you can then ride the rest risk free.