Vejii Holdings Ltd.
$6.43M Market Capitalization
Vejii Holdings Ltd. (VEJI.C) is a unified marketplace and fulfillment platform featuring more than 3,500 plant-based and sustainable living products and over 500 brands. The Company's platform offers an easy-to-use, omnichannel experience for both buyers and vendors, leveraging big data and Artificial Intelligence (AI). In doing so, Vejii is able to connect brands with targeted consumer bases through organic and specialized marketing programs.
To be more specific, Vejii runs a brand and product agnostic marketplace that allows the Company to onboard vendors at a rapid rate. This allows Vejii to expand into new and growing product categories. The Company's current product categories include grocery, nutrition, vitamins, supplements, personal care, baby & kids, and vegan wine. However, the Company intends to add home & garden, sustainable fashion, sustainable furniture, and sports & recreation products to its offering in the future.
Business Model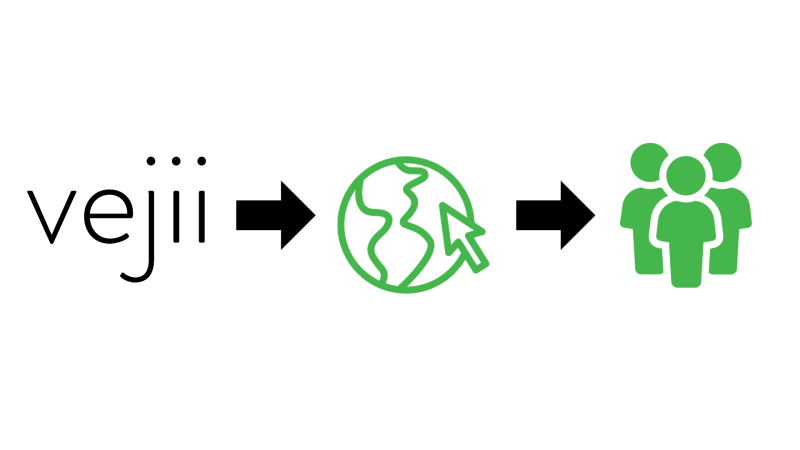 As reference previously, Vejii exists in both the B2C and B2B space. Regarding the Company's B2C model, Vejii has created a tailored eCommerce shopping experience powered by AI. By utilizing AI, Vejii is able to enhance user engagement, streamline inventory and purchasing, and ensure the effective use of capital on high-velocity items.
Speaking of which, Vejii also offers Vejii Express, whereby customers can receive localized and same-day delivery on high-velocity SKUs. All orders are picked, packed, and fulfilled by Vejii, reducing the Company's overall carbon footprint from shipping and materials.
In addition to its approximately 30,000 active user accounts, Vejii generates revenue from onboarding vendors. Vendors have access to the Company's vendor dashboard, which provides vendors with live product performance tracking and metrics. To date, Vejii has onboarded over 100 independent vendors fulfilling direct or through a partnership with Vejii Fulfillment Services (VFS), a model in which Vejii's brand partners are able to send their products to the Company's warehouses.
In doing so, vendors are also able to take advantage of Vejii's pre-established distribution network. Vendors provide their products on consignment, which are then picked, packed, and shipped by Vejii. For context, consignment refers to an arrangement in which goods are left in the possession of an authorized third party, in this case, Vejii, to sell. Here's a look at Vejii's current vendor fee structure:
Current Fee Structure:
< $1 million of annual sales = 10% of revenue
< $2.5 million of annual sales = 12.5% of revenue
> $2.5 million of annual sales = 15% of revenue
In addition to ShopVejii.com, on November 5, 2021, Vejii announced it had completed the acquisition of Veg Essentials LLC., which operates VeganEssentials.com, one of the largest vegan marketplaces in the United States (US). With this in mind, Vejii now has two successful B2C platforms under its belt.
Moreover, Veg Essential will provide Vejii will access to a second strategically located warehouse in the US and 20 years of consumer insight, data, and buying power. In terms of numbers, Vegan Essentials brought over $3.5 million of revenue, $780,000 in gross profits, a customer email list of over 110,000, and over 1,500 products to Vejii.
March Madness
On March 28, 2022, Vejii announced that it has signed a distribution and marketing agreement with VFC Foods Ltd. According to the terms of the agreement, the Company will purchase, market, and promote VFC's Fried Chick*n products in the US through VEDGEco.com. Additionally, VFC is committing capital to marketing services with Vejii, along with distribution through Vejii's network of fulfillment centers.
In addition to VEDGEco.com, VFC recently launched in the US via ShopVejii.com. Keep in mind, the plant-based chicken market is looking pretty spicy, with the market growing at a rate of 18%. While this is lower than the average for the plant-based meat category as a whole, the plant-based chicken segment is expanding at a rate that is more than four times greater than traditional chicken. If you'd like to know more about this agreement, check out this article!
On March 15, 2022, Vejii announced that it has signed a consignment and fulfillment services agreement with Unreal Deli Inc., the world's only premium plant-based deli meat. Under the terms of the agreement, Unreal Deli will provide the Company with inventory into Vejii Fulfillment Services (VFS) for sale on Vejii Express.
Through VFS, Vejii will be responsible for picking, packing, and shipping orders for ShopVejii.com and Unreal Deli's own eCommerce platform, unrealdeli.com, further expanding the services Vejii can offer its partners. If you'd like to know more bout this agreement, check out this article!
On March 7, 2022, Vejii announced that the Company has signed an agreement with Blender Bites Ltd., an award-winning company offering a line of premium, organic, and plant-based pre-portioned frozen functional foods. Similar to the Company's agreement with Unreal Deli, Vejii will provide fulfillment and distribution service through its VFS platform. Blender Bites' products will also be featured on Vejii Express. If you'd like to know more, check out this article!
Market Positioning
Needless to say, March was a pivotal month for Vejii. The Company's successful agreements come shortly after Vejii completed its acquisition of VEDGEco USA Inc. and Vegan Essentials in late 2021. In particular, VEDGEco represents a significant acquisition providing Vejii with a nationwide plant-based wholesaler. Through VEDGEco, the Company now has a well-established B2B platform.
Since acquiring VEDGEco, Vejii has seen its automatic reordering functionality increase, with approximately 25% of its January repeat customers using the Company's new B2B automatic reorder functionality. If you'd like to know more about VEDGEco, check out this article! So, what does this mean for Vejii? Well, the eCommerce market is hot and Vejii has its foot in both the US and Canadian eCommerce markets.
This year, the Global eCommerce market is expected to total an impressive $5.55 trillion, according to eMarketer. Of this market, Canada is the tenth largest market for eCommerce with revenue of USD$35 billion in 2021, beating both Australia and Indonesia. To be more specific, the Canadian eCommerce market expanded by 14% in 2021, contributing to the global growth rate of 29% in the same year.
If that wasn't attractive enough, according to data from SPINS, plant-based food sales grew 11% to $4.5 billion for the year ended April 2019, compared to just 2% for total retail food sales. In particular, plant-based meat sales excelled, growing 10% compared to animal meats, which only grew 2%. Regarding eCommerce, there was a substantial increase in the number of people buying groceries as well as health and wellness products online following the pandemic.
In fact, according to Forbes, 41.4% of those surveyed reported buying groceries online, the second largest shopping category, from March 2020 to March 2021. However, not every independent brand has the infrastructure or resources to distribute its own products via eCommerce. That's where Vejii comes in.
Vejii has established a solid foundation to capitalize on both the growing eCommerce and plant-based markets, while also providing support for independent brands like Blender Bites, VFC, and Unreal Deli. Following the acquisition of VEDGEco and Vegan Essentials in 2021, 2022 is shaping up to be a potentially transformative year for Vejii. The Company's numerous agreements in March are a testament to this.
Vejii's shares were trading at $0.225 on April 11, 2022, as of 12:14 PM EST, compared to a previous close of $0.24.
Full Disclosure: Vejii Holdings Ltd. (VEJI.C) is a marketing client of Equity Guru.