Backyard Dinner
In the future, it looks like we will be eating trash, or at least the next best thing. Invasive species. To be more specific, "invasivorism" has been gaining traction in the culinary space. Before we get into that, let's talk about invasive species. Invasive species are flora and fauna whose introduction into a habitat disrupts the native ecosystem. For example, one of the most common invasive species is the zebra mussel, which was originally native to the lakes of southern Russia and Ukraine.
However, zebra mussels hitching a ride on transoceanic ships have found their way into Ontario's Great Lakes. With this in mind, invasivorism explores the idea of eating invasive species in order to reduce or control their populations. As such, chefs from around the world have begun utilizing invasive species as cooking ingredients. At the Juniper Bar and Restaurant in Burlington, Vermont, Executive Chef Doug Paine has begun incorporating garlic mustard into his dishes.
Keep in mind, garlic mustard is a rapidly growing European weed known for lacing soil with a chemical that prevents native plants from germinating. However, there's a silver lining. It tastes good. From Japanese knotweed shoots to sea lamprey, Paine has implemented a variety of invasive species into his dishes. As someone who loves eel, sea lamprey might be where I draw the line. In addition to tasting good, cutting down invasive species populations could have a positive economic impact.
According to a study conducted in 2021, it was estimated that invasive species have cost North America $2 billion per year in the early 1960s to over $26 billion per year since 2010. Globally, the economic cost of invasive species has been $1.2 trillion over the past 50 years. Furthermore, data generated by the InvaCost database has shown that costs associated with invasive species show no signs of slowing down, exhibiting a consistent threefold increase per decade.
NEXE Innovations Inc.
$50.356M Market Capitalization
NEXE Innovations Inc. (NEXE.V) is a leader in plant-based compostable technology and an advanced materials manufacturer based in British Columbia, Canada. NEXE has developed one of the only patented, fully-compostable, plant-based, single-serve coffee pods for use in leading single-serve coffee machines, including Keurig coffee makers. The Company's proprietary pods are designed to reduce the significant environmental impact caused by single-serve pods.
With this in mind, NEXE has raised over $60 million from equity and government funding. Additionally, the Company has more than six years of R&D experience. As a result, the Company is well-positioned to capitalize on the lucrative Global Coffee Market, which was valued at USD$102.15 billion in 2019. This market is expected to reach a valuation of USD$155.64 billion by 2026, expanding at a compound annual growth rate (CAGR) of 6.2% between 2020 and 2026. If you're looking for a closer look at NEXE, feel free to check out this article.
Latest News
On March 28, 2022, NEXE announced that both the Company's NEXE Coffee and XOMA Superfoods' fully compostable single-serve coffee pods are now available through Amazon Prime on Amazon.com. To provide some background, NEXE initially announced that its XOMA Superfoods brand would be available through Amazon.com and Amazon.ca on June 3, 2021.
NEXE's XOMA Superfoods line is intended to target healthy-minded and environmentally conscious consumers with a product offering of coffee and superfood creamers. The Company's XOMA Superfood portfolio includes Keto, MCT Coffee, Turmeric, Matcha, and Cocoa Keto SKUs, all of which are packaged in NEXE's fully compostable NEXE Pods, available in packages of 12 and 48.
"Amazon is the world's leading e-commerce retailer, with over 200 million global Prime subscribers. We see this launch as a meaningful way to gain consistent online sales, especially with our recent subscription offering, which will complement our upcoming brick and mortar retailer sales strategy for NEXE Coffee," said Ash Guglani, President of NEXE.
The NEXE Coffee line comes in both Keurig and Nespresso compatible pods. The Company's Nespresso suite includes Dark Roast Espresso, French Roast, and Medium Roast, available in boxes of 10, 20, and 30. On the other hand, NEXE's Keurig suite includes Premium Organic Medium, Premium Organic Medium-Dark, and Premium Organic Dark, available in boxes of 12 and 24. It is worth noting that NEXE is currently working with suppliers to offer larger quantities.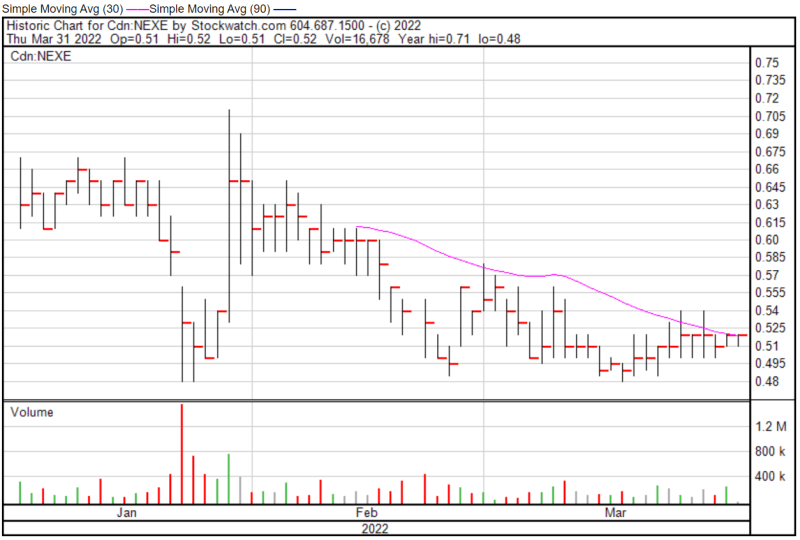 NEXE's share price opened at $0.51 on March 31, 2022, down from a previous close of $0.52. The Company's shares were trading at $0.52 as of 12:07 PM EST.
Full Disclosure: the author of this article owns stock in NEXE Innovations Inc. (NEXE.V)
Cult Food Science Corp.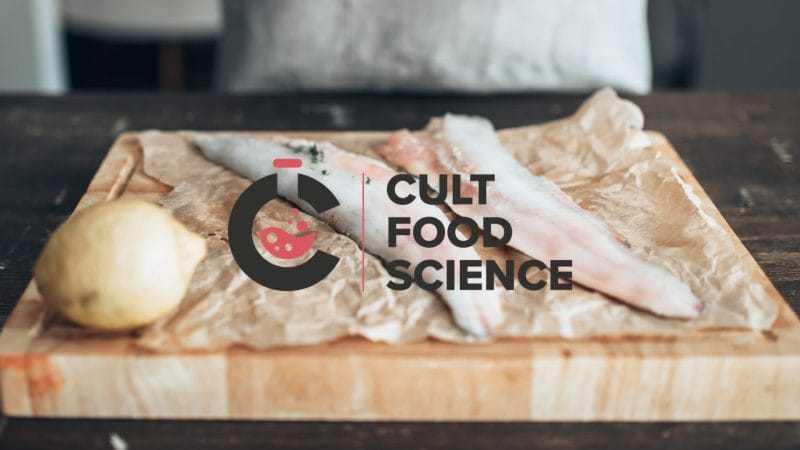 CULT Food Sciences Corp. (CULT.C) is an innovative investment platform with an exclusive focus on clean, lab-grown food. The Company is committed to the development of novel technologies to provide a sustainable, environmental, and ethical solution to the global factory farming crisis. For context, factory farming entails rearing livestock using intensive methods, whereby animals are raised indoors in often unsanitary conditions intended to maximize production at a minimal cost.
That being said, CULT believes that cellular agriculture is the answer, providing investors with access to "the next generation of food," including cultivated meat, cultured dairy, and cell-based foods. The Company's platform currently consists of 13 portfolio companies across 4 continents, with exposure to cell line development, scaffolding technologies, growth medium, and IP-yielding research initiatives.
Latest News
On March 28, 2022, CULT announced the filing of its second provisional patent application on March 22, 2022, regarding the addition of Omega 3 properties into cultured meat. This indicates progress toward the Company's continued development of its own Intellectual Property (IP) in the form of patents and other intangible assets.
"The development of CULT's own IP in the form of yet another patent application is both exciting and necessary as we continue to differentiate our Company. Adding Omega 3 fatty acids to cellular cultured meat products is important for the future of cell-based meat and fish," said Lejjy Gafour, President of CULT.
As for the patent itself, the Company's second patent application covers an enriched cultured meat product that included the addition of Omega 3 content, intended to enhance nutritional value while reducing inefficient processes that occur in traditional seafood and fish aquaculture. Keep in mind, essential fatty acids, including Omega 3, cannot be naturally produced in the body.
That being said, we must obtain essential fatty acids from food. I get it. Taking vitamins sucks. However, Omega 3 has been shown to help prevent heart disease and stroke. Furthermore, it may also help control lupus, eczema, and rheumatoid arthritis as well as protect against cancer and other conditions. While this may all sound like bullshit, and rightfully so, several studies have been done examining the benefits of Omega 3.
For example, a 12-week controlled study published in the Mediterranean Journal of Rheumatology found that patients receiving an experimental diet high in Omega 3 had lower levels of morning stiffness and tender joints. With this in mind, CULT's latest patent will essentially help the Company mimic the natural Omega 3 properties found in fish. Additionally, the production of cultivated cellular aquaculture will be more sustainable.
According to the Company, cultivated cellular aquaculture will use approximately 89% less water, 99% less land, and will lower greenhouse gas emissions (GHG) by up to 96% when compared to traditional wild-caught fish and fish farming. As it stands, there is already an apparent overfishing crisis, so I am all for sustainable cellular aquaculture.
CULT's share price opened at $0.27 on March 31, 2022, down from a previous close of $0.275. The Company's shares were down -5.45% and were trading at $0.26 as of 2:42 PM EST.
Oatly Group AB
$2.962B Market Capitalization
Oatly Group AB (OTLY.Q) is a Swedish food company that produces alternatives to dairy products using oats. In addition to being the world's original and largest oat milk company, Oatly has an extensive lineup of dairy-free products including ice cream, yogurt, cooking creams, spreads, and on-the-go drinks. Oat milk refers to plant-based milk derived from whole oat grains by extracting the plant material with water. In terms of texture and flavor, oat milk is creamy and supposedly tastes like oatmeal.
With this in mind, Oatly is a food company focused on developing expertise around oats. In doing so, the Company stands at the forefront of the oat milk market, which was valued at USD$251.57 million in 2019. Looking forward, this market is projected to reach a value of more than USD$490 million by 2026, expanding at a compound annual growth rate (CAGR) of 10.2% between 2020 and 2026.
Latest News
On March 31, 2022, Oatly announced that for 2021, the Company's two North American production facilities located in Millville, New Jersey, and Ogden, Utah, have sourced 100% renewable electricity for the first time. To achieve this, Oatly sourced renewable energy certification (RECs) for renewable electricity generated partly from the Company's oat fiber residue as well as wind and solar.
 "We want to lead by example, and that of course includes how we operate our production facilities. Our procurement of 100% renewable electricity in our North American production facilities for 2021 is a significant milestone towards achieving our global sustainability ambitions," said Julie Kunen, Director of Sustainability, Oatly North America.
For context, RECs are a market-based instrument certifying that the bearer owns one megawatt-hour (MWh) of electricity generated from a renewable energy resource. Once the power provider has fed this required amount of energy into the grid, the REC can then be sold on the open market as an energy commodity. In other words, you're basically taking credit for someone else's work.
Sounds shady, I know. However, in Oatly's case, for its Millville facility, the Company has sourced its RECs from a local biodigester partner that receives oat fiber residue from Oatly. This partner then repurposes the oat fiber residue from Oatly's oat milk production process and combines it with other food waste to produce renewable natural gas, which is then supplied to the local electricity grid.
Similarly, for its Ogden facility, Oatly purchases RECs equivalent to the amount of electricity needed to run the production facility. These RECs are generated from 100% wind and solar power. In addition to wind and solar, Oatly is partnering with another local biodigester that repurposes oat fiber residue to produce renewable natural gas, comparable to the Company's Millville facility.
Oatly's share price opened at $5.05 on March 31, 2022, up from a previous close of $5.04. The Company's shares were down -0.50% and were trading at $5.01 as of 3:29 PM EST.
Vejii Holdings Ltd.
$6M Market Capitalization
Vejii Holdings Ltd. (VEJI.C) is a unified marketplace and fulfillment platform featuring more than 3,500 plant-based and sustainable living products and over 500 brands. The Company's platform offers an easy-to-use, omnichannel experience for both buyers and vendors, leveraging big data and Artificial Intelligence (AI). In doing so, Vejii is able to connect brands with targeted consumer bases through organic and specialized marketing programs.
To be more specific, Vejii runs a brand and product agnostic marketplace that allows the Company to onboard vendors at a rapid rate. This allows Vejii to expand into new and growing product categories. The Company's current product categories include grocery, nutrition, vitamins, supplements, personal care, baby & kids, and vegan wine. However, the Company intends to add home & garden, sustainable fashion, sustainable furniture, and sports & recreation products to its offering in the future.
Latest News
On March 28, 2022, Vejii announced that it has signed a distribution and marketing agreement with VFC Foods Ltd. According to the terms of the agreement, Vejii will purchase, market, and promote VFC's Fried Chick*n products in the US through the Company's ShopVejii.com platform. Additionally, Vejii will provide support for VFC's food service products through VEDGEco.com, one of the Company's most recent acquisitions.
"We offer brands everything from direct-to-consumer (D2C) to business-to-business (B2B) fulfillment across our cold-chain logistics network as well as a host of other services including paid digital and social media influencer marketing that helps brands gain awareness within the online community," said Kory Zelickson, CEO of Vejii
In addition to its digital marketplace, Vejii operates 5 regionalized distribution centers, providing full continental coverage in the US and Hawaii. This includes D2C shipments for retail as well as wholesale distribution to independent restaurants and grocers. Furthermore, Vejii has experience supporting numerous international brands entering the US market, including Blender Bites, Boosh Foods, and now VFC. If you'd like to know more about the Company's latest agreement with VFC, check out this article!
Vejii's share price opened at $0.21 on March 31, 2022, up from a previous close of $0.205. The Company's shares were up 2.44% and were trading at $0.21 as of 10:58 AM EST.
Full Disclosure: Vejii Holdings Ltd. (VEJI.C) is a marketing client of Equity Guru.