The Green Movement, a push that is gaining momentum around the globe spurred by zero-carbon climate warriors like Greta Thunberg, is all about meeting power demands through clean, renewable, and zero-emission energy sources.
A few years back, The Economist jumped on the bandwagon in a not so subtle way…
It's all about energy storage. It's all about The Battery.
Today, the tech world is counting down its sleeps to Battery Day, an Elon Musk event scheduled for later this month.
Tesla confirms 'Battery Day' and shareholder meeting for Sep. 22 from Fremont
Who could've predicted that the battery would radically and fundamentally change the way we convey ourselves from A to B?
There are expectations, and a lot of hype surrounding Battery Day.
Many expect a whole new generation of batteries will emerge from behind Tesla's curtain, batteries that will propel the EV maker ahead of its rivals. This, the brainchild of Project Roadrunner—Tesla's bid to design and produce its own battery cells in-house.
This is a hugely important event for those of us who track developments in the resource space.
The components of this new generation of EV batteries could usher in powerful bull cycles for the commodities concerned. Any lean towards, or away from, any particular battery metal will impact future supply/demand dynamics in a most profound way.
Here's a chart that demonstrates the push/pull at the heart of the matter…
Here's another chart with an easy visual read…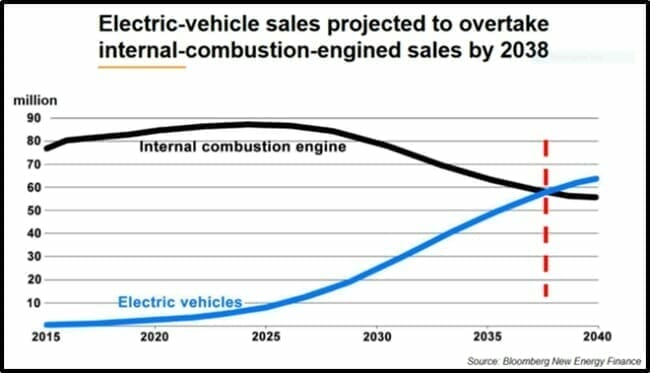 It's thought that this new generation of EV batteries—a battery anchored by nickel, with manganese rounding out one of the other key elements—could become the new standard for a long-range, long-life power source.
And with that in mind, manganese is worth a closer look.
Manganese
The fundamentals underpinning Manganese—symbol Mn and atomic number 25 on the PeeTable—are similar to the fundamentals supporting copper and REEs, fundamentals we've covered exhaustively in these pages.
Here's the thing, I've been searching for a domestic source of the metal, and it would appear there is none.
South Africa, China, and Australia produce the lions share of the metal. North America? Jack squat.
Until very recently, more than 90% of the manganese mined went into the production of steel.
But that single market supply/demand dynamic could be on the verge of a major shift. The EV battery revolution that is only just beginning to ramp-up stands to overwhelm current supply chains.
Manganese is also beginning to play a critical role in the evolution of new off-grid power storage systems, and cutting edge solar energy (storage) technologies.
On the subject of critical roles, this brittle, silvery-gray metal was recently added to a list of 23 elements critical to the US economy.
Our current reliance on overseas sources is a troubling sitch, one that needs to be put right.
69.16 million shares outstanding
$13.83M market cap based on its recent $0.20 close
Manganese X appears to hold significant tonnage potential in the subsurface layers of its 1,228-hectare flagship Battery Hill Project in mining-friendly New Brunswick.
This geologically prospective property is strategically located 12 kilometers from the US (Maine) border.
The project is easily accessible by road and is within easy reach of power, rail, and major shipping lanes on the Atlantic and the Saint Lawrence Seaway.
The property includes the historical Moody Hill, Sharp Farm, Iron Ore Hill, and Maple Hill manganese-iron zones. Previous exploration activity on the property has established 1.8 kilometers of strike.

The mineralization at Battery Hill occurs as a banded iron formation consisting of an inter-layered sequence of manganese oxide and manganese-carbonate-silicate oxide shales, and silty shales.
Curiously, the property has a unique bit of production history. In 1836, an iron-manganese deposit—the Iron Ore Hill deposit—was discovered and mined for the better part of four decades. Beginning in 1848, 70,000 tons of material was mined and shipped to Britain. It was used for the armor plating on the Royal Navy's gunboats. The ore quality was considered 'exceptional'.
Jumping forward a century and a bit, a 2016 drilling campaign, some 5,188 meters in 25 holes, tagged significant intervals of high-grade rock.
Highlights from said campaign include:
10.75% Mn over 52.6 meters in drill hole SF-16-05;
12.96% Mn over 32.85 meters in drill hole SF-16-08;
9.39% Mn over 74.0 meters in drill hole SF-17-18;
On July 15th of this year, the company updated its Woodstock NI 43-101 Technical Report:
Manganese X Updates Woodstock NI 43-101 Technical Report: Progressing Towards a Preliminary Economic Assessment (PEA)
This report recommends a diamond drilling campaign to block out a 43-101 compliant resource. It also recommends additional metallurgical testwork to develop a workable extraction process and flow sheet.
A recently tabled $2M private placement will facilitate both recommendations.
A 3,000-meter drilling campaign is expected to commence later this month on the Moody Hill zone (above map). Other prospective zones on the property that deserve a proper probe with the drill bit include Iron Ore Hill and Sharpe Farm.
The Moody Hill occurrence, with a strike length of 518 meters and a width of 251meters, has a historical (non 43-101 compliant) resource of approximately 9,072,000 tonnes grading 9.5% manganese.
Regarding the other three zones on the property…
"… the Sharpe Farm zone has the potential to contain 8,000,000 tons (7,257,000 tonnes) and the Iron Ore Hill zone with the potential to contain 25,000,000 tons (22,680,000 tonnes). Sidwell (1957) indicated that these three zones have a range of grades from 7.5% to 10% Mn with an overall estimated average grade of 9% Mn and 13% Fe. The mineralized zone grade and tonnage estimates provided by Sidwell (1957) are based upon limited drilling, ground geophysical surveys and some surface sampling. As such, the estimates provided are considered historic in nature and should not be relied upon in terms of resources, however, they do provide an indication of mineral potential for the target zones."
In his Master's Thesis on the Woodstock area manganese occurrences, Brian Way (2012) reports that the area "hosts a series of banded iron formations that collectively constitute one of the largest manganese resources in North America, approximately 194,000,000 tonnes".
The one aspect of mineral exploration and development that can trump all others—just ask any seasoned CEO in the resource arena—is metallurgy.
Metallurgy is the science (some prefer the word 'art') of extracting valuable metals from their ores and modifying said metals for their intended use.
On this front, the company dropped the following headline back in February of this year:
Kemetco Lab Confirms Manganese X Achieved 99.95% Purity of MnSO4
Here, Kemetco reported a MnSO4 purity of 99.95% with low contamination factors in the final manganese sulfate product.
The high purity levels achieved along with the low contamination levels attained has met the specs required by the EV and back up storage industries.
Martin Kepman, Manganese X CEO:
"We are thrilled to receive this grade purification validation of processed ore from our Battery Hill manganese property. There is a seismic shift in the EV space to source cheaper and greener alternatives and we believe manganese will be a leading component of this initiative. The company is well positioned to capitalize on the dynamics in the EV and stored energy sector".
The above-noted PP will also support phase two metallurgical bulk tests (currently underway). Reducing the number of steps to purification will also be examined—success on this front could lead to major cost benefits.
Moving towards a preliminary economic assessment is the next logical step.
Confident they can move forward without an economic study backstopping Battery Hill, the company stated the following in a May 5th press release:
"The company is currently in discussions with a Canadian University for a battery research program as well as ongoing discussions with two manganese themed battery companies looking to disrupt the industrial and commercial segment utilizing a grid storage methodology."
Graphite
The company also has a graphite project in its portfolio—the LAB Graphite Property—one it intends to spin-off to existing shareholders.
Manganese X Announces Plan to Spin Out Lac Aux Bouleaux Graphite Property
The following summary of the LAB property is derived from a February 2020 Technical Report and is qualified in its entirety by said report:
The LAB Graphite Property is comprised of fourteen readily accessible mineral claims within 150 km of both Montreal and Ottawa in one contiguous block, totalling 738.12 hectares of land near the town of Mont-Laurier in the southern part of the Province of Québec.
The LAB Graphite Property lies within a geological environment in a region within which graphite is commonly found and has been commercially mined from a number of deposits located between Mont-Laurier, in the north, and the Ottawa River, in the south.
Resource estimation work conducted on the LAB Graphite Property in the early 1980s resulted in a historical (not conforming to the requirements of National Instrument 43-101) resource of 1,320,847 tons at 9% graphitic carbon.
Based, in part on the recently completed study of the LAB Graphite Property conducted by the Principal Author, the Technical Report notes the large upside potential of the property for further graphite exploration and, further, highlights that the property has good road access, with water and electricity available on site to facilitate year-round exploration and mining activities (other than geological mapping and surface sampling).

Recently completed tests of the LAB Graphite Property produced three distinctly sized graphite concentrates, with the combined concentrates having overall graphite recovery rates of between 89.6% and 96.2% at grades of 91% to 88.3% graphitic carbon

. More than 50% of the total graphite in these tests was recovered in the "jumbo" and "large" flake concentrates, both of which are targeted for premium market prices.
There's a number of moving parts to this company. We'll dig a little deeper next go-round.
END
—Greg Nolan
Full disclosure: Manganese X is an Equity Guru marketing client.