Manganese X (MN.V) announced today that the TSX Venture Exchange has issued its conditional listing approval for the previously announced spinout transaction of certain assets into Graphano Energy Ltd. (Graphano).
I'll admit. I am outside of my depth here, so let me breakdown this press release like a toddler learning how to walk. For starters, what is a spinout transaction? A spinout transaction refers to a type of corporate realignment involving the separation of a division to form a new independent corporation. In the case of Manganese X, this spinout corporation will be Graphano. According to the Company's latest press release, on the closing of the arrangement, Graphano and Manganese X will be operated as separate companies with separate management teams and Boards of Directors.
So, what is the arrangement? Details of the arrangement were described in the Company's information circular dated March 16, 2021 which was mailed to its shareholders and filed on SEDAR. According to the terms of the arrangement, each Manganese X shareholder will receive, for each Manganese Share held, 0.125 of a common share in the capital of Graphano, and one new common share in the capital of the Company. Following the completion of the arrangement, Graphano will cease to be a wholly-owned subsidiary of Manganese X, however, Graphano is expected to focus on the exploration and development of the LAB Graphite Property as an independent public company. For context, the LAB Graphite Property refers to the Company's Lac Aux Bouleaux graphite property, located in the province of Quebec. Closing of this arrangement is expected to occur on August, 27, 2021.
In summary, holders of record of Manganese X common shares, as of August 24, 2021, will receive one share of Graphano for every eight shares of Manganese X held. Graphano shares have a deemed price of $0.05 per Graphano shares, resulting in a deemed distribution of $0.00625 per Manganese X share. Moreover, Manganese X shares will commence trading on an ex-dividend basis on the TSXV at the open of trading on August 23, 2021. In other words, in order to be entitled to receive a dividend of shares of Graphano, a shareholder must be a holder of Manganese X shares as of August 20, 2021. Manganese X expects Graphano shares to begin trading approximately five business days following the closing of the arrangement under the symbol GEL.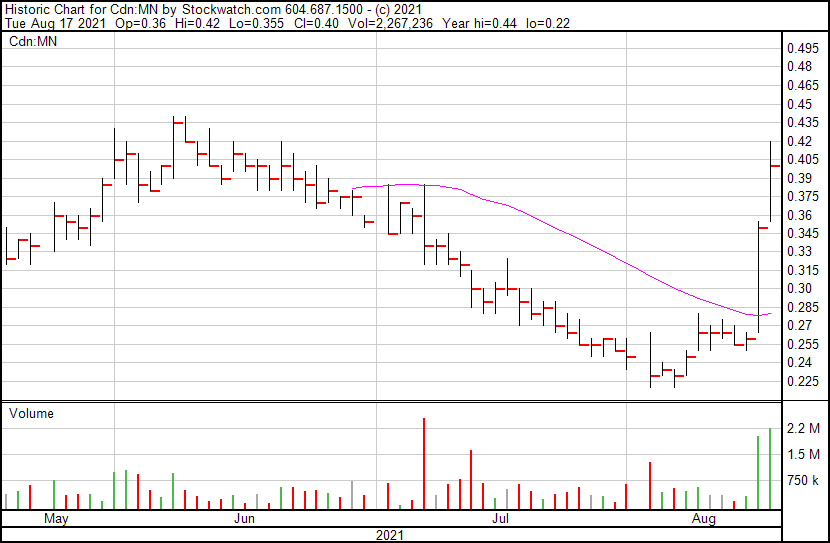 Manganese X's share price opened at $0.36, up from a previous close of $0.35. The Company's shares are up 10% and are currently trading at $0.385 as of 10:41AM ET.
Full Disclosure: Manganese X is a marketing client of Equity Guru.