Two weeks back, Nomad Royalty (NSR.T), our go-to royalty and streaming play in the precious metals arena, announced an agreement with three banks (Scotia, CIBC, and RBC) for a revolving credit facility of up to USD $75 million.
Regarding this event, Elif Lévesque, CFO of Nomad, stated:
"We are excited to be able to count on Scotia, CIBC and RBC as strong financial partners to Nomad. The completion of the Facility will provide us with additional financial flexibility as we pursue the growth of our business. "
The company didn't waste any time in its pursuit of said growth. The following headline marked the first of what I expect to be a long line of key acquisitions:
Nomad Enters Into Agreement to Acquire Royalty on the Troilus Gold Project in Québec
This deal captures a 1% net smelter return royalty (NSR) on all metals and minerals produced at the Troilus Gold Project located along the Frotet-Evans Greenstone Belt in northern Québec.
This Troilus deal was a real heads-up move by Nomad management. We like this project. We've been talking about it for over a month now as it lies right next door to X-Terra Resources' (XTT.V) Troilus East property.
With Nomad's foray into the region, the neighborhood just became a little bit more exclusive.
The Troilus Gold Project, operated by Troilus Gold (TLG.T), boasts a current resource of 8.11 million gold equivalent ounces (AuEq)—4.96 million ounces of Indicated AuEq and 3.15 million ounces of Inferred AuEq.
This is an advanced stage project in a region that has seen limited exploration. Limited exploration can often = significant exploration upside.
Adding a measure of geological merit, the Troilus Gold Project encompasses Inmet Mining's historic open-pit mine which saw production of some 2 million ounces of gold and 70,000 tons of copper in its day (1996 to 2010).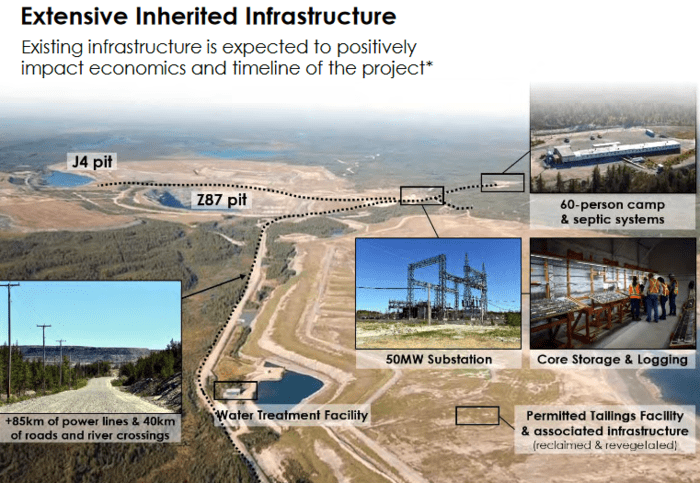 Past producing assets often bring heaps of invaluable (historical) data—metallurgical reports, production reports, rock mechanics and characteristics—all of which add value, all of which lead to a better understanding of the project's subsurface layers.
Note that this 8.11 million oz deposit is composed of AuEq (gold equivalent) ounces.
In a recent offering on the subject of actionable opportunities and "what does Nomad management currently have in its crosshairs?" we pondered the following:
The acquisition strategy centers on long-life precious metals deposits, but management's not ruling out a decent copper-gold acquisition.

The goal is to maintain a balanced, diversified portfolio. This includes looking at jurisdictions outside the Fraser Institute's top ten list.

I'm guessing we won't have long to wait before a new acquisition(s) comes into play.
Though this Troilus asset is primarily gold, it does contain measurable amounts of copper, and a not so small amount of silver:
A the top of the page, I stated that this acquisition was a heads-up move by Nomad management. It was a very heads-up move. There's likely more to be gained beyond the project's 6.71 million oz resource.
"A technical report completed in 2019 confirmed there are significant open pit and underground mineral resources remaining at Troilus, where mineralized gold grade and thicknesses are very continuous and the mineralization remains open at depth."
Nomad will benefit from all resource expansion and any new discoveries Troilus Gold tags property-wide going forward (the NSR covers 81 mineral claims and one surveyed mining lease – map at the top of the page).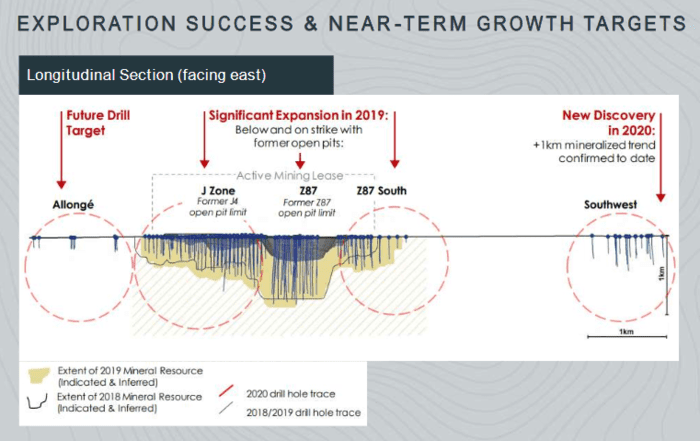 The new discovery highlighted on the right side of the above slide—Troilus Intersects 2.26 g/t AuEq over 24 Metres Less than 120 Metres from Surface, Defining a New Zone of Mineralization 3.5 Kms Southwest of Z87 Pit—demonstrates the exploration upside here.
Another fat hit along this newly discovered zone—Troilus Intersects 1.56g/t AuEq over 73 Metres in Southwest Zone Representing One of the Best Results Ever on the Troilus Property—was tagged back in April.
Did I mention this was a heads-up move?
Geologically, according to TLG's project page, the deposit exhibits the following characteristics:
Hosted in Troilus Diorite, and in porphyritic felsic intrusions
– Two main zones of Au-Cu sulphide mineralization: Z87 and J4 (Chalcopyrite, pyrite, pyrrhotite);
Mineralization is focused on the margins of Troilus diorite (metadiorite) in breccias, amphibolite, and quartz – chlorite (±tourmaline) vein swarms;
Disseminated mineralization accounts for ~90% of Troilus ore zone;
Quartz veining related to possible source of higher grade material (+50 g/t Au).
In a recent Equity Guru round-up piece—Guru's $20M to $80M shortlist of gold and silver ExplorerCos (those with endgame potential)—we noted the market's sudden appetite for high-quality exploration-development plays in the junior exploration arena.
Another indication that it's game on in the junior arena: Nearly every private placement (PP) that crosses my screen goes into oversubscribed mode. Fast.

Those who understand the underlying dynamics—lean project pipelines, Peak Gold, Printing Presses Gone Wild—are piling into high-quality junior exploration companies in the expectation of a bull run of epic proportions.
Two months back, the market also cast its vote regarding the geological merit of the Troilus Gold Project with an upsized (bought deal) expression of confidence:
Troilus Announces Upsized Bought Deal Financing to $22 Million
Back to the NSR, Joseph de la Plante, CEO of Nomad:
"We are very pleased to announce the acquisition of a royalty on a brownfield deposit that continues to demonstrate significant potential for resource expansion. Furthermore, the addition of the Troilus royalty now adds Québec, Canada, one of the world's premier mining jurisdictions, to Nomad's portfolio and further diversifies our growing list of jurisdictions where we own precious metal royalties and streams".
If you're wondering how these royalty deals get done, the following excerpt from the July 27th press release spells it out in detail:
"The Purchase Price shall be satisfied by Nomad paying approximately US$1.9 million (C$2.5 million) in cash and by the issuance of 5,769,231 units of the Company to the Vendor. Each Unit shall consist of one common share of Nomad and one-half of one common share purchase warrant (each whole warrant, a "Warrant"). Each Warrant will entitle the holder thereof to purchase one Common Share of the Company at a price of C$1.75 per Common Share, for a period of 24 months following the closing date of the Royalty Purchase. The Warrants shall be callable by the Company such that should the daily volume weighted average trading price of the Common Shares on the Toronto Stock Exchange exceed C$2.19 for a period of 20 consecutive trading days, during the period following 4 months from the Closing Date until the expiry date of the Warrants, the Company shall have the right to give notice in writing to the holders of the Warrants that the Warrants shall expire on that day which is 30 days following the date of such notice unless exercised by the holders prior to such date."
What I find interesting in these details: the lions share of the transaction consists of Nomad paper. The Vendor obviously holds Nomad management in  the highest regard.
Final thoughts
If you are a novice where precious metals and mining are concerned but want exposure to this fast-moving sector without exposing your portfolio to heaps of risk, I honestly can't think of a better vehicle than a royalty and streaming Co.
Of course… management is key in choosing the right vehicle.
The Nomad team, the trio of Vincent Metcalfe, Joseph de la Plante, and Elif Lévesque, were at the helm of Osisko Gold Royalties (OR.T) from day one. Osisko currently dons a $2.63B market cap.
I'm reluctant to quote myself, but my observations from a previous offering sum up these three movers and shakers neatly:
This team possesses the skill-sets required to build a successful royalty company and move it further along the growth curve—much further and quicker—than a team with less experience.

They've dealt with every conceivable type of royalty asset. They know value when they see it. They know how to spot the traps. They know how to structure deals. They know how to execute.
The following slide from Nomad's i-deck shows the progress this crew has made since its debut on the TSX less than two months ago: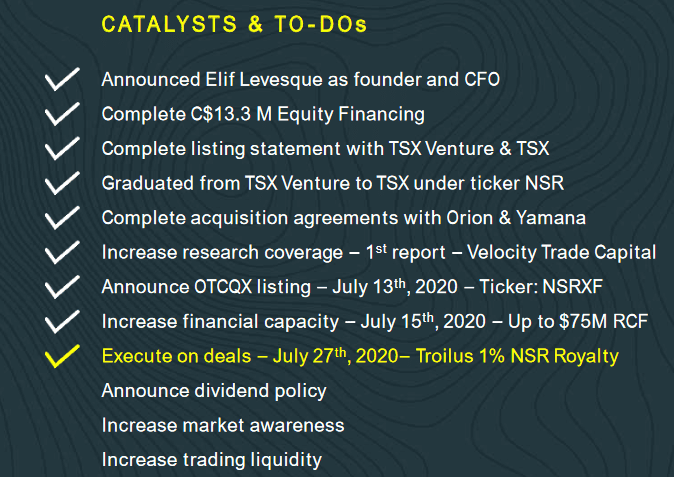 For a deeper delve into this rapidly developing royalty/streaming play, before the greater market catches on to the latent potential here, the following in-depth piece should help bring you up to speed:
NOMAD Royalty Co (NSR.TO) makes a shining debut on the TSX
END
—Greg Nolan
Full disclosure: Nomad is an Equity Guru marketing client.