On June 1, 2021, Nomad Royalty (NSR.T) announced that it has acquired a 0.28% net smelter return royalty on the producing Caserones mine in the Atacama region of Chile.
In the same press release Nomad announced that it will be consolidating shares on a 10:1 basis.
Nomad owns a portfolio of 14 royalty, and stream, assets, of which 8 are on currently producing mines. Nomad plans to grow and diversify its low-cost production profile through the acquisition of additional producing and near-term producing gold & silver streams and royalties.
Transaction Highlights
Acquisition of a royalty on a major mine operated by Minera Lumina Copper Chile, which is indirectly owned by JX Nippon Mining & Metals Corporation
Addition of a new revenue stream from a tier 1 mining jurisdiction, to Nomad's portfolio
New mine with long reserve life and significant exploration potential, located on a large land package of ~17,000 hectares with potential for future expansions
Gains exposure to copper, a key metal in supporting the world's green transition away from fossil fuels and towards electrification.
"This transaction highlights Nomad's unique positioning within the royalty space in terms of its financial capacity to acquire high quality royalties and is consistent with Nomad's strategy of building a diversified portfolio of high-quality cash flowing royalties and streams," stated Vincent Metcalfe, the CEO of Nomad.
"The acquisition of the Caserones Royalty provides Nomad with exposure to copper at a time when the demand for green and electrification linked commodities, in particular copper, is set to surge to record highs as the global economy transitions to zero emission technologies," added Metcalfe.
The Caserones mine is owned and operated by Minera Lumina Copper Chile. It consists of an open pit mining operation, with a plant to produce copper and molybdenum concentrates from primary sulfides, and a solvent extraction and electro winning plant (SX-EW) to produce copper cathodes.
In 2019, the Caserones mine produced 146,000 metric tonnes of copper and 2,778 tonnes of molybdenum. The projected Life of Mine annual production is 148,000 tonnes of Copper Equivalent.
With copper currently selling for about USD $10,000/tonne, one year's production is worth USD $1.4 billion.
On June 1, 2021 Nomad is also announced "the consolidation of its common shares on the basis of one post-consolidation common share for every ten pre-consolidation shares issued and outstanding as of the close of business on May 31, 2021."
After the consolidation, the number of Nomad shares will be reduced from 566 million to 56 million.
Shareholders are sometimes confused by the financial ramifications of a roll-back. Nomad's stock price will increase from about $1 to $10. The market cap of Nomad will not change. If you own 3% of Nomad today, you will still own 3% of Nomad, post-consolidation (10 X fewer shares @ 10 X higher stock price).
The higher share price could allow Nomad to apply for a listing on the NYSE.
"Since its debut on the TSX just under a year ago, Nomad management has been executing on multiple fronts," wrote Senior Equity Guru mining writer Greg Nolan on May 17, 2021.
"The following slide from the Company's pitch deck keeps score," continued Nolan .
"From the get, the Company set out to ink high-quality deals, adding to an already robust project portfolio of producing and advanced-stage assets. Yet the market is still not rewarding management's successes.
That'll change, I suspect.
Price targets for Nomad common, always a moving target (especially when the metals are on the move), average $1.82 from the nine research firms polled.
A May 10th headline – Nomad Royalty Company Reports Q1 Results and Declares Second Quarter 2021 Dividend
Vincent Metcalfe, Nomad's CEO:
"Our portfolio delivered a strong first quarter of gold and silver production and represents a great start to the year. Our focus ahead is on maintaining this positive momentum by delivering on our stated goal of delivering value through further deployment of capital in new opportunities across the globe, which coupled with the strong organic growth of our current portfolio will allow Nomad to continue to generate strong free cash flow and support further growth and returns to shareholders."
First Quarter Highlights:
Record quarterly deliveries of 5,575 gold equivalent ounces ("GEOs");
Gold ounces earned of 5,029 (2,450 for Q1 2020);
Silver ounces earned of 37,338 (43,963 for Q1 2020);
GEOs(1) sold of 5,575 (3,817 for Q1 2020);
Record revenues of $9.7 million ($6.4 million for Q1 2020);
Net loss of $0.3 million (net income of $1.1 million for Q1 2020);
Adjusted net income(1) of $1.9 million ($4.1 million for Q1 2020);
Gross profit of $2.9 million ($0.7 million for Q1 2020);
Cash operating margin(1) of $7.9 million ($5.9 million for Q1 2020);
Cash operating margin(1) of 82% (93% for Q1 2020);
$25.3 million of cash as at March 31, 2021;
Completed the acquisition of the second tranche of the Blackwater Gold Royalty;
Declared a quarterly dividend of CAD $0.005 per common share for a total amount of $2.3 million paid on April 15, 2021.
(1) Refer to the Non-IFRS measures section of this press release.
Results like these are only possible with a project portfolio packed with cash-flowing assets.
Nomad's current portfolio stands at 15 royalty and streaming assets, EIGHT of which are producing." – End of Greg Nolan
On May 18, 2021 O&M Partners talked with Nomad Chief Investment Officer, Joseph de la Plante, about Nomad's recent milestones.
Joseph played a key role in the creation of Osisko Gold Royalties where he led the execution of over $1 billion in financing equity, royalty and stream transactions.
"We are a cash flow focused business with the highest dividend yield in the sector," stated Joseph, "And we can do that because we have a significant portfolio of cash flowing mines and royalties."
"We recently had the pleasure of releasing our Q1 production results on April 14, highlighting a record quarter for Nomad with deliveries just over 5,000 Gold Equivalent ounces," added Joseph.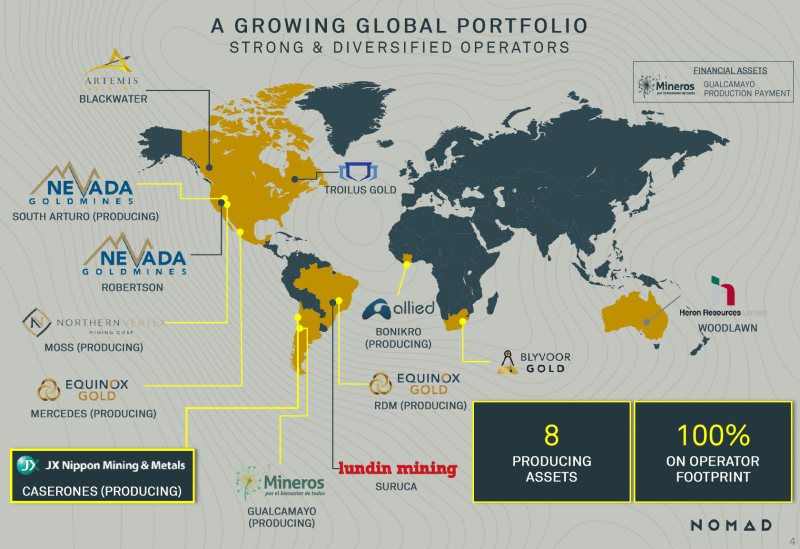 Royalty & Streaming companies don't commission airborne surveys or invest in mining equipment.
It is a leveraged precious-metal and base-metal bet, considered lower-risk than explorers or miners.
NSR has an agreement with three banks (Scotia, CIBC and RBC) for a USD $50 million revolving credit facility with the option to increase to USD $75 million.
The Caserones copper mine recently announced that it will have a 100% clean and renewable electricity supply, thanks to an agreement reached with Enel Generación – which will make it a "sustainable and environmentally friendly mining operation."
Nomad shares are expected to begin trading on a consolidated basis on Thursday, June 3, 2021.
Full Disclosure: Nomad is an Equity Guru marketing client