Uranium is volatile both atomically and as a commodity. Currently pricing has hit a low, but its not bottomed out and external pressures from a declining supply and increasing demand, could see this nuclear fuel spike on the boards within the next year. This bodes well for Athabasca uranium.
You see, much of what is mined is out of country and in jurisdictions that could present some instability when it comes to supply chain integrity. Saskatchewan's Athabasca basin has played host to mineral explorers since the 60s and the relationship is good and the resource quality is second to none, providing 20% of the world's high-grade uranium.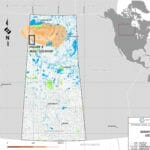 One of the junior explorers looking to capitalize on the opportunity of Athabasca uranium, is Azincourt Energy (AAZ.V) with its flagship East Preston project. Not only is this one of the largest land holdings in the district, with a minimum of drilling late last year showed positive results. Now the company is poised to commence a 2000m fully-funded drill program with institutional money and support in the form of 5-year warrants.
As we continue to shift from fossil fuels for cleaner forms of energy generation, nuclear power figures prominently as a integral part in the make up of our 21st century global power grid and Athabasca uranium could be a major part of that.
Equity.Guru's own, Gaalen Engen, spoke with Azincourt Energy CEO, Alex Klenman, to get a better view of the sector, the company, it's East Preston project and what investors can expect over the next 12 months. Is this the next Rio Tinto (RIO.ASX) in the making? Tune in and find out!
Read more on Azincourt:
Azincourt Energy (AAZ.V) righteously positioned for the inevitable uranium turn
Azincourt Energy (AAZ.V) advances East Preston Uranium Project