TGS Esports (TGS.V) announced today that it has completed its previously announced acquisition of Even Matchup Gaming (EMG), the largest live tournament operator in Canada.
"With live esports events coming back into the fold we are excited for what EMG has in store for 2022…EMG just completed another super successful GOML and announced massive events for New York and Toronto. We are planning on taking EMG to new markets as well and can't wait to share more details as we continue to build out our 2022 live event schedule," said Spiro Khouri, CEO of TGS.
Having hosted and broadcasted more than 100 events in North America in the last two years, EMG has established itself as the leading esports event organization in Canada. Since 2019, EMG has accumulated more 10 million viewers, enjoying over 100 million social interactions. Additionally, EMG's dedicated fanbase has watched more than 50 million minutes of EMG's content.
Numbers aside, EMG is widely recognized as the owner and operator of Get On My Level (GOML), the largest fighting game tournament in Canada, and Let's Make Big Moves, the largest Smash Bros. event in the New York Area. Although I may not be the biggest fan of player versus player (PvP) fighting games like Mortal Kombat, Tekken, and Super Smash Bros., this genre has become quite popular among gamers and non-gamers alike. Speaking from experience, I have had my ass kicked by numerous people who decided to pick up a fighting game like Super Smash Bros. on a whim, whether it was for a party or to kill time in their dorms.
With that being said, GOML is the largest fighting game event in Canada and the only Canadian tournament officially licensed by Nintendo, one of the largest video game  companies in the world. To give you a rough idea of size, GOML recently celebrated its 2021 events and had over 1900 players compete, generating more than 2.3 million minutes watched by viewers.
"We have seen incredible growth over the last few years, and joining the TGS family will enable us to leverage the TGS team and infrastructure to offer more exciting events at a lower cost…With the backing of TGS, we are looking forward to expanding into new markets, developing key partnerships, and continuing to grow our player base," said Joseph Cribari, CEO of EMG.
So, what does this mean for TGS and EMG? Outsourced staff and production costs make up over 30% of EMG's event costs. With this in mind, TGS' acquisition of EMG will enable EMG to leverage TGS' team and infrastructure, which is expected to grow EMG's revenue number significantly. On the other hand, TGS will now be able to offer new opportunities to its sponsors and brand partners, having now acquired access to some of the largest fighting game events in North America.
According to the terms of the acquisition, TGS will acquire all of the issued and outstanding shares of EMG for an aggregate purchase price of CAD$1,100,000. Furthermore, Joseph Cribari will enter into an employment agreement with TGS for a minimum period of two years. Even if you're not a gamer, TGS' shares are dirt cheap and the Company itself shows great potential for growth in a market which is expected to surpass $1.5 billion by 2023.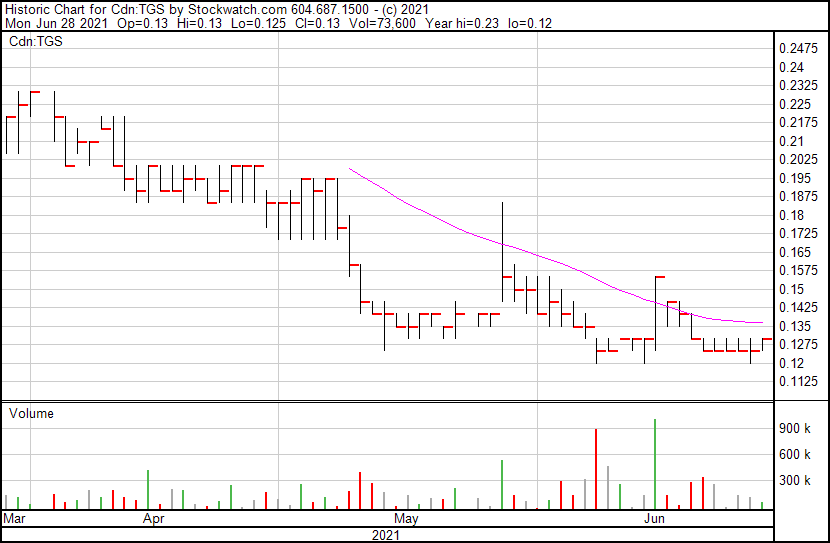 TGS' share price opened at $0.13, up from a previous close of $0.125. The Company's shares are up 4% and are currently trading at $0.13 as of 12:43PM ET.