Delic Holdings (DELC.C) announced that their acquisition target, Complex Biotech Discovery Venture (CBDV), has closed their previously-announced non-brokered private placement.
The private placement consists of 11,441,189 CBDV Subscription Receipts sold at $0.30 each. Every subscription receipt will grant its holder one common share of CBDV and one warrant, exercisable at $0.40 for 24 months after Delic's acquisition of CBDV.
The private placement was announced in April, and had sought to sell a minimum of 3,333,333 Subscription Receipts. Their total of 11,441,189 receipts sold blew way past their minimum target, raising $3,432,356.70.
The gross proceeds of the offering are being held by an escrow agent until Delic acquires CBDV, which will convert the CBDV common share and warrants into equivalent DELC shares and purchase warrants, and release the money raised by the offering to CBDV. However, if the acquisition does not take place by 5pm PST on June 30, 2021, the escrow agent will return Subscription Receipt holders their money.
"The closing of this private placement continues to show our shareholders that we are committed to expanding the DELIC platform as we move closer towards finalizing our acquisition of CBDV and more. We are committed to ensuring the best interests of our shareholders and helping bring greater access to psychedelic wellness to everyone," stated Matt Stang, Co-Founder and CEO of Delic Holdings.
Delic's plan to acquire CBDV for $7 million worth of DELC shares was announced in February. One of the things that Equity Guru founder Chris Parry highlighted at the time was CBDV's Section 56 exemption from Health Canada, which allows them to do psilocybin-based research and intellectual property development.
Beyond psilocybin, they also offer advanced analytical testing and extraction optimization for cannabis companies, on top of running a Cannabis Compound Database includes information about more than 750 compounds found in the cannabis plant. The database allows users to find the necessary properties of cannabis compounds and enter the value for any parameter and find all the compounds that match their selection. All the data is verified and updated with the latest research.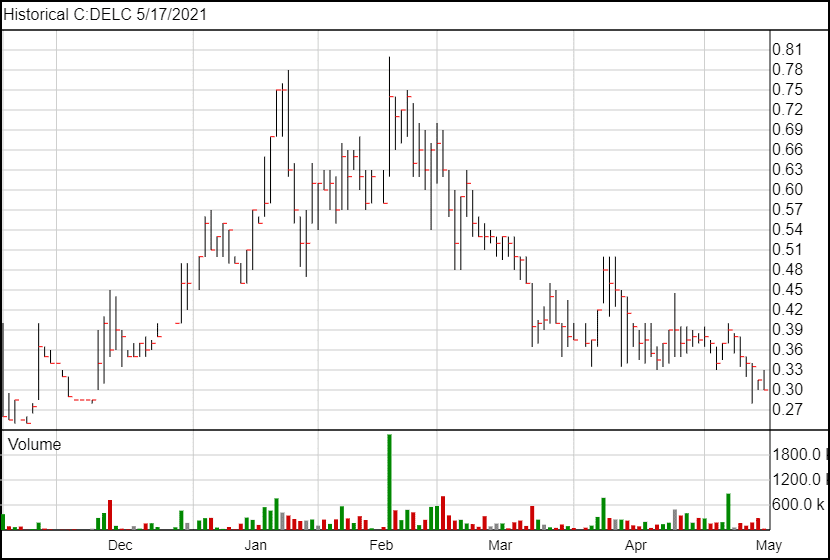 Following the news of CBDV's private placement, DELC's share price is down slightly to $0.30.
Full disclosure: Delic Holdings is an Equity Guru marketing client.