By Greg Nolan and Lukas Kane
In the past week, the Bitcoin price has dropped $10,000 (from USD $65,000 to $55,000), while gold has risen a modest $30/ounce ($1,742 to $1.750).
"The most popular way to describe bitcoin is 'digital gold'" states Oliver Renick in an excellent Forbes article.
"But there's a problem, "continued Renick, "it has no basis in reality, at least so far. We can see this by looking at how bitcoin's relationship with real interest rates has evolved over time"
Renick's meticulous analysis published on Forbes statistically debunks the folklore that Bitcoin and gold are in a personal dual to win the hearts of investors.
For early investors, Bitcoin has been beautiful.
For 1.4 billion Chinese – gold is always beautiful.
On April 14, 2021, Nomad Royalty (NSR.T) announced its preliminary gold and silver deliveries and sales from its royalty, stream and gold loan interests for the first quarter of 2021:
Nomad realized preliminary revenues of $9.7 million for the three-month period ended March 31, 2021 resulting in preliminary cash operating margin of $7.9 million.
On February 8, 2021, Equity Guru's Madelyn Grace spoke with Nomad's Chief Investment Officer, Joseph de Plante about the business model and objectives of NSR.
"We own contracts on mines, where we get to receive a percentage of the mine's metal production, typically gold and silver, for the duration of the mine," explained de la Plante, "What that allows us to do is have a tremendous amount of cash flow and a revenue within a very small platform."
"At Nomad we're actually only six employees. But we were able to generate $30 million in revenues last year because of this business model," added de la Plante.
"There is a general trend towards more debt for governments and more printing of paper money," explained de la Plante, "All of the factors that we've been tracking over the last 10 years keep piling up and adding up…this lays the perfect groundwork for a prolonged run in the commodity price."
Equity Guru's Senior Mining Writer, Greg Nolan weighs in Nomad's company-wide April 14, 2021 updates.
Asset Updates and Recent Developments
FIRST DELIVERY FROM BLYVOOR GOLD STREAM: The Company has received its first gold delivery from the Blyvoor gold mine, located in Carletonville, South Africa ("Blyvoor Gold Mine"). Following the first gold shipment at the Blyvoor Gold Mine, mining activities were temporarily suspended as the result of an unlawful blockade at the mine entrance by members of a local union. On April 8, 2021, the high court ruled in favour of Blyvoor Gold Capital (PTY) Ltd. ("Blyvoor") and determined the blockade to be unlawful. As of April 12, 2021, Blyvoor has re-commenced operations and production ramp up activities are ongoing again.

Pending full restart, the Blyvoor Gold Mine will be fully operational and additional deliveries will be expected at regular intervals as the mine ramps up to full production capacity. Activities on site will be focused on opening new panels on deeper levels, augmenting monthly ore throughput and optimizing the current operation, with commercial production anticipated by the end of 2021 at which time Nomad will be providing guidance to investors in respect to deliveries under its gold stream. Safety remains a top priority for all stakeholders and as such the Blyvoor Gold Mine has implemented robust safety standards and strict working procedures. A technical report in connection with the Blyvoor Gold Mine mineral resource is expected to be completed in the second quarter of 2021.

Nomad owns a 10% gold stream on the Blyvoor Gold Mine on the first 160koz of gold production within a calendar year, and 5% on any additional gold production within the same calendar year. Following the delivery of 300koz of gold to Nomad under the agreement, the stream percentage shall be 0.5% on the first 100koz of production within a calendar year until gold production reaches 10.32 million ounces at the Blyvoor Gold Mine. Nomad will make ongoing payments of $572 for each ounce of gold delivered under the stream agreement.
The Blyvoor Gold Mine is located on the Witwatersrand Gold Belt, a prolific geological setting that has produced in excess of 40% of the world's Au, and continues to hold one of the largest Au resources on the planet.
Blyvoor is Nomad's newest producing asset— initial deliveries were received at the end of March of this year. The operators are looking to ramp up to 150 ounces per year over the next 12 to 18 months.
This is also a large resource—approx 26 million ounces (historical).
Blyvoor could become one of the Company's top producing assets as the project is scaled higher.
ROBERTSON TO CONTRIBUTE MEANINGFULLY TO CORTEZ: On March 18, 2021, following a strategic review by executive teams from Barrick Gold Corporation ("Barrick Gold") and Nevada Gold Mines ("NGM"), enormous geological prospectivity of the NGM properties was confirmed and Barrick Gold outlined its key development projects. Barrick Gold mentioned that agile management and exploration and orebody knowledge was implanted at NGM and was already delivering results. The area between Pipeline and Robertson in the Cortez complex was mentioned as an area with exciting opportunities for major new discoveries. On February 18, 2021, Barrick Gold disclosed that fieldwork and district scale modeling validated conceptual models. Sectional interpretation is ongoing between Carlin-type Pipeline and Crossroads deposits as well as intrusive related mineralization at Robertson; and Lower Plate carbonates are potentially shallower to the north. Significant to Nomad, Barrick Gold reported that Robertson was to start contributing meaningfully to Cortez's production profile in 2025.
The Robertson Property offers an uncapped sliding scale NSR (1% to 2.25%) on over 2.7 million ounces at Nevada Gold Mines' (NGM) Cortez/Pipeline complex located along the prolific Cortez Gold Trend of northern Nevada.
NGM is a joint venture between mining behemoths Barrick (61.5%) and Newmont-Goldcorp (38.5%).
The Cortez/Pipeline complex represents the largest Carlin-type gold deposits on the planet. They make up NGM's lowest-cost asset base with a resource of 45.5 million ounces, 27.7M of which fall into the reserve category.
And this Robertson sliding scale NSR—currently pegged at 1.75%—is right in the thick of things (blue shaded area, map below).
It's important to note that Robertson's ounces are now considered part of the mineral resource base at the Cortes Mine Complex and as of November 2020, these 2.7 million ounces are now included in 5-year mine plan at Cortez.
This inclusion is a huge development as it represents significant future cashflow.
Robertson holds considerable exploration potential at depth.
Finding a deep, rich "feeder" deposit—the source of Robertson's surface mineral endowment—is high on NGM's priority list.
NGM's geologists have stated they'll be looking for a "Meikle-style" discovery at depth (the Meikle deposit was discovered in September 1989 when a deep drill hole tagged 164.5 meters of 11.62 g/t Au from 397.5 meters depth).
According to a Jan. 21, 2021, Nomad press release…
"Barrick will be conducting drilling programs at Robertson and initiate earlier stage generative exploration work on the Pipeline-Robertson corridor."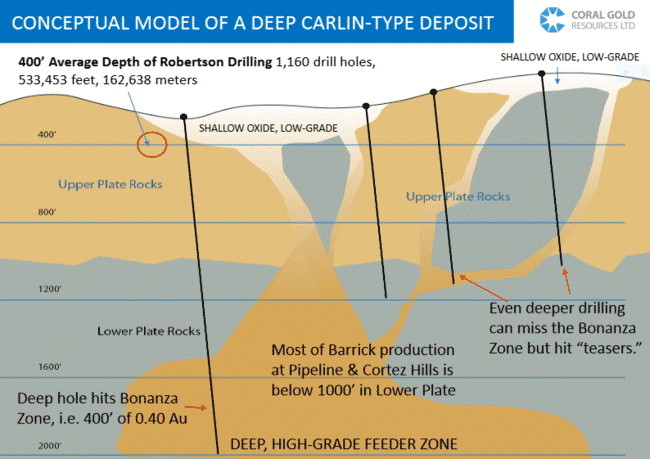 Drilling success at Robertson could be a game-changer for the project, and a potent catalyst for Nomad's common shares.
BLACKWATER CONTINUES TO ADVANCE TOWARDS PRODUCTION: Artemis Gold Inc. ("Artemis Gold") continued to execute on its work program and reached several development milestones in the last weeks. On March 29, 2021, they executed a binding memorandum of understanding with Ausenco Engineering Canada Inc. providing for a guaranteed maximum price ("GMP") for a fixed-price Engineering, Procurement and Construction ("EPC") contract to construct a 5.5 million tonne per annum processing facility and associated infrastructure for the Blackwater Gold project in Central British Columbia. On April 9, 2021, Artemis Gold executed a credit approved mandate letter and term sheet from Macquarie Bank Limited ("Macquarie") and National Bank of Canada ("National Bank") to arrange a CA$360 million Project Loan Facility ("PLF"), to fund a significant component of the estimated construction costs of the Blackwater Gold Project. Subject to final credit approval and final due diligence, Macquarie and National Bank would agree to each underwrite 50% of the PLF. In support of its Definitive Feasibility Study ("DFS") and in preparation for commencement of construction for the Blackwater Gold project, Artemis Gold has been conducting the following activities: ore grade control drilling to refine the detailed grade schedule and mine plan for the first year of production; metallurgical test work; geotechnical drilling as part of site preparation work; and a British Columbia Hydro study. The work program in the first six months of 2021 is on track to culminate with the completion of the DFS on the Blackwater Gold project by mid 2021.
Nomad locked in a 0.21% NSR on Blackwater Gold Project for a total consideration of US$3.0 million.
Located in central British Columbia, Blackwater is a long life, feasibility stage development project.
Nomad Royalty sees a clear path to development at Blackwater.
A .21% NSR might seem insignificant, but Blackwater is HUGE.
8 million ounces of P&P gold reserves;
62.3 million ounces of P&P silver reserves;
11.7 million ounces of M&I gold resources (including reserves);
122.4 million ounces of M&I silver resources (including reserves).
According to the January 11th, 2021 (acquisition) press release:
"The Royalty consists of a 0.21% net smelter return royalty on all metals and minerals produced from mineral tenure 515809 which covers a portion of the Blackwater Gold project and the higher-grade starter pit area (figure below)."
"In November 2020, the Operator began the first 35,000-meter grade control program which will focus on delineating an area in the southwestern portion of the Blackwater pit (scheduled in the 2020 PFS to be mined in year 1 of operations), which returned significant near-surface high-grade mineralized intercepts."
Despite a high level of drilling density—more than 300,000 meters of diamond drilling to date— the deposit remains open for expansion to the north, north-west, and at depth to the southwest.
NEW MERCEDES GOLD AND SILVER STREAM WITH EQUINOX GOLD: On April 7, 2021, Equinox Gold Corp. ("Equinox") completed the acquisition of Premier Gold Mines Limited, with the Mercedes mine now transitioning into the portfolio of a large, diversified gold producer with plans to increase throughput in the future at the mine. Concurrently to the completion of the acquisition, Nomad announced that the Mercedes Stream Agreement was amended and restated and now provides for, in addition to silver deliveries, fixed quarterly gold deliveries of 1,000 ounces of refined gold from the Mercedes Mine (subject to upward and downward adjustments in certain circumstances), plus an additional 6.5% of such adjusted amount payable in refined gold. Fixed quarterly gold deliveries shall terminate once an aggregate of 9,000 ounces of gold have been delivered (not including any refined gold received pursuant to the additional 6.5% of the adjusted amount). If the quarterly average gold price is greater than $1,650 per ounce in any quarter, then the aggregate gold quantity deliverable in the next quarter is reduced by 100 ounces of refined gold, and if the quarterly average gold price is less than $1,350 per ounce, then the aggregate gold quantity deliverable is increased by 100 ounces of refined gold). Concurrently, the gold prepay loan agreement held by the Company was terminated.

NEW SOUTH ARTURO SILVER STREAM WITH I-80 GOLD: On April 7, 2021, the Company and i-80 Gold Corp. ("i-80 Gold") have entered into a new South Arturo Stream Agreement that provides for deliveries from i-80 Gold to the Company of 100% of the ounces of refined silver in attributable production from the existing mineralized areas at South Arturo and 50% of ounces of refined silver in attributable production from the exploration stream area.
Both of these project updates—New Mercedes and South Arturo—were covered in an April 13th EG piece dubbed  Bitcoin vs Gold debate (oh, it's most definitely on) – a roundup including Delta (DLTA.V), Arizona Metals (AMC.V), Nomad (NSR.T), Prime (PRYM.V), Defense (DEFN.V), and Forum (FMC.V)
It's safe to assume that Equinox and i-80 Gold are helmed by highly competent (and aggressive) management teams. Both of these assets could be on the verge of finding a whole new gear via accelerated mine plans.
MOSS ROYALTY TO BENEFIT FROM LARGESCALE EXPLORATION PROGRAM: The Moss mine is currently the largest pure gold and silver mine in Arizona, with largescale exploration potential. Northern Vertex has indicated that during the first half of 2021 the exploration plan includes infill drilling, property-wide exploration, and drill target definition for resource expansion. For the second half of 2021, the exploration focus will be on resource expansion drilling, regional geophysics, and a priority regional target drilling campaign.
Northern Vertex has been aggressively drilling off the Moss deposit—a low-cost, open-pit mine, heap leach scenario—with the aim of extending the mine life and expanding the current resource base.
Resources currently stand at 360k ounces of Au and 4,463k ounces of silver (Measured and Indicated) plus an additional 129k ounces of gold and 1,375k ounces of silver (inferred).
TROILUS EXPANDS MINERALIZED FOOTPRINT AT SOUTHWEST: The Troilus Gold project continues to return great exploration results on the Southwest Zone. During the months of March and April 2021, several drill hole results were released. The Southwest Zone is a rapidly expanding gold zone located approximately 2.5 kilometres southwest of the main mineral corridor (Z87 and J Zone) within the Troilus Gold project. The Southwest Zone demonstrates an ongoing trend of higher grade gold intercepts within a much broader disseminated mineralized zone, consistent with the main Z87 zone. Parallel zones of mineralization continue to be discovered as drilling is extended at depth. In the coming months, infill drilling will be conducted in the Southwest Zone, which will be required for all the newly identified zones of mineralization to be included into an updated mineral resource estimate and Pre-Feasibility Study, currently targeted for completion in the second half of 2021.
Nomad holds a 1% NSR on an Indicated resource that currently stands at 4.96 Moz AuEq (177 Mt with an average grade of 0.87 g/t AuEq) and an Inferred resource of 3.15 Moz AuEq (116.7 Mt with an average grade of 0.84 g/t AuEq).
Troilus Gold's 1,073 km2-plus property, located along the Frotêt-Evans Greenstone Belt of mining-friendly Quebec, is largely underexplored.
Royalty & Streaming companies don't commission airborne surveys or invest in mining equipment.
It is a leveraged precious metal bet, considered lower-risk than explorers or miners. NSR has an agreement with three banks (Scotia, CIBC and RBC) for a USD $50 million revolving credit facility with the option to increase to USD $75 million.
Nomad's share price peaked on September 19, 2020 at $1.67.  It's now $1 per share.  During the share price decline – which coincided with general softness in the gold market – Nomad Insiders continued purchasing shares of NSR.
"If there is a future wherein bitcoin is fully adopted for its "store of value" use-case, it will trade something like gold does today relative to real interest rates and inflation", wrote Renick in the April 15 Forbes article.
"If an unusual amount of money were leaving gold, it wouldn't currently be trading so perfectly in line with its historical pattern," continued Renick, "as you can see by today's highly inverse relationship with real yields. In other words, everything looks totally normal in gold".
"Nomad has a portfolio of high-quality projects consisting of 14 royalty, stream, and gold loan assets—seven of which are currently producing," stated Greg Nolan in a recent article, "The Company has exposure to Nevada, Arizona, and Quebec—all on Fraser's Top Ten list [mining jurisdictions].
by Greg Nolan and Lukas Kane.