It is unreasonable to expect one person to do two things brilliantly.
But if you're the CEO of a small-cap company (under $500 million) you better know how to do these two things:
1. Run your company
2. Run your mouth.
The CEO of a micro-cap is the bus driver, the mechanic, the foreman, the nurse, the cheerleader – and vitally – the spokesperson.
Generally, shareholders hungry for information don't want to hear from Investor Relations (IR), the CFO, the Strategic Advisor, an in-country Mine Manager or the "Head of Corporate Communications".
Some small-cap companies side-step this issue (CEO double-duties) by appointing a President to be the outward-facing communicator.
But typically, the CEO has to run operations and be the lead messenger.
Most CEOs are blatantly better at one job, than the other.
Namaste's (N.V) ex-CEO Sean Dollinger was an inspirational messenger, but he couldn't run a taco stand.
Endeavour Mining's (EDV.T) CEO Sebastien de Montessus always sounds vaguely bored, but he built 2 mines in Africa, doubling EDV's market to $5.9 billion.
Keith Driver is the CEO of Earthrenew (ERTH.C) which transforms livestock waste into a high-performance organic fertilizer, generating revenues from multiple streams.
Driver is a rare example of a CEO who does both jobs brilliantly.
We shouldn't be surprised.
After all, Driver is only human being on the planet to have won trophies in both Ultimate Frisbee and Boxing.
"I grew up playing Ultimate Frisbee," Driver told Equity Guru's Madelyn Grace, "And I went to the World's three times. I was also a boxer."
Driver stated that he "loved everything about boxing except getting punched in the head."
"I have a massive belt at home from this championship that I won. It was a huge moment of pride for me. And then I turned 40 and my last fight someone broke a rib, punctured a lung. I haven't been in the ring since."
Earthrenew takes a biologically compromised product that is trapped in local markets, and frees it into a pure organic product that can be transported across provincial and state lines.
The value proposition for the owner of the cows?
Annual lease payments for ERTH's processing plant
Disposal of manure.
Electricity generation.
Electricity produced by the gas turbine is sold to offset the majority of fuel costs, creating an economically sustainable and environmentally friendly method of organic fertilizer production.
Located on a 25,000 head cattle feedlot, ERTH's flagship Strathmore plant in Alberta is capable of producing up to four megawatts (MW) per hour.
Last month, ERTH announced that it has negotiated an increase to its proposed equity ownership stake of Replenish nutrients from 38% to approximately 100%.
"The Replenish Nutrients team will support all aspects of the marketing, distribution and sales of the Earthrenew products into the regenerative agriculture space," stated ERTH, "Replenish Nutrients currently has an established product line that it sells across Western Canada and the United States (North Dakota and Montana), generating strong revenues".
The combined EarthRenew/Replenish entity expects to generate significant revenue growth within the expanding regenerative and organic fertilizer markets.
Financial Highlights and Projections:
Replenish Nutrients booked revenue of $5.1 million for the last six months of 2020 and through the end of January 2021.
ERTH is forecasting $4.8 million in revenue for the balance of the first half of 2021.
New Entity projections are for a total $9.9 million for the period of July 2020 through June 2021, up from $3.6 million for the same period in 2019/2020.
Following completion of the Proposed Acquisition, ERTH anticipates that Replenish Nutrients will continue to operate as a marketing and distribution company as a wholly owned subsidiary of EarthRenew.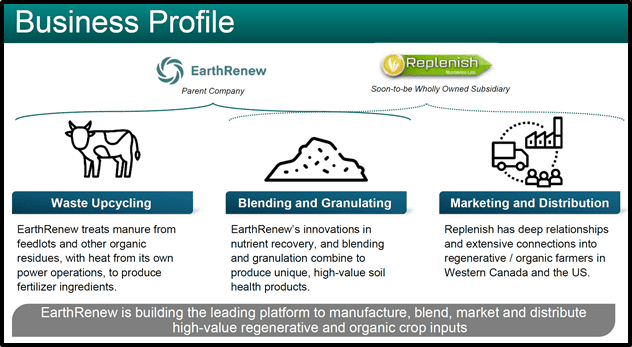 "Regenerative Ag (Agriculture) falls on the continuum between organic – which is rules-based – and commercial which is anything-goes," explained Driver to Equity Guru, "Conventional Ag is mining the soil for value, Regenerative Ag is feeding the soil to build it back up".
"Now we've got a company that can produce things and sell things. It's a business that can manufacture, market and distribute products. Replenish is already sold out. So, we'll have to build more capacity."
"We're going to be able to control the costs, because we're taking raw inputs, and making the thing as opposed to buying half finished products and selling them. We're gonna own the whole value chain. And that's how we're going to un-lock value".
On March 2, 2021, Earthrenew announced that it has signed a non-binding letter of intent (L.O.I) with Diamond Feeders to develop of Earthrenew's first facility in the United States.
The new facility will be located on Diamond Feeders' large feedlot in the western United States, which finishes over 50,000 head of cattle per year and could provide ample feedstock.
"We anticipate that the Colorado Site could be a strategic operational location, as it is in close proximity to the southwestern United States, one of the world's largest organic farming markets," stated Earthrenew at the time.
"From Colorado, you can go north into the vast prairies and the Corn Belt," Driver told Equity Guru, 'You can go south into the specialty Ag markets of Arizona, New Mexico and Texas. You go west to California – you've got the largest organic and regenerative market in the world".
"The U.S. organic sector posted a banner year in 2019, with organic sales totalling a record $55.1 billion, up 5% from the previous year".
"Organic fruits & vegetables market is expected to grow at a rate of 8.75% from 2020 to 2027," states Data Bridge, citing "the increasing awareness amongst consumers regarding health benefits along with food safety."
"Diamond has feedlots in Nebraska, Colorado, Texas and Oklahoma," added Driver, "Colorado makes sense. Because it's the most Southwest plant they have. Maybe next year, we'll build one in Nebraska. We're now into the rinse and repeat phase."
Well done.
Well said.
Full Disclosure: Earthrenew is an Equity Guru marketing client.