Early in the going on February 23rd, Golden Lake (GLM.C) lifted a trading halt after dropping a weighty headline:
Golden Lake Reports "Bonanza" Grade Discovery in Hole Jr-20-DD12 from Jewel Ridge Property, Nevada, Including 24.54 Meters Averaging 9.16 g/t Gold and 65.8 g/t Silver, Including 3.23 Meters Averaging 57.16 g/t Gold and 452.0 g/t Ag
Among the broad range of comments online, some who follow the stock all but forgot about the final assays due from the Company's flagship project—Jewel Ridge.
That's one of the great seducers of this arena—sometimes there's no telling when Mother Earth will dazzle you with her subsurface bounty.
Nearly as impressive as this high-grade hit is that there was no leak out of the Jewel Ridge camp. Kudos to management for keeping a tight lid on this one.
In my maiden Golden Lake piece published early last summer—Golden Lake Exploration (GLM.C) targets Jewel Ridge in Nevada's prolific Battle Mountain – Eureka trend—I reckoned…
"Success with the drill bit could translate into a significant push higher from this extremely modest valuation."
A significant push higher indeed.
This is a prime example of the shake-up that can occur when a significant discovery hole meets a lowly market cap.
It would appear that despite the listless sector-wide sentiment we've endured since the August 2020 highs, the market has an appetite for (new) discoveries.
Of course, the setting here is a contributing factor to this steep price trajectory. Jewel Ridge is located in one of the most prolific and mining-friendly jurisdictions in the world—Nevada.
A bit of background before we explore the rest of this February 23rd press release
Jewel Ridge is located at the south end of Nevada's prolific Battle Mountain—Eureka trend. The property is strategically positioned along strike and contiguous to Barrick's past-producing Archimedes/Ruby Hill mine to the north, and Timberline's advanced-stage Lookout Mountain project to the south.
The targets at Jewel Ridge are Carlin-type and Carbonate Replacement-type gold deposits.
Nevada Carlin-type gold deposits have a combined mineral endowment of more than 250 million ounces, all concentrated along four main trends—Carlin, Cortez, Getchell, and Jerritt Canyon.
Pipeline, Cortez Hills and Goldrush represent three of the largest Carlin-type gold deposits in the world. They make up Nevada Gold Mines' (NGM's) lowest-cost assets with over 50 million ounces of reserves & resources (NGM is a JV between mining behemoths Barrick Gold and Newmont-Goldcorp).
It's difficult to imagine a better address for a junior exploration company.
Jewel Ridge is one of those rare projects that was tucked away, put on the back burner for decades due to tenure issues. It received only cursory (shallow) probes with the drill bit, and this latent (discovery) potential is what roused this management team's interest.
Jewel Ridge hosts over a dozen past-producing mines and prospects along 4-kilometers of strike on the Dunderberg-Windfall Belt. These early miners extracted high-grade gold, silver, and lead from shallow oxide deposits.
The project did see some exploration back in the day. The Company acquired a database consisting of extensive soil and rock geochemistry, extensive geological mapping, and over 360 (shallow) reverse circulation (RC) drill holes.
Results from historic drilling include:
Leading up to this high-grade headline, the Company initiated a drill program at Jewel Ridge last summer. The highlight interval from this phase-1 campaign—2.80 g/t au over 22.9 meters, including 4.38 g/t au over 12.2 meters—was delivered via a September 24th press release.
Later that fall, the Company announced the commencement of a phase-2 campaign targeting the Eureka Tunnel mine prospect along the northwest corner of the property.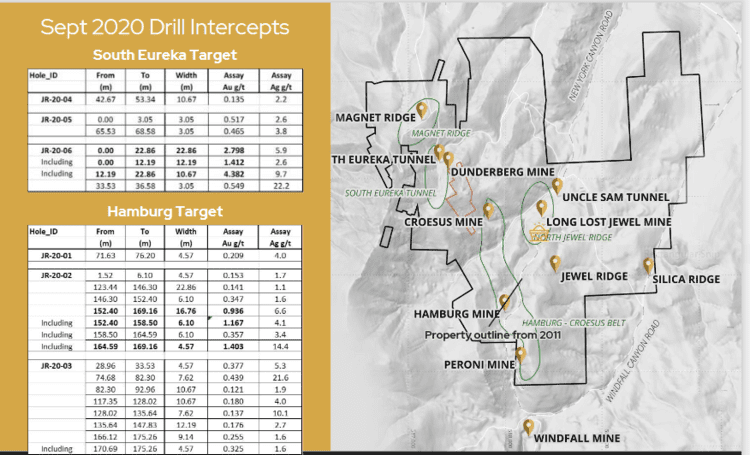 The first results out of Phase-2 showed a new, deeper mineralized zone at Eureka—1.48 g/t Au and 1.3 g/t Ag over a length of 10.67 meters from a depth of 160.0 meters (the "Lower Mineralized Zone").
This interval represented a second mineralized horizon hosted in dolomite, in addition to a 16.76 meter hit grading 1.25 g/t Au and 5.5 g/t Ag from surface (the "Upper Mineralized Zone").
From this November 19, 2020 press release:
"The Lower Mineralized Zone intersection supports the geological model of a series of stacked, oxide, Carlin-type gold zones with a halo of mineralized material (above a projected 0.2-gram cut-off grade, 0.2 to 0.5 g/t Au range), in the Eureka Tunnel area, on the Jewel Ridge Property. Discovery of a stacked component of oxide gold mineralized horizons represents an attractive target for future drilling and significantly enhances the tonnage potential."
Getting back to the February 23rd press release
The fat headline interval—diamond drill hole JR-20-DD12—tagged a high-grade (gold-silver-lead-zinc) mineralized oxide zone at the Northeast Eureka Target.
"From surface, an intercept of 24.54 meters was intersected returning 9.16 grams gold per tonne (g/t Au), 65.8 grams silver per tonne (g/t Ag), 1.03 percentage lead (% Pb), and 1.90 percentage zinc (% Zn). This intercept is hosted in Hamburg Dolomite and comprises both Carlin-type and CRD -type ("Carbonate Replacement Deposits") oxide mineralization.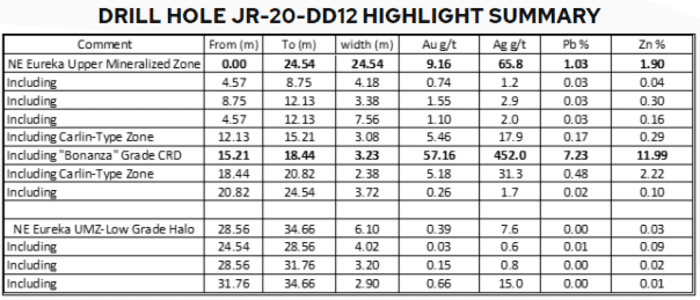 A higher "bonanza" grade portion from 15.21 meters to 18.44 meters returned 3.23 meters averaging 57.16 g/t Au, 452.0 g/t Ag, 7.23 % Pb, and 11.99% Zn. This "bonanza" intercept is interpreted by the Company geologists as similar to the historic Ruby Hill mines and can be described as an oxidized carbonate-hosted, structurally and lithologically controlled gold-silver (with associated lead-zinc) mineralization."
This Carbonate Replacement Deposit (CRD) type mineralization was historically mined from the Eureka Tunnel zone. CRD mineralization is associated with higher silver to gold ratios, higher arsenic to gold ratios, and enhanced lead and zinc values.
"Recently announced surface sampling of the South Eureka target area returned very similar mineralization averaging 3.43 Au, 196.3 g/t Ag, 8.8% Zn and 0.88% Pb (see Company PR dated Feb 1, 2021) and will become a focus of an upcoming diamond drill program. This sample area is located approximately 125 meters from the collar of hole JR-20-DD12, and on-trend, and interpreted as the south-west extension of the Northeast Eureka Zone."
Mike England, Golden Lake CEO:
"Given our successful efforts to date we anticipated positive results, but this hole has definitely exceeded our highest expectations. We are excited to aggressively continue our work program to define and expand the targets identified in 2020 by drilling, rock and soil geochemistry, magnetics and Induced Polarization geophysics and structural mapping. Congratulations to our first-rate team of geologists and project managers. The discovery of a high-grade "bonanza" zone is a great success and a "game-changer" for the property and the Company, and we await assays from one remaining core hole."
DRILL HOLE JR-20-DD12 HIGHLIGHT SUMMARY
Hole JR-20-DD12 was a vertical diamond core hole drilled close to reverse circulation hole JR-20-06 which returned 22.86 meters from surface averaging 2.80 g/t Au and 5.9 g/t Ag. Three other RC holes have defined the tabular, oxide Northeast Eureka Zone with the average of four holes (including JR-20-06) of 21.34 meters returning 1.45 g/t Au and 4.8 g/t Ag.

RC hole JR-20-06 lost circulation from 36.58 to 60.96 meters and the core hole JR-20-DD12 was successful in testing this interval, but also encountered drilling difficulty and was lost at 69.59 meters. A recently discovered Lower Mineralized Zone ("LMZ") intersected in hole RC-20-09 at depth of 160.02 meters, averaging 1.48 g/t Au and 1.3 g/t Ag over 10.67 meters, has not yet been tested by core drilling. The multiple stacked nature of the oxide gold mineralized horizons significantly enhances the tonnage potential of the Northeast Eureka Zone in hole JR-20-09.
This Phase-2 campaign consisted of 10 reverse circulation (RC) holes for 1,585 meters, and three diamond drill (DD) holes for 376.6 meters.
Results from one final DD hole are pending from this 2nd phase.
This next headline (released the very same day) suggests the Company is planning an aggressive follow-up program at Jewel Ridge this spring…
Golden Lake Exploration Announces Financing
Here, the Company announced a non-brokered private placement of up to 12 million units priced at $0.45 for aggregate gross proceeds of $5,400,000.00. Each Unit consists of one common share and one-half of a 2-year transferable warrant exercisable at $0.60.
It won't be long before we see another drill rig mobilized and an acceleration in activity at Jewel Ridge.
We stand to watch.
END
—Greg Nolan
Full disclosure: Golden Lake is not currently an Equity Guru marketing client.