On November 19, 2020 Sentinel Resources (SNL.C) released an eye-popping assay report from the 2020 rock grab sampling program on its 100%-owned Waterloo silver-gold property in British Columbia Canada.
"Prospecting, sampling, and reconnaissance mapping was carried out at several locations on the property," states SNL, "including the Waterloo mine, the Au Zone, the Park zone and the East Zone.
"A grab sample is a sample taken from a rock outcrop that is being assessed for the presence of valuable elements," states the Azo Educational Mining Site, "While taking the grab sample, the best looking rock deposit is chosen."
In the case of a "greenfield project" (no prior exploration work done), these samples are usually taken at surface (you can't "grab" something 800 feet below surface).
In this case, low grab sample grades don't mean a lot (most rich deposits are sub-surface); high grades do have significance (when there's gold in the tread of your boots, there's a probability it's part of a metal system that extends underground).
Because of the mining history of this British Columbia land package, SNL was able to take subsurface samples, which make them a more meaningful predictor of metallic resources on the property.
For instance, 4 samples were taken from historical adits and workings located at the West Lightning Park Zone. These samples returned the highest silver values of the sampling program.
"An Adit is a horizontal or near-horizontal passage driven from the Earth's surface into the side of a ridge or mountain for the purpose of working, ventilating, or removing water from a mine," states Britannica.com.
At the West Lightning Park Zone, Sample B846266 contained 7470 g/t silver (239 oz/t) and 39.8 g/t gold (1.27 oz/t).
Sample B846266 was hand collected from the historical ore sort waste pile where it appeared the historical miners had high graded their ore by hand before transporting it down the mountain.
Significant Results:
7,470 g/t Silver and 39.8 g/ Gold sample #B846266
4,840 g/t Silver and 9.9 g/t Gold sample #B846269
18.6 g/t Gold and 175 g/t Silver sample #B846252
12.4 g/t Gold and 237 g/t Silver sample #B846251
The November 19, 2020 release details the results of the best 10 samples which were part of 46 rock samples collected and sent for silver (Ag), gold (Au) and multi-element analysis.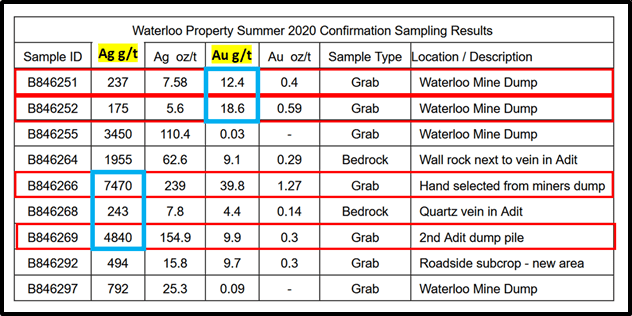 Three Samples taken from the Waterloo Mine Dump confirmed the presence of silver with sample B846255 returning a silver value of 3450 g/t (110.4 oz/), sample B846297 returning 792 g/t silver (25.3 oz/t) and sample B846259 analysing at 752 g/t (24.7 oz/t) silver.
Only trace amounts of gold were reported from the Waterloo Mine Dump samples.
Sample B846269 was collected from a waste dump pile located outside an historical adit. The sample returned 4840 g/t silver (154.9 oz/t) and 9.9 g/t gold.
Sample B846264 was taken from the wall rock beside the mined out remnants of a quartz vein. It returned a silver value of 1955 g/t (62.6 oz/t) and 9.1 g/t gold.
Sample B846268 was collected from a white quartz vein 20m inside a second adit approximately 100m north east of the first adit. It returned 243 g/t silver (7.8 oz/t) with 4.4 g/t gold.
Sample B846292 was collected from a fresh road cut and analysed at 494 g/t silver (15.8 oz/t) and 9.7 g/t gold.
"Management is very encouraged with these initial results," confirms SNL, "and is underway with planning a follow up work program at Waterloo."
Spinning off the Waterloo grab-sample assays, SNL stock is up .08 to .49 (+20%) mid-morning on 20,000 shares traded.
The SP surge on light trading suggests two things:
1. SNL is largely flying under the radar
2. Investors who own it, don't want to sell.
The share structure is tight.
SNL's British Columbia property is not its only iron in the fire.
Three weeks ago, SNL announced that the exploration team of Dr. Peter Pollard, director and Chief Geologist of Sentinel and Dr. Christopher Wilson, senior advisor to Sentinel, provided an initial review of Sentinel's seven silver-focused exploration licenses located in New South Wales, Australia.
The exploration licenses are known as Wallah Wallah, Stony Creek, Carrington, Dartmoor, Glens Skarns, Broken Hill West and Goongong.
"First-pass review of the extensive historic data for the Silver Projects indicates that Wallah Wallah, Stoney Creek and Carrington are high priority projects," confirms SNL, "All are located in a significantly silver-mineralized part of the southern Lachlan Orogenic Belt.
Highlights:
Wallah Wallah (ELA 6065)
A 99 km2 licence hosting 6 historic silver mines and showings with reported rock-chip grades of over 1,000 g/t Ag.
Records indicate several thousand tonnes of material was processed at grades of 950 g/t Ag and 30% Pb1.
Stoney Creek (ELA 6082)
An 81 km2 licence hosting 7 high-grade, historic silver and gold mines and showings. Mineralization is likely of a low-sulphidation epithermal type — characterized by vein-hosted high-grade shoots.
The Stoney Creek prospect comprises quartz-sulphide veins within an 85 m wide zone of alteration. Historic rock-chip grab samples assayed up to 18 g/t Au and 212 g/t Ag.
Carrington (ELA 6080)
Three historic silver-gold mines targeted silver-gold mineralized gossans. Historic rock chip grab samples of this material assayed up to 85 g/t Au, 6037 g/t Ag, 24.85 Pb and 16.75% Sb (antimony).
"Whilst the review of historic data is ongoing, Sentinel's technical team has now identified Wallah Wallah, Stoney Creek and Carrington as very high priority exploration licenses," states Rob Gamley, CEO of Sentinel, "The very large historic dataset available adds significant value to first pass project ranking."
As well as the Canadian and Australian projects, SNL is developing a precious metal project in Peru.
SNL guiding principles:
Acquisition of strategic exploration properties
Mining-friendly jurisdictions
Mature mining industries
Low-cost of entry
Easy access to infrastructure
Minimize capital and operational explorational costs
In the November 19, 2020 press release, SLN correctly cautions that "grab rock samples are selective by nature and may not represent the true grade or style of mineralization across the Property".
That said, finding high-grades of precious metals literally within reaching distance in one of SNL's three metallic properties, is encouraging news for SNL shareholders.
After today's 20% SP rise, SNL has a market cap of about $9 million CND.
Converting that into Van-City real-estate dollars – the current valuation of SNL is 40% cheaper than this "structurally & mechanically updated" 5-bedroom Point Grey Home.
Full Disclosure: Sentinel is an Equity Guru marketing client.