Having experienced two significant up cycles in precious metals, and an equal number of downers, I now lean towards companies with a little more meat on the bone to ride the uptrend.
Meat = resources, particularly those in geological settings ripe for growing the ounce-count.
When I look at a company without a meaningful resource backstopping its valuation, several key fundamental factors need to line up before I dig into the story.
Key fundamental factors = 1) the pedigree of management—honest men and women with solid track records? 2) the share structure of the company—is it tight? 3) the jurisdiction—is the region politically friendly? 4) the geological setting—how prospective are the project's  subsurface layers?
Take Delta Resources (DLTA.V). Let's run through the Company's fundamentals… by the numbers.
Management
You can have a great project, but without the right team in place, shareholder-value creation is often compromised.
Without the right team in place—a combination of gifted rock kickers and enterprising business types— things can fly apart at the seams.
Operational inefficiencies often create a processional effect that can lead to an erosion in shareholder value via reckless spending and an endless cycle of heavily dilutive raises. I call the worst of these offenders "serial diluters".
The Delta team is solid—their resumes can be perused here.
I recently had the opportunity to speak with Frank Candido, Delta's VP of Corp. Communications and was immediately struck by his business acumen and his refreshingly frank take on the junior exploration arena as a whole.
Two names that came up early in our conversation were Andre Tessier, Delta's CEO, and Michele Chapdelaine, Delta's VP of Exploration and COO. Both men have solid track records, both are accomplished geologists.
Tessier was a geological consultant with clients from both the major and junior sectors in Canada, South and Central America, and Central Asia. I also had the pleasure of speaking with CEO Tessier. The man really knows his rocks.
Chapdelaine was a Sr supervising geologist for Virginia Gold. He had boots on the ground when the Éléonore deposit was discovered in 2004, during the previous up-cycle in gold. I was well-positioned in Virginia Gold back then. That event changed my life.
Importantly, this crew has a number of economic discoveries under their collective belts—discoveries that created significant shareholder value. That's something I look for in a management team.
Share structure
One word: Tight.
Here's the thing: If a company tags a significant new discovery but has 1B shares outstanding—an operation likely run by a gang of serial diluters—shareholders will benefit from the event, but the bloated structure will cap the upside.
If a company has 29M shares outstanding (and limited warrant overhang), like Delta Resources, a significant new discovery will generate a very steep price trajectory.
In my discussion with Frank Candido, I came away convinced that this team is highly protective of its tight share structure, and will employ operational strategies that will keep it tight.
Example: The Company stoked its coffers with a deal recently struck with Yorkton Ventures (YVI.V) where a non-core asset was monetized.
July 7th news: Delta Resources Sells the Bellechasse-Timmins Property for $1.7M to Yorkton Ventures
Normally the payment schedule attached to these deals is spread out over years. With this one, Delta realizes an immediate benefit, with the payments spread out over months, and the dollar values escalating with each tranche…
To acquire a 100% interest in the Property, Yorkton will:
Make a $100,000 cash payment within 10 days of signing of a definitive agreement;
Make a $250,000 cash payment within 90 days after receiving Exchange Approval;
Make a $350,000 cash payment within 200 days after receiving Exchange Approval;
Make a $450,000 cash payment no later than June 1, 2021; and
Make a $550,000 cash payment no later than September 1st, 2021.
$1.7M will go a long way towards advancing the Company's flagship assets.
Note that Delta still holds a 1% NSR on this asset and if Yorkton fails to abide by this aggressive payment schedule, Delta gets the entire project back.
Jurisdiction
The Company operates two projects, both of which deserve flagship status (IMHO), in two of the friendliest mining jurisdictions on the planet. Though it has slipped in rank over the past few years, Quebec, according to the Fraser Institute's Invest Attractiveness Survey, maintains its prominent standing as one of the better jurisdictions to kick rocks. Ontario shares a similar standing, holding its rank steady for the past five years.
Importantly, the Quebec government refunds 40%-plus of all exploration expenditures, a huge incentive for an ExplorerCo to push development further along the curve.
The geological setting (the project pipeline)
Both Ontario and Quebec, with their prolific greenstone belts and well-established mining camps, continue to offer significant discovery potential.
Delta-1
The road-accessible 4,495-hectare Delta-1 project lies in the north-central portion of the Shebandowan greenstone belt, in the Superior structural province of the Canadian Shield.
For those who know their rocks, the volcanic-sedimentary units of this belt are bounded by granitic terrain to the south, and by the Quetico subprovince to the north.
"Two distinct supracrustal rock suites known as the Greenwater and Shebandowan assemblages have been identified within the Shebandowan Belt."
The Eureka discovery (map below), with its pervasive alteration, is what first attracted management to Delta-1.
The property straddles the Shebandowan structure (black dotted lines – map below), and like the Cadillac Break in the Abitibi, it's a structure that separates large geological domains—a deep-seated structure that transferred a lot of fluid from deep down.
Note the Moss Lake deposit along this same structure (map below)— roughly 2 million ounces of near-surface 1.1 g/t gold.
Historically, Delta-1 was explored for its nickel and copper potential. Its gold potential was largely ignored. This represents an opportunity for Delta.
A limited 2019 drilling campaign at the Eureka zone tagged broad, highly anomalous values—141 meters of .17 g/t Au (including 27.5 meters of .64 g/t Au) and 137 meters of .20 g/t Au (including 22 meters of .73 g/t Au). Based on this first pass with the drill bit, management believes they'll encounter stronger alteration, higher grades, and significantly wider zones to the northwest.
On August 12th, the Company tabled results from a till sampling survey at Delta-1.
Delta Reports High Gold Grain Count in Till Sample at Delta-1, Thunder Bay, Ontario
The numbers and values are intriguing.
Gold grains were recovered from all samples collected.
Eight of the samples returned between 41 and 457 gold grains (on a normalized 10kg fraction-size sample), with pristine grains accounting for 78% to 99% of the total gold grains encountered.
The sample that returned 457 gold grains were 95% pristine.
"The pristine character of the gold grains indicates that there has been very little transport and hence these samples are interpreted to be proximal to a bedrock source for the gold."
Stated another way, the angular and fragile nature of these gold grains suggest that the source is very close by. Exciting stuff, this.
The red oval outline on the map below may hold the key to the source rock of these gold grains (note the scale on the map below – the target is some 800 meters long)…
Note the interval—22 meters of .73 g/t Au—tagged during the 2019 drilling program along the right edge of the (glacial) dispersion trail.
Encouraged by these gold grain counts, the Company recently completed a much large till sampling program over a much larger area. Results are pending.
Management is understandably excited about the potential for a significant discovery here. A follow-up drilling campaign is scheduled for Q1 of 2021.
Delta-2
The easily accessed 16,400-hectare Delta-2 project is located along the northeast end of the Abitibi Volcanic Belt, just to the southeast of Chibougamau.
The Company is targeting two types of deposits in the region—Volcanogenic Massive Sulphide (VMS) deposits like the past-producing Lemoine deposit (757 585 tonnes @ 9.52% Zn, 4.18% Cu, 4.56 g/t Au and 82.26 g/t Ag), and Magmatic-hydrothermal Au deposits like the Chevrier Zone (43-101 Resource of 10.8Mt @ 1.22 g/t Indicated and 6.3Mt @ 1.27 g/t Au Inferred).
Interesting to note, the past-producing Lemoine Mine, just two kilometers to the north of Delta-2's upper boundary, was one of the richest mines in Canadian history, not in terms of size, but in terms of metal content.
Lemoine is located at the top right of the map below, Chevrier on the bottom left (the Delta-2 property is outlined in red).
Delta-2 is largely under-explored. The Company aims to fix that.
On November 3rd, Delta dropped the following headline:
Delta Begins Drilling Program at Delta-2 in Chibougamau, Quebec
The Company has multiple gold-rich polymetallic targets in its crosshairs at Delta-2, six of which are located in the southern portion of the property, an area that includes the Snowfall Gold-Silver-Copper showing (multiple high-grade Au and Cu grab sample values). Here, the target is a Magmatic-hydrothermal Au deposit.
During my chat with the Company, the nearby past-producing Joe Mann Mine was referenced numerous times as the type of magmatic-hydrothermal deposit this team is targeting.
The Joe Mann property is currently owned by Doré Copper (DCMC.V). Historic (2008) results out of that project include 3.02 meters grading 30.3 g/t Au and 1.30% Cu, and 1.88 meters grading 26.66 g/t Au and 0.40% Cu.
Targets in the southern portion of the Delta-2 project consist of magmatic-hydrothermal gold deposits related to the La Dauversiere pluton, such as the Joe Mann past producer (1956-2007: 1.173 million ounces of gold at a grade of 8.26 g/t Au, 607,000 ounces of silver at 5 g/t Ag and 28.7 million pounds of copper at 0.25% Cu) (Source: Technical Report on the Joe Mann Mining Property dated January 11, 2016, prepared by Geologica Inc.).
Phase I will consist of 14 drill holes for a minimum of 2,100 meters.
A phase II campaign is set to begin immediately after the completion of Phase I. Here, further to the east, the Company has no less than 10 high-priority VMS targets in its sights—targets in a similar geological setting to the uber high-grade Lemoine Mine.
Phase II will consist of an additional 3,000 metres of drilling aimed at testing a minimum of 10 Volcanogenic Massive Sulphide (VMS) targets in the eastern portion of the Delta-2 property. These VMS targets consist of isolated helicopter-borne VTEM conductors located proximal to the horizon that also hosts the past-producing Lemoine Mine. Between 1975 and 1983, the extraordinarily rich Lemoine Mine produced 757,585 tonnes of ore grading 9.52% Zn, 4.18% Cu, 4.56 g/t Au and 82.26 g/t Ag (Source: www.sigeom.mines.gouv.qc.ca).
As you may already know, VMS deposits are unique. They occur in clusters—where there's one, there's often an entire camp (Canadian examples include the districts of Noranda and Mattagami in Quebec, Flin Flon and Snow Lake in Manitoba, Bathhurst in New Brunswick, and Buchans in Newfoundland).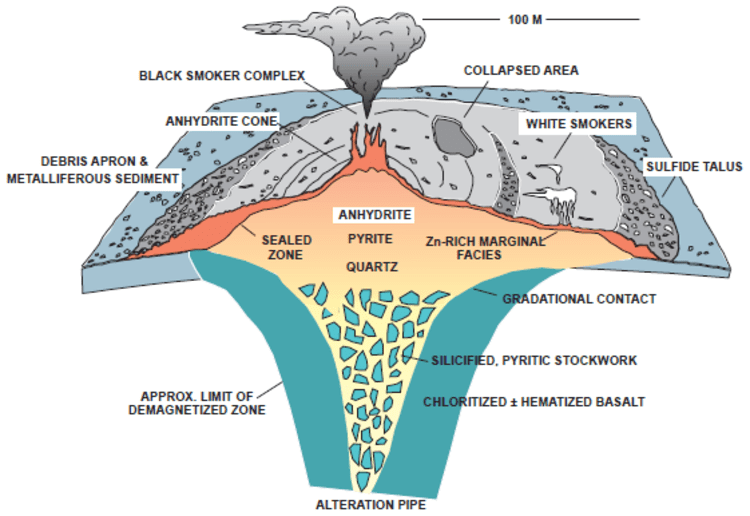 And these polymetallic deposits, though sometimes modest in scale, often hold huge concentrations of metals due to their rich nature.
The thinking at Delta Central is that the Lemoine deposit (757 585 tonnes @ 9.52% Zn, 4.18% Cu, 4.56 g/t Au and 82.26 g/t Ag) is NOT a one-off. It's possible that an entire VMS camp remains to be discovered.
VMS deposits typically occur on or near certain stratigraphic horizons. The favorable horizon at Delta-2—Waconichi—extends for some 17 kilometers.
If Delta succeeds in tagging another Lemoine… boom.
To lay the foundation for this drilling campaign, the Company employed state of the art modern geophysical methods.
This application of good science led to a new geological interpretation in the detection of high-priority targets.
Final thoughts
The Company has approx $2M in its treasury (there's also 6.3M in-the-money warrants that should come into play, good for another ~$1.2M, when exercised).
This is a tightly held stock with a super tight structure. Discovery success should generate significant upside price trajectory.
The Company is in the midst of a multi-phase 5,000-meter drilling campaign at Delta-2. Assays should begin to flow early next year.
Delta-1 will also receive a proper probe with the drill bit in early 2021 to follow-up on those extraordinary gold grain counts.
Speaking of gold grains, we should see results from the expanded till sampling campaign at Delta-1 by the end of November.
We stand to watch.
END
—Greg Nolan
Full disclosure: Delta Resources is an Equity Guru marketing client.