Five days ago, the embattled Israeli government announced "a road map to legalize cannabis within one year" creating a regulated market for adult-use marijuana.
The country's justice minister, Avi Nissenkorn, stated that a "legal document" will be published by the end of November, which will go to a vote in December.
"It's time to make progress and legalize cannabis in Israel," stated Nissenkorn.
This development is good news for Isracann (IPOT.C).
"Isracann is Israel's first pure-play cannabis firm to list in Canada," wrote Equity Guru's Chris Parry in the summer of 2019 when IPOT first got on our radar, "It is focused on becoming a premier, low-cost cannabis producer."
IPOT recently acquired a 50% interest in a JV called Cannation, for a phased partnership of two near-term farm operations located in the Hefer Valley region of Israel.
Isracann is constructing a 230,000 square-foot facility in southern Israel. It's received facility design and land use approvals from the Israeli government.
Phase l will include two 57,500 square-foot hybrid greenhouses and a packing facility with a 6,500 square-foot post-harvesting area.
Chris Parry's Isracann Upside:
LOW PRODUCTION COST: Isracann estimates per gram costs as likely to be around $0.40 per gram."
THE DOMESTIC PLAY: An estimated 27% of Israelis use cannabis. Nobody producing cannabis is going to ship the stuff currently because the local market is, amazingly, so under-served by legal product.
PATHWAY TO EUROPE: Isracann plans to make their facilities IMC-GAP/GSP certified, which means their products will be export-ready. Israel's proximity to Europe, and its established trading partnerships and shipping routes could be an important component of Isracann's future revenue streams.
MORE SUN = MORE HARVESTS: "Cannabis likes warm weather. While cannabis will grow in temperatures sub-20 degrees Celsius, sugars will not move around the plant as well, and taste and yield will suffer. Cannabis doesn't just want sun, it likes humidity, so a hybrid grow allows you to keep things just right."
The potential rec-legalisation isn't the only tailwind pushing IPOT forward right now.
A month ago, Isracann announced that "the government of Israel has officially enacted the legislation for the export of medical cannabis, clearing the way for sales abroad that the government expects could generate more than 1 billion shekels ($273 million) in annual revenue."
"Economy Minister Eli Cohen gave final approval for the exports more than a year after the cabinet initially supported the legislation," reports IPOT, "Within Israel, medical use of cannabis is permitted".
IPOT's Cannation farm properties are Israel Medical Cannabis (IMC) compliant and designed to EU-GMP certification standards.
Only medical cannabis from EU-GMP certified facilities can be sold in the European Union.
Hagit Weinstock – a pioneer of cannabis regulation in Israel stated "There are many investments that we are expected to see happening now, because investors were waiting for this approval."
The Israeli Ministry of Health has launched a new pilot program whereby medical cannabis producers will be approved to export medical cannabis, subject to concurrent product availability to Israeli patients at a fixed discount price of NIS14 per gram (CAD$5.50 per gram) for patients over 21 years old, and NIS10 (CAD$4.00 per gram) for those patients under 21 years old.
In 2019, patient demand in Germany increased dramatically and the International Narcotics Control Board (INCB), confirmed a quantity for the import of medical and scientific cannabis of about 20.77 tonnes in Germany," reports Labiotech".
"The essential question was what was going to happen in 2020? Due to unknown reasons – probably the coronavirus pandemic and the stagnation of new patients in doctors' practices – the INCB first defined an import quantity of only 16.1 tonnes for 2020," continued Labiotech, "Importers soon noticed that this amount would not be sufficient to meet patient demand".
Recently, Germany filed an application with the INCB to increase the 16.1 tonnes by about 12.4 tonnes, to reach over 28 tonnes of medical and scientific cannabis for import in 2020.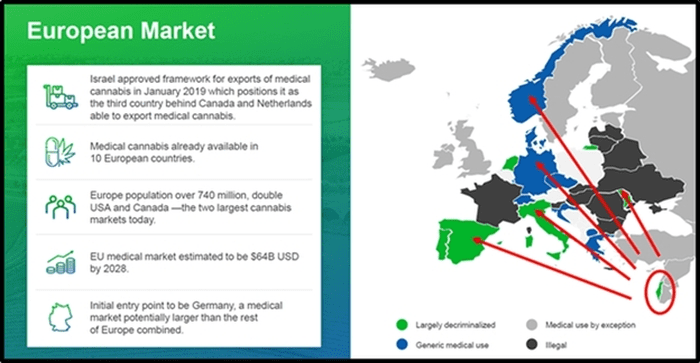 "Research institutes that examined the industry found that the value of the illegal market in Israel is over NIS 6 billion a year ($1.7 billion)," stated Nissenkorn on November 12, 2020, "which should bring the country about NIS 2 billion a year from taxes and up to a billion more from savings in enforcement resources, policing, etc."
"This is a significant, holistic and responsible reform," continued Nissenkorn, "which shows the State of Israel isn't ignoring reality and is going in the footsteps of developed countries."
According to the new law being promoted, people age 21 and up will be allowed to purchase cannabis at approved stores.
Cannabis can not be allowed to be taken into or out of the country.
No adult-use cannabis product can resemble candy.
Currently, only Uruguay and Canada have legalized adult-use cannabis at the federal level.
By mid-morning, IPOT is up 10% on 200,000 shares traded.
Full Disclosure:  Isracann is an Equity Guru marketing client.