With a Biden Presidency confirmed, financial media will soon be running articles titled "What Stocks to Buy Under a Biden Presidency". I wanted to beat them to the punch. This list should include clean tech stocks, mostly Electric Vehicles. Foreign stocks, as relations will be normalized but I am specifically thinking Chinese stocks. And finally, the focus of this piece, the Cannabis sector.
Before we jump into some stock charts, most of you will notice that the type of stocks mentioned actually got hit pretty hard yesterday. To be honest, it was a wild day on Wall Street yesterday, and the market seemed to be reacting more to the Pfizer vaccine. Stock markets did not close above the daily zones I was watching, and mentioned in yesterday's Market Moment post. We did not have a CLOSE into record all time highs. In fact, we printed candles with ugly wicks which just highlights the sellers putting pressure on the markets. A lot of theories being passed around to why markets did not continue their rally.
If you are a fund or a money manager, it is prudent to take some profits as markets hit new highs. I do believe we saw some profit taking, and likely even a shift out of tech stocks, as the Nasdaq continues to see some selling pressure.
The other theory is a bit more juicy. We all know how President Trump's tweets can move stock markets. The President had a tweet storm yesterday and said his team has evidence of voter fraud which will be presented soon. What this does is it opens the door to uncertainty once again. If there is one thing the stock markets hate, it is uncertainty. Many people laughed this off, but the markets did not. This could explain the large falls in the stocks that were meant to do well under a Biden Presidency. But of course, Joe Biden does not become the President until mid January.
Stock markets do 'price in' events sometimes months before they happen. I do think we will be hearing more about the election, and this can add pressure to the markets. The VIX is telling us that we may not be out of the woods just yet.
But besides that, let's just stick with the Biden Presidency being confirmed, and what it will mean for the Cannabis sector.
The biggest pro for Cannabis in the eyes of the government is the job creation. Colorado is an example of this. Now we are not talking about millions of jobs, but in this covid world, and post covid world, everything counts.
I am not claiming to be an expert on every aspect of the industry, but many here in Canada, have argued that the tobacco and alcohol industries would not be fans of cannabis, as it would take their market share. To resolve this, we have seen some Provinces in Canada (mainly Ontario), give licenses to sell cannabis only to liquor stores and big corporations/pharma. The US will probably be the same. This has caused a lot of cannabis companies to have poor balance sheets, and this is why I prefer to focus just on the growers themselves (CURA, VFF), or companies distinguishing themselves with a good business model and profits.
If you prefer an ETF, a new one just came out on the US markets:
MSOS began trading in early September of this year, and has created what can be called a cup and handle pattern. We were watching the resistance (price ceiling) zone at 26.50, for the breakout. This occurred, and we saw price pop up nearly 20% on breakout momentum, hitting highs at 32.
The large red candle does look foreboding, but just in terms of price action, it is expected. Price never moves in a straight line. An uptrend consists of swings called higher lows. Essentially price moves higher then pulls back before moving higher once again. This can be repeated multiple times in an uptrend.
With a break above 26.50, MSOS remains in an uptrend as long as we stay above this price zone. It is possible for price to pull back all they way to 26.50. My long time readers know that we do expect price to retest the breakout zones before continuing the trend. The other option is we make a higher low somewhere here, and then bounce to take out previous highs at 32. Your risk vs reward would be great if we pullback to retest 26.50, because you can place your stop loss below and then ride the wave.
For clarification, I am approaching this with a traders mindset. There is a difference between trading and investing. As an investor, you will be holding your shares for much longer. In that case, you do not mind where you get in too much since you are expecting price to be higher in a few months or years time. Keep this in mind as we look through other charts.
One of the trades I took last week, and it was posted for our members over on Equity Guru's Discord Trading Room, was Cronos Group (CRON).
Fundamentally, CRON is sitting on a lot of cash. We talking 1 billion last I checked. Cannabis experts claim that the biggest thing we will see in this space will be consolidation. Stronger balance sheet companies will eat up weaker balance sheet companies. CRON is in a position to do that.
Chart wise, CRON was and still is a beauty. I played the cup and handle like reversal with the breakout confirmed above 8.00. My take profit was just under 11.00. As you can see, price gapped up and hit my take profit the next day. Very rarely does this happen, but I was happy with the trade.
As long as price remains above 8.00, we can make more higher low swings in this uptrend. This would mean a break above 11.00. Interestingly enough, we now have three touches at 11.00, which provides a great resistance (price ceiling) zone. A break above this, would see price move up to 15.00. A very nice looking chart.
Heritage Cannabis (CANN) is focused on becoming a vertically integrated cannabis provider that currently has two Health Canada approved licensed producers, through its subsidiaries Voyage Cannabis and CannaCure Corp. both regulated under the Cannabis Act Regulations.
Joseph Morton has covered them and their latest press release regarding an agreement with IntelGenx to supply CBD filmstrips for the Canadian and Australian market. You can read his article here.
Chart wise, this is one we discussed over on our Trading Room when it broke out above 0.125. Nice momentum carrying price up to 0.175, before coming back down to retest the breakout zone. We have held above 0.125 ever since which is a positive sign. What I would like to see is the higher low form which means we continue the uptrend. The retest back to 0.125 could be that swing, but to confirm, we want to see a break back above 0.175. That would take us to the 0.22-0.24 zone.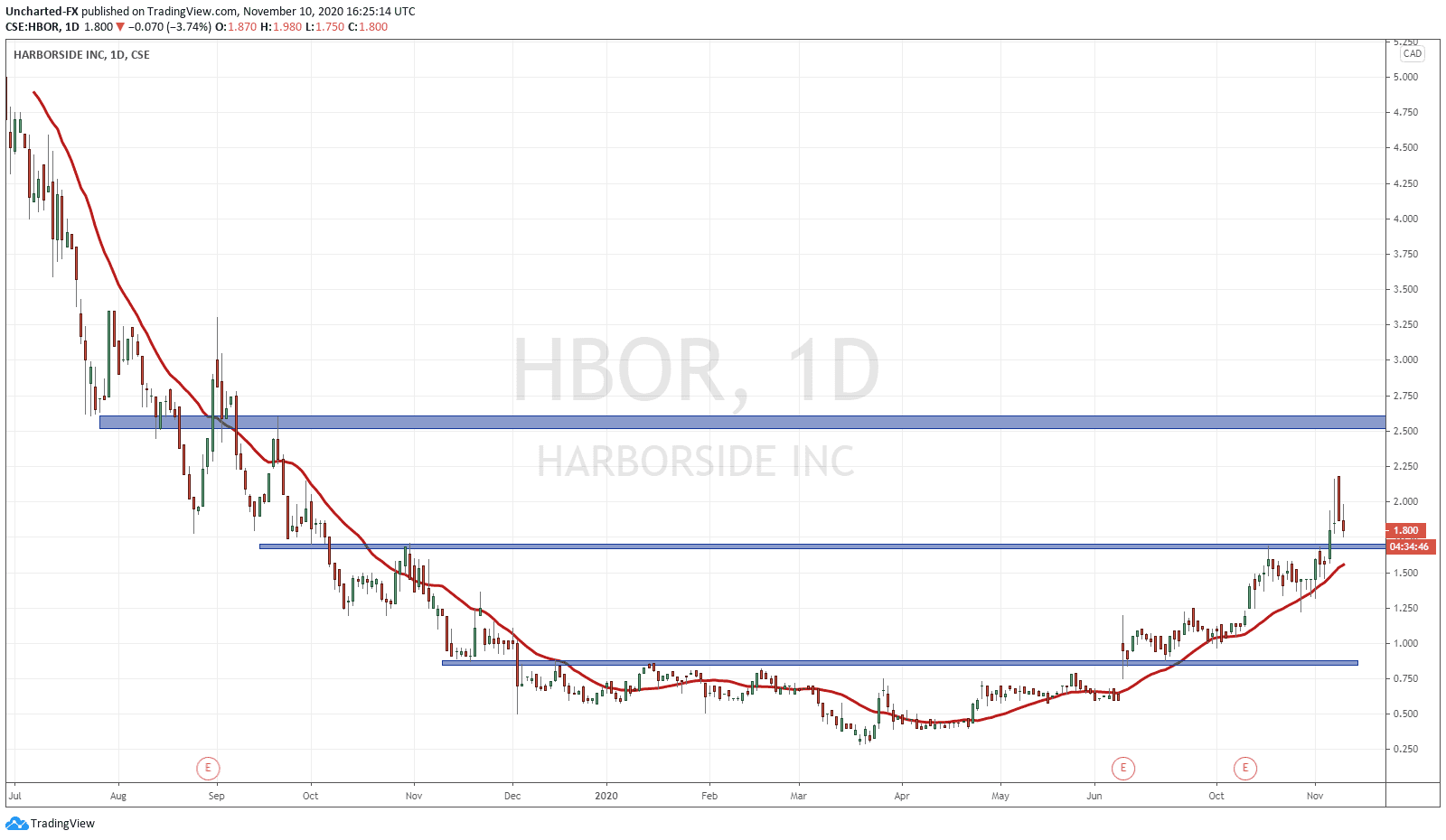 Harborside Inc (HBOR) is a stock I have mentioned recently on Market Moment, and has been a big winner! You can read my trade idea here.
Just to quickly summarize: nice head and shoulders reversal pattern with the break above 0.85, and a nice continuation! For those who want to see higher low swings in action, take a look at the HBOR chart. As you can see, price did not just shoot up in a straight line, price pulled back before continuing higher. I see two swings so far, and a third is possible. Price has broken above resistance at 1.67, and price is currently pulling back to retest. Again, this is normal. Our next target on a successful retest would be just above 2.50.
Harborside Inc is a California-focused cannabis company with retail, production, and cultivation operations built around recognized brands, and currently operates five retail dispensaries and one cultivation facility under a vertically-integrated model focused on the Northern California market.
Our very own Lukas Kane has covered Harborside just a few days ago. His full article can be read here.  But let me share some of the juicy parts:
Harborside generated Q2, 2020 net retail revenue of $10.9 million and net wholesale revenue of approximately $5.2 million, for total gross revenue of $16.1 million in Q2 2020, compared to $12.5 million in Q2 2019, a 28.8% increase year-over-year.

The 142% year-over-year increase in wholesale revenues was driven by improved harvest yields and higher average prices per pound at HBOR's Salinas Farm.

The last 30 days, as we've continued to cover HBOR, its market cap has risen from $22 million to $39 million.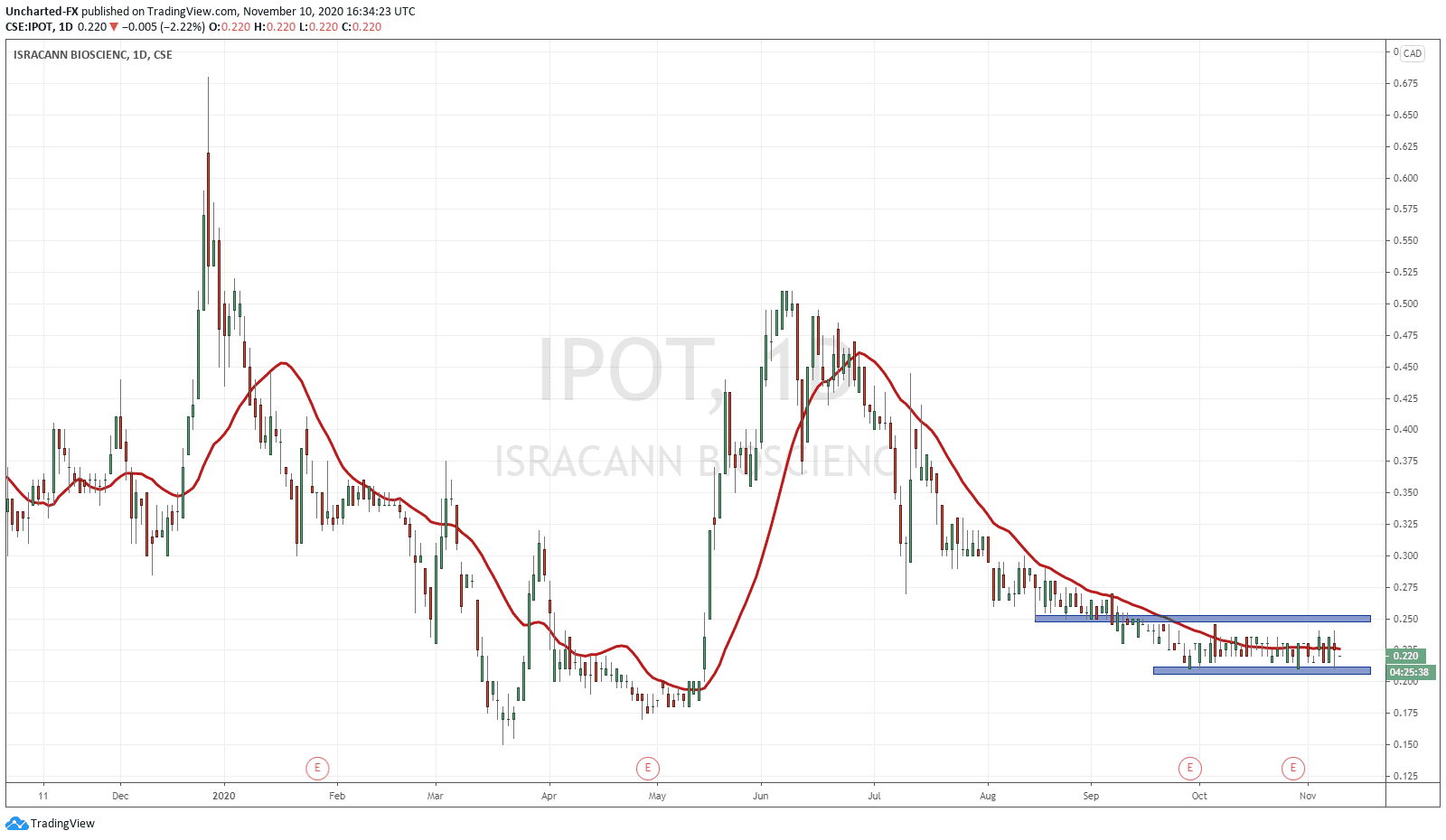 Iscracann (IPOT) presents a unique opportunity, as it is a chart which has been basing since September. Price has been held in a range between 0.21-0.25 and is looking for a breakout. This could be a good runner on the breakout to the upside.
Isracann (IPOT) is Israel's first pure-play cannabis firm wholly focused on becoming the nation's premier, low-cost cannabis producer.
Lukas Kane covered Isracann and the positive news from the Israeli government which gives Iscracann's export strategy a green light.
October 14, 2020 Isracann announced that "the government of Israel has officially enacted the legislation for the export of medical cannabis, clearing the way for sales abroad that the government expects could generate more than 1 billion shekels ($273 million) in annual revenue."

"Economy Minister Eli Cohen gave final approval for the exports more than a year after the cabinet initially supported the legislation," reports IPOT, "Within Israel, medical use of cannabis is permitted with recreational use largely decriminalised.

The ministry reports about 70,000 Israelis currently use medical cannabis consuming an estimated 25 tonnes per year. If this growth trend continues, Israel could see a market of over 200,000 medical patients consuming 85 tonnes per year within the next two years.
Let's end it off with Plus Products (PLUS).
Beginning with the chart, we have another nice basing set up. Price is constrained between 0.46 and 0.60. We are awaiting a break, preferably of course to the upside. Another positive sign is the potential double bottom pattern we have made. It looks exactly like it sounds: price prints two bottoms and we get a "W" shape pattern.
Plus Products is in the edible space, with 100% Hemp CBD gummies. More can be read about the edible space, including Plus Products, in Joseph Morton's piece on three years of Cannabis.
So there are some great set ups and charts in the Cannabis space. Another one I am looking at is Apria (APHA) and its head and shoulders pattern. Most Cannabis charts are either showing signs of an imminent breakout, or are ranging and preparing for a move in either direction. As a trader, I prefer to await the breaks. Otherwise I risk having my money tied up in something which may not move for weeks or months. As an investor, we are entering positions preparing for a larger move come 2021.
As we get closer to a transition of power in January, expect the Cannabis space to heat up.
Full Disclosure: Harborside Inc, Plus Products, Isracann ad Heritage Cannabis are Equity Guru Marketing Clients.