Now this is a chart that I am really excited about. The chart was spotted last week, and I have been very excited to be able to share this trade/investment idea this week. Just a gem in terms of pure technicals. I am talking about Sixth Wave (SIXW.CN) and this is the type of chart patterns that I look for and trade over and over. Why? Because the pattern is very consistent with a high probability of success.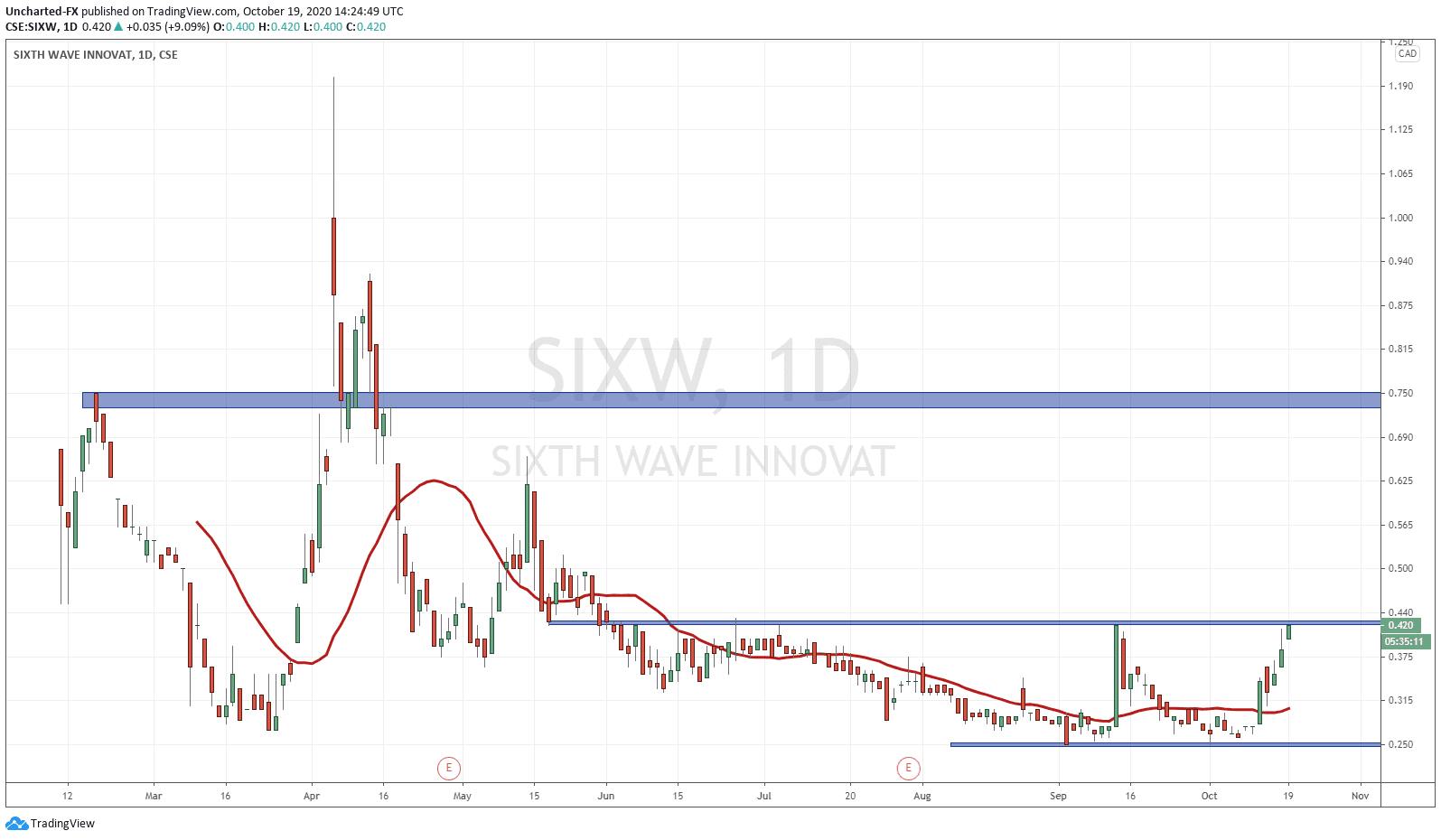 Long time readers can probably already point out the great technicals and overall market structure pattern which are the hallmarks of my trades. First off, we do like the basing or range pattern. Generally, they indicate the bottom or the top of a trend, and give us a sign the trend is about to reverse. In this case, a downtrend to an uptrend.
Furthermore, we have made a double bottom at 0.25, one of the quintessential reversal patterns along side the head and shoulders pattern. These reversal patterns are not buys right when we see them, they have a trigger. That trigger is the break of their neckline, or what many just call the resistance (price ceiling) level.
I put more emphasis on resistance levels which have been BOTH resistance and support (price floor) previously. This is the case with Sixth Wave. The 0.425 zone has previously been support and is now resistance. We have our flip zone. A break above this not only triggers the double bottom reversal pattern, but is an important market structure break overall.
The stock is already up over 9% at the time of writing. The breakout could occur today, but we would want to see the daily candle close above 0.425 at the end of the day. This is what will give us the actual confirmation. This is a pattern I have seen many times, and ideally what occurs is that price will not close and trigger our breakout today, but will retrace/pullback slightly, and then move back up and breakout in the next few days. Not only would this give us a higher low swing to work with in a new uptrend, but also gives the stock some relief for prudent traders to enter rather than chasing the stock. This would be healthy price action.
Once we do breakout, then 0.425 now becomes our support (price floor) and we must continue to make daily candle closes above this level to maintain the uptrend.
Targets for the upside? Well using the concept of flip zones being great targets, then 0.75 would be the next major flip zone. A good risk vs reward trade for us once the breakout is confirmed. I would note that there is an interim resistance at 0.625, and I would watch to see how price reacts there if I wanted to take some profits.
Overall, a very nice set up! Looking now for the breakout trigger for the entry!
In terms of the fundamentals, our very own Lukas Kane did a stellar job covering Sixth Wave and its value. The full article can be read here.
Sixth Wave is a nanotechnology company focusing on extraction and detection of target substances at the molecular level using highly specialized Molecularly Imprinted Polymers (MIPs).

Sixth Wave is designing, developing and commercializing MIP solutions across a broad spectrum of industries.
There is also a covid play here.
"A virus has a size and shape and we create an imprint in our polymer for that exact virus," explained President, CEO and Founder Dr. Jonathan Gluckman, "We are working to integrate this into masks and breathalyzers."

"If you think about putting a mask on," added Gluckman, "not only will that mask provide protection, it can also, right there, be the test for COVID-19."

Dr. Gluckman believes that the test will be cheaper, faster, less invasive, and easier to use – than competing technologies.
Lukas states that Sixth Wave shares objectives with large Covid-19 biotech companies like Moderna, Regeneron, and Sona, but Sixth Wave, with a market cap of $27 million, is blazing its own path.
Some of the highlights of Sixth Wave's Covid-19 MIP Core Technology are:
Operates in more diverse environments because the polymer is more robust and stable than antibodies.
No supply chain issues associated with growing and transporting antibodies.
No killing of lab bunnies.
Multiple applications – mask can be worn several times.
Extended time period test (users breaths/mask-wearer collects samples
Improved effective detection threshold (you can't keep swabbing or spitting onto a lateral flow test).
Did we mention no bunny-killing?
No waiting in a line to give a sample.
Radical reduction in costs.
Full Disclosure: Sixth Wave is an Equity Guru marketing client.