Equity Guru principal Chris Parry recently wrote an article about a gold company that has messaging so technically dense he declared: "even geologists are pounding energy drinks to get through it."
Agreed – "basement folding" and "fissure veins" are intimidating concepts.
But compared to Sixth Wave's (SIXW.C) "imprinted polymers" and "adsorption/detection media" – this breezy mining jargon is a Dr. Suess story.
Did you catch the "d" in "adsorption"?
I did – the third time I read it.
Adsorption – as opposed to absorption – is "the process of adhesion of molecules of liquid or gases onto the surface of a solid particle".
Adsorption is central to Sixth Wave's core technology.
Once you understand this core technology, it will answer the question: how can one process have commercial applications for COVID-19 testing, gold processing, CBD extraction and health sciences?
Sixth Wave is a nanotechnology company focusing on extraction and detection of target substances at the molecular level using highly specialized Molecularly Imprinted Polymers (MIPs).
Sixth Wave is designing, developing and commercializing MIP solutions across a broad spectrum of industries.
"A virus has a size and shape and we create an imprint in our polymer for that exact virus," explained President, CEO and Founder Dr. Jonathan Gluckman, "We are working to integrate this into masks and breathalyzers."
"If you think about putting a mask on," added Gluckman, "not only will that mask provide protection, it can also, right there, be the test for COVID-19."
Dr. Gluckman believes that the test will be cheaper, faster, less invasive, and easier to use – than competing technologies.
Over the last few weeks, Equity Guru has been talking to – and learning from – the SIXW management and technical team.
Sixth Wave shares objectives with other COVID-19 biotech companies like Moderna (MRNA.Q), Regeneron (REGN.Q) and Sona (SONA.T) – but this little company (micro-cap of $27 million) is definitely blazing its own path.
In layman's terms, paraphrasing from multiple interactions with the SIXW team, here is what we know:
SIXW COVID-19 MIP Core Technology Highlights:
Captures the virus using polymer rather than relying on antibodies grown in rabbits.
Operates in more diverse environments because the polymer is more robust and stable than antibodies.
No supply chain issues associated with growing and transporting antibodies.
No killing of lab bunnies.
Multiple applications – mask can be worn several times.
Extended time period test (users breaths/mask-wearer collects samples
Improved effective detection threshold (you can't keep swabbing or spitting onto a lateral flow test).
Did we mention no bunny-killing?
No waiting in a line to give a sample.
synthetic nature, highly saleable and infinitely adaptable platform, because it does not require the cultivation of antigens or collection of antibodies.
Radical reduction in costs.
This last point – cost reduction – will be an important differentiator for any future commercial product.
The mask SIXW is developing has the advantage of taking cumulative sample breaths.
How does this reduce cost?
If an elementary school was ruthlessly intent on identifying infected children and/or staff – it would have to test each student, each teacher – every single day.
With SIXW's tech, you could give each student and teacher one $5-mask on Monday morning, 100% of the school population could be tested all day, every day, continuously – from Monday to Friday – for a buck a day.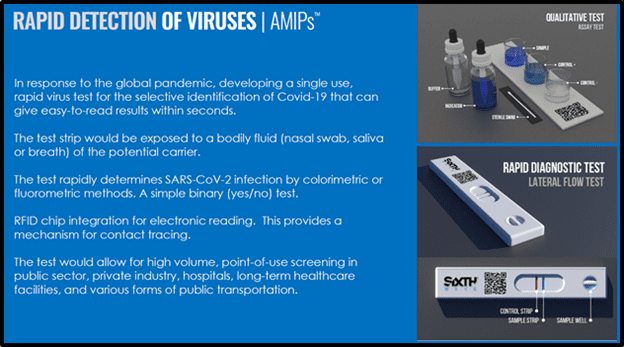 Sixth Wave is focusing "on the extraction and detection of target substances at the molecular level using highly specialized 'molecular imprinted polymers' (MIPs)," confirms Investorintel.
"The target substances can be anything, such as pathogens (viruses & bacteria), gold, or anything made of molecules (that's every substance)," continues Investorintel, "The company is working toward incorporating the technology into a mask so you could wear a mask that both protects and detects for COVID-19."
In the following Investment Pitch video, Vancouver TV legend Fiona Forbes (The Rush) interviews Dr. Gluckman about Sixth Wave's development pipeline.
With 24.5 million confirmed cases of coronavirus globally, and 840,000 dead, the total economic damage caused by the virus is projected to be between $8.1 and $15.8 trillion.
Given the grim human and financial costs, it's no surprise that biotech companies are pushing COVID-19 aggressively down the pipeline.
SIXW is also in the process of commercializing its Affinity cannabinoid purification system, as well as, IXOS, a line of extraction polymers for the gold mining industry.
A month ago, Sixth Wave announced that it is conducting test work initiatives in North America and Australia that are utilizing Sixth Wave's commercially available IXOS molecular imprinted polymer for gold extraction and the MPS GlyCat process.
The GlyCat process was invented to reduce cyanide consumption while maintaining gold recovery for gold ores from deposits which contain nuisance copper.
In the gold mining industry, this is how Molecularly Imprinted Polymers work.
On September 21, 2020 SIXW closed a second tranche of financing to raise $1,150,100.
The company has a staff of Seven Ph.D. Chemists & Research Associates. The team has Developed Multiple Advanced Molecules for Mining applications, as well as Medical, Homeland Security and Defense Applications.
This is not a light-weight team.
The CEO, Dr. Gluckman was a founder and CEO of Integrated Dynamics, a government engineering services company since 1996, focusing on the development of advanced technologies into commercial applications. Dr. Gluckman holds a Ph.D from the University of Cincinnati.
The Senior Chemist, Brandi Maull, has worked for the past 8 years in MIP development and 5 years helping to develop the IXOS gold adsorption product line. She holds a B.S. from Syracuse University and an M.S. in Chemistry from the University of Nevada-Reno.
You know God is smiling at you when the first name of your Chief Science Officer is Aristotle. The famous Greek philosopher (384-322 BC) was the first person to study biology systematically.
"Aris" Kalivrentenos is responsible for new product development and commercialization of Molecularly Imprinted Polymers (MIPs) for Life Science Applications, including pharmaceuticals, natural products, food safety, healthcare and drug detection. He has a PhD in organic chemistry from Colorado State University.
In the bowels of Canadian Venture Markets, a "woke writer" is likely to be burned at the stake – but I'll say it anyway: it's refreshing to see some coloured and female faces on the Science and Nanotech Team.
"In response to the pandemic, Sixth Wave has developed new IP for the detection of viruses and garnered support for the development from the Canadian Government, National Laboratories, and critical manufacturing partners," stated Gluckman, "We are energized about the growth opportunities before us and to be able to participate on the world stage to solve this and other difficult problems."
Today, by mid morning, Sixth Wave is up 11% on higher-than-average volume.
Full Disclosure: Sixth Wave is an Equity Guru marketing client.