Due to the number of companies I have in mind for this one, I'll dispense with the usual preamble, except to say, gold is looking constructive on the charts (note the accumulation/distribution line), as is the GDX and the GDXJ. All three are holding their ground, and many of the companies I follow in the junior exploration arena are catching a bid, or are trading firmer.
This could be the warm-up act before the dinosaur-loud headliner.
Good technical signs, these.
Shortlists
A recent offering—Undervalued and underappreciated – our sub $100M market cap junior exploration company shortlist—was composed of companies with significant resources backstopping their valuations.
Another recent offering—Gaining traction – our $100M-plus market cap junior exploration company shortlist—featured companies with a little more meat on the bone (companies further along the development curve).
This next shortlist features companies that are cheap by comparison. For the most part, they lack significant resources and are trading under the market's radar—most haven't caught a bid, though some have firmed up in price of late.
Note that some of the companies featured below have limited their groundwork in recent months to conserve cash, waiting for the tide to roll back in.
Conversely, some have raised cash in recent weeks/months and are looking to the future (a PP followed by a shiny new corporate presentation usually means things are about to get jiggy).
This is a real mixed bag, but the one thing these ExplorerCos all have in common is discovery potential.
The must-have criteria for this list:
the company must have a project of merit

—

geological merit.
the company must have a market cap of < $20M Cdn dollars.
the company must be helmed by an experienced management team.
the company must be located in a mining-friendly jurisdiction.
Once again, I'll start in the Yukon Territories, then travel south, then head north-east.
Yukon
130.82 million shares outstanding
$9.81M market cap based on its recent close at $0.075
Banyan is exploring two projects in the Yukon—the Hyland Gold Project and the Aurex-McQuesten Property.
The 18,620 hectare 100% owned Hyland project is located in the Watson Lake Mining District of the southeast Yukon.
Hyland's 'Main Zone' has an Indicated resource of 236,000 AuEq ounces at a grade of 0.85 g/t, plus an Inferred resource of 288,000 AuEq oz's at a similar grade. The Main Zone is open in all directions and at depth.
With a >18 kilometer long structural corridor, the potential to grow this resource is excellent.
Banyan's Aurex-McQuesten Property is located between Victoria Gold's (VIT.V) Eagle Gold mine and the Keno Hill Silver District where Alexco (AXU.T) operates.
Most of the company's 2019 exploration dollars were spent on Aurex-McQuesten, where they succeeded in expanding the strike length of their Air Strip zone—a zone characterized by long intervals of shallow, low-grade material.
The new higher-grade Powerline zone is where the company believes it can add significant ounces.
This 92 square kilometer property has seen little modern exploration and is largely virgin territory.
Several people I know and respect like Banyan. Worthy of some serious due diligence, this.
9.36 million shares outstanding
$4,63M market cap based on its recent close at $0.495
Luckystrike, a spinoff from Goldstrike Resources Ltd (GSR.V), is exploring the gold potential at its flagship Luckystrike property.
Luckystrike shares a common border with White Gold's (WGO.V) Golden Saddle property.
Geologically, Luckystrike is similar to both Golden Saddle and the multi-million ounce Coffee Mine Project currently being developed by Newmont-Goldcorp (NGT.T).
"Five large gold-in-soil anomalies have been discovered at Lucky Strike along a 10 kilometre long gold trend delineated by soil sampling, geophysics, prospecting and bedrock trenching followed by an inaugural 1,000 metre drill program in 2017 which returned 5.36 g/t gold over 22m in hole 9 and intersected near surface gold mineralization in all 9 holes. These results are considered significant when compared to the Golden Saddle discovery hole of 4.1 g/t gold over 18m and the Coffee discovery drill hole of 17.07 g/t gold over 15.5m."
A modest four-hole dd program totaling 1,105.82 meters was carried out in mid-2019. Results might best be described as a technical success.
After rolling back its shares (10-old-for-1-new) the company is now cashed up with over $1.6M.
Note…
Klondike (KG.V) and Atac (ATC.V) are too rich for this list (market-cap wise) but shouldn't be ignored as both companies boast top-shelf management teams and geologically prospective projects. We'll cover them another day.
Golden Triangle B.C.
116.67 million shares outstanding
$9.33M market cap based on its recent closing price of $0.08
Aben's 23,000 hectare Forrest Kerr Gold Project, located in the heart of the Golden Triangle, made headlines a couple summers back with hole FK18-10:
FK18-10 tagged a high-grade zone consisting of 331.0 g/t gold (9.65 oz/t) over 1.0 meter within a broader interval averaging 38.7 g/t gold (1.12 oz/t) over 10.0 meters.
The high-grade tenor of this hit was sufficient to attract the likes of Eric Sprott.
Since then, multiple zones of mineralization have been identified across the property, but thus far, similar high-grade results have proved elusive.
Forrest Kerr's geology is complex. But don't rule this one out as the geological sleuths here are among the best in the business.
188.45 million shares outstanding
$8.48M market cap based on its recent $0.045 close
Colorado has a large portfolio of projects in the Triangle.
The company's 30,504-hectare KSP Project lies roughly 15 kilometers southeast of the past-producing Snip Mine (approx. one million ounces @ 24.5 g/t Au).
Like the Snip Mine and Pretium's Brucejack Mine, the target here is high-grade gold.
There's also potential for bulk-tonnage copper-gold mineralization similar to Seabridge Gold's (SEA.T) KSM Project.
Jan. 20 2020 news – Colorado Resources Expands Tami Gold Copper Mineralization at KSP and Provides Update
The company's 21.18K hectare North ROK Property lies 15 kilometers northwest of Imperial Metals' (III.T) Red Chris Mine.
Inferred resources at North ROK currently stand at 142.3 million tonnes averaging 0.22% copper and 0.26 g/t gold for 690.3 million lbs of Cu and 1.189 million oz's of Au.
The newly consolidated Castle Property is where the bulk of the company's 2019 exploration dollars were spent in 2019.
Colorado Discovers Porphyry Copper-Gold-Moly System and Other New Targets at Castle, BC
These were the first holes ever drilled on the property—results might best be characterized as a technical success.
98.43 million shares outstanding
$4.92M market cap based on its recent $0.05 closing price
Golden Ridge's 1,700 hectare Au-Ag Hank Project remains its flagship asset, though the company has recently made a foray into Central Newfoundland.
The company is targeting two types of mineralization at Hank:
High-grade epithermal style gold-silver veins surrounded by bulk tonnage Au-Ag-Pb-Zn mineralization in altered host rocks.
Bulk tonnage alkalic porphyry copper-gold mineralization similar to the producing Red Chris mine.
GLDN's proximity to the Kyba Red Line is one reason this company deserves a closer look:
"Geology: All mineralized zones on the Property are hosted within Stuhini Group volcanic and volcaniclastic strata, as well as alkaline stocks and dykes which intrude into the volcanic package and show a clear spatial association with the mineralized zones. Geological studies have suggested the intrusions were the likely source of hydrothermal fluids and gold-silver-lead-zinc mineralization on the Property. The Upper Alteration Zone is adjacent to an important unconformable contact between the Upper Triassic Stuhini Group and Lower Jurassic Hazelton Group. The unconformity, referred to as the "red line" was recently recognized by Joanne Nelson and Jeff Kyba of the BC Geological Survey (BCGS) as playing a major role in the emplacement of all significant mineral deposits within the Golden Triangle district including Brucejack, KSM, Schaft Creek, Galore Creek, Spectrum, Saddle (GT Gold) and Red Chris. The Stuhini-Hazelton transition cuts the southwest portion of the Property as indicated by the thick red line in the regional geology figure below. A feldspar megacrystic stock, known as the Bald Bluff Porphyry intrudes along its northern edge and was interpreted by Kaip (1997) as the source of the mineralizing fluids at Hank. 2017 drilling in the Lower Alteration Zone intersected intrusive rocks similar in texture and composition to the Bald Bluff Porphyry, which have a clear spatial association with high-grade gold-silver mineralization. 2018 work will be focused on mapping the intrusive rocks on the Property and refining the current drill targets."
36.16 million shares outstanding
$12.29M market cap based on its recent $0.34 close
Metallis' 10.6K hectare Kirkham Property has seven distinct targets.
The property features multiple geological settings—porphyry, shear vein, and magmatic sulphide—and with its location in the heart of the Gldn-Tri, there's always the potential for a world-class discovery.
Once again, we have a project with significant alteration that lies in proximity to the lauded "Kyba Red Line".
"The Kirkham property lies within the Stikine Terrane, near the boundary between the Intermontane and Coast Tectonic Belts of the Canadian Cordillera. Locally, the Kirkham property lies on the western margin of the Eskay Rift with trans-tensional structures host to several metallic ore deposits in the district. It is underlain by volcanic and sedimentary rocks of the Upper Triassic Stuhini Group and the Lower to Middle Jurassic Hazelton Group. According to Kyba and Nelson (2016), the contact between these two rock formations is a key geological marker for copper-gold mineralization in the Golden Triangle. Also referred to as the "Red Line", this marker has been traced over a strike length of 10km (north-south) on the Kirkham Property."
Assay related news from the company's Cliff zone dropped on January 17 of this year:
Metallis Intersects Significant, Near Surface, Porphyry Copper/Gold Mineralization at the Cliff Zone on the Kirkham Property
Results might best be characterized as encouraging (no home-run hits).
198.4 million shares outstanding
$6.94M market cap based on its recent $0.035 close
Romios holds a strategic position in a group of claims bordering a property that Newmont-Goldcorp (NGT.T) recently plunked down $270M to snag a piece of—Galore Creek (mining giant Teck holds the remaining 50%).
Romios' 73k hectare land package covers over 50 kilometers of mineralized rock.
The company's most advanced projects include Newmont Lake and Trek, with exploration targets being developed at Royce, Porc, and JW.
Newmont Lake's Northwest zone sports an Inferred resource of 1,406,000 tonnes containing 200,000 ounces of gold at 4.43 g/t, 6,790,000 lbs of copper at 0.22%, and 291,000 ounces of silver at 6.4 g/t.
Though the majority of the company's 2019 exploration funds were directed at their Lundmark-Akow Lake claims in NW Ontario, they did put boots to the (Gldn-Tri) ground last summer.
Romios' Exploration Results Further Extend Copper-Gold Zones at JW and Trek Projects in BC's Golden Triangle
88.31 million shares outstanding
$19.43M market cap based on its recent $0.22 closing price
Scottie holds a 100% interest in the past-producing Scottie Gold Mine property, strategically located 20 kilometers north of the Premier Gold Mine and 27 kilometers south of the Brucejack Mine.
The company also has an option to acquire a 100% interest in the Bow Property right next door.
Note the project-spread in proximity to ground held by Ascot (AOT.T) and Pretium (PVG.T).
My friend, Peter Epstein, covered Scottie's developments in recent weeks. The link below will take you to his most recent coverage.
Scottie Resources hits 74+ g/t gold equiv. over 4.3 m on 100%-controlled Bow property
125.56 million shares outstanding
$4.39M market cap based on its recent $0.035 close
Strikepoint has several projects in its portfolio with Willoughby taking center stage.
Willoughby shares similar geology to Ascot's nearby Red Mountain and Premier Mine projects.
The company's Porter project has a historical Indicated resource of 394,700 tonnes grading 868g/t silver, 3.37% lead and 1.41% zinc for 11M oz's of AgEq.
A 2018 drilling campaign confirmed historic grades and opened up a new zone.
2019 saw a modest drilling campaign at the company's flagship project. Results were a mixed bag with some notable high-grade intercepts:
W19-097: 5.29 g/t Au and 34.93 g/t Ag over 4.15 meters
W19-097: 22.30 g/t Au and 347 g/t Ag over 1.27 meters
W19-097: 72.2 g/t Au and 55 g/t Ag over 1.33 meters
W19-097: 4.91 g/t Au and 27.79 g/t Ag over 5.0 meters
W19-098: 2.45 g/t Au and 28.76 g/t Ag over 6.37 meters
W19-100: 3.26 g/t Au and 2.47 g/t Ag over 7.02 meters
W19-100: 2.16 g/t Au and 26.49 g/t Ag over 12.52 meters
In more recent sessions, the company monetized two non-core assets:
Jan. 20 2020 news – StrikePoint Signs Definitive Agreement to Sell Glacier Creek Property to American Creek
Note…
Benchmark Metals (BNCH.V) and Eskay Mining (ESK.V) have more than doubled since we featured them back in March of 2019—BC's prolific Golden Triangle: a selection of ExplorerCo's for your consideration (Part I). Their market caps are too rich for this list. We'll be sure to feature them another day.
Nevada
61.84 million shares outstanding
$10.82M market cap based on its recent $0.175 close
Allegiant came into being when Columbus Gold (CGT.T) spun out ten highly-prospective drill-ready gold projects in the U.S. (seven in Nevada).
The mineral resource at the company's flagship Eastside Project was updated recently:
ALLEGIANT Announces Updated Inferred Resource Estimate of 1.1 million Gold-Equivalent Ounces, an increase of 52% at Flagship Eastside Project in Nevada
Preliminary metallurgical testing indicates that both oxide and sulphide mineralization is amenable to heap leaching.
Eastside also hosts numerous exploration targets and historical resources of some 272,153 oz. gold (11,177,761 tonnes grading 0.82g/t gold).
The company's share price has firmed up in recent weeks, perhaps due to the general improvement in sentiment towards those with ounces-in-the-ground.
44.46 million shares outstanding
$5.8M market cap based on its last close at $0.13 close
Barrian's flagship project—Bolo—is a 3,332-acre package of claims located 90 kilometers northeast of Tonopah Nevada.
Bolo is a Carlin-type setting. Its mineralization is similar to the Pinson, Lone Tree/Stonehouse, and Turquoise Ridge/Getchell gold deposits, all multimillion-ounce orebodies defined by high-angle structures.
The following link is a highlight from a recent drilling campaign at Bolo.
Barrian Mining Drills One of the Highest-grade Gold Intercepts to Date at Bolo With 29 Metres of 3.34 g/t Gold Oxide Within a Broader Intercept of 84 Metres of 1.37 G/t Oxide From Surface
New acquisition
Kinsley Mountain, an acquisition announced just over two months ago, has the stock halted.
Barrian Mining Enters Into Definitive Agreement to Acquire the Kinsley Mountain Gold Project from Liberty Gold
From the Liberty Gold (LGD.T) project page:
"In December 2015, Liberty Gold recently completed an independent resource estimate that defines a significant high-grade zone at the Western Flank, along with near-surface oxide ounces. Mineralization hosted in the Secret Canyon Shale in the Western Flank zone includes 284,000 Indicated ounces at an average grade of 6.04 g/t gold. At a 3 g/t cut-off grade, most of the resource remains, delineating 248,000 Indicated ounces at an average grade of 9.15 g/t gold. The potential for resource expansion is excellent due to widespread alteration, prospective geology and gold at surface, and over 80% of the property is untested by drilling."
More recently, the company updated progress, moving the deal closer to the goal line.
Barrian Mining Announces Brokered Financing With Sprott Capital Partners
Along with the acquisition of Kinsley Mtn acquisition, Barrian will rollback its shares two for one.
I like the Kinsley Mountain project. It wasn't that long ago that Newmont (now Newmont-Goldcorp) took out the nearby Long Canyon project for a cool $2.3B.
63.21 million shares outstanding
$12.64M market cap based on its recent double-dime close
Blackrock is up solidly since we featured it back in early March 2019. The stock was nearly a 10-bagger during the summer months.
The company is run by mining savvy Andrew Pollard.
Located near the confluence of the Carlin Trend and the Northern Nevada Rift, Silver Cloud is Blackrock's flagship project.
A few particulars re the 45 square kilometer project:
characterized by low-sulphidation epithermal Au-Ag banded veins;
historic drilling (1999 – 2001) by Teck (TECK.T) cut multiple high-grade intercepts including 1.5 meters of 157.7 g/t Au;
drilling by Placer Dome (2001) tagged 12.2 meters of 5.53 g/t Au (including 1.5 meters of 12.5 g/t Au);
previous operators of the project believed the mineralized veins ran North to Northwest.
Pollard's crew, after examining the geochemical and geophysical data, now believe the low-sulphidation epithermal vein system runs East to West, between the above noted high-grade hits. This opens up two kilometers of strike.
If these geological sleuths are right regarding this East-West orientation, there could be lots to celebrate in the coming weeks/months.
While conducting property-wide exploration last summer, the team discovered eight new veins outcropping at surface.
We've talked about 'data stacking' in previous Guru offerings (using multiple layers of good science to prioritize drill targets). These new veins outcrop over large geophysical and geochemical anomalies.
Silver Cloud drill hole assay news, Jan. 6, 2020:
Blackrock Drills up to 8.32 G/t Gold over 1.5m at Silver Cloud in the Upper Portion of an Epithermal Vein System; Identifies Several Mineralized Porphyry Intrusives
Andrew Pollard, Blackrock President & CEO:
"Our drill campaign, the first completed on the project in almost 15 years, set out to establish the existence of an east-west epithermal vein system at the Silver Cloud mine and Northwest Canyon. The potential for discovery of a bonanza epithermal system on our property, for which the Northern Nevada Rift is renowned, represents a 3-dimensional puzzle that we are trying to solve. The initial results confirm the existence of an epithermal vein system oriented in an east-west direction. This is a crucial step forward in deciphering the mystery of Silver Cloud, and suggests we are well on our way to solving this puzzle. Given the reported gold grades and the trace element geochemistry, we correctly predicted the east-west structures, but they indicate that the drill encountered them too high in the system. This suggests potential exists for higher-grade gold at depth within the boiling zone of this epithermal system."
68.5 million shares outstanding
$5.82M market cap based on its recent $0.085 close
Bravada, through its wholly-owned US subsidiaries, controls 11 exploration properties comprising some 9,200 hectares along several of Nevada's more productive gold trends.
"Bravada believes these properties have characteristics of very large Carlin-type gold deposits or rich low-sulfidation gold/silver deposits."
The company employs the prospect generator business model.
Last summer, the company tabled results from a drilling campaign at their SF project:
Bravada Reports Phase I Drill Results for the SF Project, Nevada
This drilling intersected anomalous gold and base-metal values the company characterizes as 'proof of concept'—that a hydrothermal system is present in a geological setting that could demonstrate considerable scale.
Though the company hasn't been particularly active in recent months and trading can be thin, there is meat on these bones (note the Indicated/Inferred resource and the positive PEA using a $1300 Au price on the following slide)
Recent share price action suggests that Bravada's ounces-in-the-ground respond well to buoyant bullion prices.
82.37 million shares outstanding
$14M market cap based on its recent $0.17 close
Contact's extensive land holdings extend across the prolific Carlin, Independence, and Northern Nevada Rift gold trends. Their 212 square kilometers of target-rich terrain includes projects ranging from early-stage to the resource definition stage.
Pony Creek, the company's 13,771-hectare flagship project, is strategically located immediately south of Gold Standard's (GSV.T) Railroad-Pinion project.
The property hosts a Carlin-type system with a historic gold resource.
In early October 2019, the company updated progress at Pony as it continues advancing and de-risking the project:
Contact Gold Continues to Advance the Pony Creek Project, Nevada
The past-producing Green Springs Project generated the following assays from a summer-of-2019 drilling campaign:
5.05 g/t Au over 39.6 meters from 65.5 meters in hole GS15-06 (E Zone) including 9.01 g/t Au over 16.7 meters from 71.6 meters.
Nice hit.
Green Springs is where most of the exploration spending has been focused of late:
Contact Gold Drills 70 Metres of 2.36 g/t Oxide Gold Mineralization at Green Springs
One to watch.
113.82 million shares outstanding
$14.8M market cap based on its recent $0.13 close
Newrange is an exploration and development company looking at near to intermediate term production opportunities.
The company's flagship Pamlico Project is located on Nevada's Walker Lane Trend.
Over 53 million oz's of gold and 519 million oz's silver have been extracted from Walker Lane historically.
Pamlico's 1,670 hectares, held in private hands since 1896, covers the historic Pamlico group of mines, as well as the nearby Good Hope, Gold Bar, and Sunset mines.
In recent developments, the company monetized its Yarumalito asset in Columbia for $1.4M in cash and stock. The bulk of these funds, and proceeds from additional assets that are on the block, will go directly into Pamlico.
More recently, the company offered shareholders an overview of the Good Hope Mine.
Newrange Gold Confirms Additional Continuity of Gold Mineralization and Provides Summary of Results at Good Hope Mine
46.42 million shares outstanding
$5.8M market cap based on its recent $0.125 close
NV Gold is focused on delivering shareholder value by utilizing the prospector generator business model on its extensive portfolio of Nevada based projects.
In-house technical knowledge and a decades-in-the-making geological database of research and exploration will serve as a foundation to create opportunities for lease or joint venture.
The company's Baker Spring Project currently holds flagship status.
Drilling efforts in recent months were focused on the company's Slumber Project where significant alteration and silicification were encountered:
NV Gold Drill Results Demonstrate Prospective Gold System at its Slumber Gold Project in Nevada
A good summary of the company's projects can be found by tapping the following Jan. 30 2019 headline link:
NV Gold Highlights Portfolio of 15 Gold Projects, Geological Data Library in Nevada, and Identifies Properties for Option
74.75 million shares outstanding
$7.47M market cap based on its recent $0.10 close
Silver Range is yet another Nevada ExplorerCo deploying the prospect generator business model.
I count four, the number of projects in the company's Nevada project portfolio that are at the drill-ready stage:
Gold Chief – joint ventured to Crocan Capital Corp
Skylight – available for joint venture (jv)
Strongbox – available for jv
Cold Springs – available for jv
The remaining 14 projects are at a preliminary stage of exploration.
The company has been busy staking, optioning, and acquiring projects in recent months.
Scanning the company's i-deck, I find it interesting that Strategic Metals (SMD.V), one on my favorite Yukon ExploerCos, holds 17.9% of SNG's outstanding shares.
Company management has serious skin-in-the-game holding nearly 23% of the outstanding common.
On Jan. 14, the company provided shareholders with an update:
26.24 million shares outstanding
$5.64M market cap based on its recent $0.215 close
Viva's 4,054 acre Tonopah Gold Project, located on the prolific Walker Lane Trend, is the company's flagship asset.
Tonopah's resource:
253,000 ounces at a grade of 0.89 g/t Au in the Measured and Indicated category
123,000 oz's at a grade of 0.54 g/t Au in the Inferred category
The company has a plan for Tonopah:
Work Plan
"Drill results demonstrate that the Tonopah gold system is large in size, but structurally complex. Over 400,000 ounces of in-place gold mineralization has been discovered and outlined and Viva believes that the Tonopah deposit has the potential to be significantly larger in size. The work plan has a Part A and B.
Part A includes initiating a Preliminary Economic Analysis (PEA) on the existing resource base, to determine potential economic viability. If feasible, work would commence on long lead time studies including baseline water sampling, hydrology, rock characterization tests, and additional metallurgical testwork as a basis for commencing detailed pre-feasibility study and development permitting. This work would provide a baseline valuation for the project and open up strategic options for the property.
Part B focuses exploration potential. This work would include detailed structural analysis of the project area to better define the locations of structural junctions and the potential for intercepting addition areas of high-grade mineralization. This work would include follow-up field programs including close spaced geophysical studies and drilling.
The proposed work plan, including completion of the resource estimate, drilling, metallurgical test work and initial environmental field work, is expected to cost between $1.5 and $5.0 million depending on the level of success senn in work function on both Part A and B."
The company commenced a scoping study on the project late last year. On Jan. 30, the company provided the following PEA update:
Viva Gold Provides an Update on PEA Study for its Tonopah Gold Project
Note…
Nevada Exploration (NGE.V) and VR Resources (VRR) were edged out of this roundup piece due to their $20M-plus market caps.
We covered these two companies back in March of 2019. Both companies are up nicely since our early coverage. VR Resources is up 130%.
Ontario – Quebec
Chibougamau Independent Mines (CBG.V)
46.7 million shares outstanding
$5.84M market cap based on its recent $0.125 closing price
CBG is focused on the Chibougamau region of Quebec along the northeastern Abitibi, an area that has served up over 6.7 million ounces of historic gold production.
The company controls multiple projects in the region with the potential to convert historic resources into NI 43-1012 compliant numbers—roughly 3.3 million tonnes at an average grade of 1.78% Cu and 2.92 g/t Au.
CBG was off to a good start on its C-3 Cu-Au discovery (Bateman Bay Property) last summer delivering a number of interesting copper and gold values.
Then, on Aug. 20, the company dropped news that additional drilling along the southeastern strike of the C-3 zone would have to wait until the lake iced over (drilling from a barge can be exceedingly expensive).
The market responded to the news with a groan.
Just last week, the company dropped the headline everyone was waiting for:
Drilling Starting on Chibougamau Independent's C-3 Copper/Gold Zone
We stand to watch.
53.9 million shares outstanding
$5.66M market cap based on its recent $0.105 closing price
CORE is currently the largest claim holder in the Hemlo region.
The company's flagship Pic Project encompasses some 24,000 hectares of prospective Hemlo terrain featuring a large gold system with a known strike length of 3 kilometers.
The company also discovered a high-grade quartz vein system with a strike length of over 400 meters.
The North Limb Property, some 7,000 hectares of Hemlo greenstone terra firma, is prospective for VMS deposits and lode-type Au deposits associated with Timiskaming-type structures.
The company's shares have received no love from the market of late.
If you believe in this company, current prices could represent a low-risk entry point.
Postscript: According to a Jan. 10 press release—Canadian Orebodies Announces Intention to Rebrand as Hemlo Explorers and $1,000,000 Non-brokered Private Placement—the company plans to consolidate its shares "on the basis of one (1) post-consolidation common share for up to three (3) pre-consolidation common shares…"
There's a lot of this activity going on in the junior exploration arena—companies rolling back their shares seeking a fresh start.
Clearly, warrants are to blame for these bloated cap structures.
I'm not saying that CORE was bloated to begin with. But this rollback will give it a super-tight share structure as it puts boots puts to the ground in 2020.
95.65 million shares outstanding
$15.78M market cap based on its recent close at $0.165
In recent sessions, GFG caught some What-For for delivering mediocre values from their Rattlesnake Project in Wyoming, a joint venture with Newcrest Mining (NCM.ASX).
With any luck, the company's Ontario projects will help restore some of the lost market cap.
On Jan. 8, the company released drill hole assays from its Penn Gold Project in the prolific Timmins Gold Camp.
GFG Returns Multiple Zones of High-Grade Gold Mineralization at the HGM Target, Pen Gold Project West of Timmins, ON
Brian Skanderbeg, President and CEO:
"This was our first attempt at following up on the historic drilling at the HGM target. These results validate our model of a robust gold system with multiple high-grade stacked lenses. The system remains open for growth and we plan to further drill test the HGM target in the upcoming 4,000 metre drill program along with other high priority targets at Slate Rock, Crawford and Nib. With further results pending from both the Pen Gold Project and Rattlesnake Hills Gold Project, and drilling anticipated to restart at Timmins in the coming weeks, 2020 should be an exciting year for GFG."
73.1 million shares outstanding
$15.72M market cap based on its recent $0.215 closing price
The company rolled back its shares since we last checked in.
GWA's North Timmins Gold Project is located on the Pipestone Fault / North Pipestone Break, two highly prospective gold-bearing structures within the Timmins camp.
Last August there was some drama, and adverse share price action, when the company dropped the following headline:
PGB Timmins Holdings Delivers Default Notice and Terminates Pre-Paid Forward Gold Purchase Agreement
The issue was resolved days later. Then came the totally expected axing of certain directors.
That Bradshaw deposit contains:
Probable Reserves stand at 1,800,000 tonnes grading 4.82 g/t Au for 277,000 ounces of gold
Indicated Resources stand at 2,120,000 tonnes grading 6.19 g/t Au for 422,000 ounces of gold
Inferred Resources stand at 3,620,000 tonnes grading 6.47 g/t Au for 755,000 ounces of gold
The company has a BFS on the project, using a very conservative $1200 Au price. The numbers don't look bad, and the CapEx is very modest.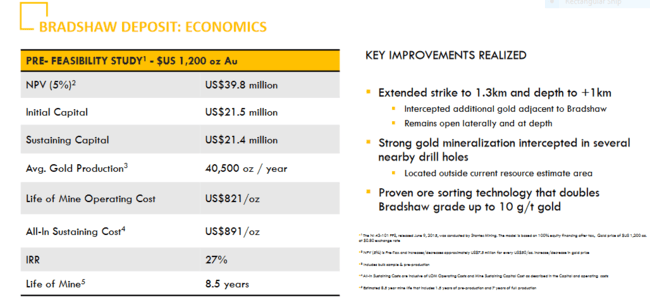 On Jan. 17, the company offered shareholders a corporate update.
70.02 million shares outstanding
$3.15M market cap based on its recent $0.045 close
The company's Dona Lake Project, recently optioned from Newmont-Goldcorp, is located in the Pickle Lake Greenstone Belt. The region is host to several historic mines including the Dona Lake mine, the Central Patricia mine, and the Pickle Crow mine.
Dec. 2, 2019 news – Metals Creek Resources Corp. Recognizes Additional Targets From The Recently Completed Airborne EM/Mag Survey at Dona Lake Gold Project, NW Ontario, Extends Private Placement
Metals Creek and Newmont-Goldcorp are 50/50 partners on the Ogden Gold Property covering over 8 kilometers of strike length on the Porcupine-Destor Break.
Gold production to the east of the Odgen Property property exceeded 22 million ounces from a number of mines including Goldcorp's Dome Mine which produced in excess of 17 million ounces.
On Jan. 28, the company announced the staking of a Pt-Pd-Au project in the vicinity of New Age Metals' (NAM.V) River Valley PGM Project:
Metals Creek Resources Corp. Acquires PGE Claims In The River Valley Area of Ontario Through Staking
115.1 million shares outstanding
$7.48 market cap based on its recent close at $0.065
Jurisdictionally diversified Nexus is looking to mobilize a drill rig to the High-Grade Capital of the World.
The company's 1,348.5-hectare Mckenzie Project is well-positioned in the famous mining camp, flanked by the likes of Newmont-Goldcorp (NGT.T), Yamana (YRI.T), Pure Gold (PGM.V), and Premier Gold (PG.T).
With the assistance of geological consultants, Rimini Exploration & Consulting, the company delivered numerous headlines highlighting high-grade surface samples from the project, as well as a number of (narrow) high-grade drill hole assays.
In the southwest corner of the island, a 12 cm wide low-angle quartz vein exposed from the shoreline over a length of 2.0 meters produced high-grade samples ranging from 9.37 g/t Au to 331 g/t Au.
If you're new to Nexus and its Red Lake asset, the following Guru article will bring you up to speed:
41.78 million shares outstanding
$5.64M market cap based on its recent $0.135 close
Pelangio controls a number of early-stage properties in Ontario.
The last time we checked in with the company, they were busy at their recently acquired Dalton and Dome West projects located in the heart of the Timmins camp.
The Birch Lake property, located in the Red Lake Mining District, is another strategic project in the company's portfolio. Placer Dome drilled approx. 80 holes into Birch Lake back in the 1990s. The best result from that historic campaign was 34.59 g/t Au over 9.85 meters.
The Grenfell property, located 10 kilometers NW of Kirkland Lake's Macassa Mine, has received most of the company's attention of late.
Pelangio Exploration Provides Update on Drill Program at Grenfell Property
One to watch as the company continues to drill.
Project page (no investor presentation)
80.41 million shares outstanding
$4.02M market cap based on its recent nickel close
PGX's Matachewan Project covers a good chunk of the prolific Cadillac-Larder Lake Break.
Matachewan has known gold showings, gold intersections in several drill holes, a large area of "anomalously high gold-in-soil", and a fifteen-kilometer section of the Cadillac-Larder Lake covered under highly prospective sedimentary rocks.
A phase one, seven-hole drill program conducted on the property last Fall returned encouraging values.
Prosper Gold Phase 1 Drilling Confirms Mineralized Zone: Plans Deeper Drilling at Middleton Target
On Feb. 11, the company announced the mobilization of a diamond drill rig to its Wydee Project.
Prosper Gold Mobilizes Drill to the Wydee Project – Matachewan Ontario
"The RQ8 target, an aeromagnetic low zone over syenite surrounded by mafic and intermediate volcanic rocks, was tested in 2017 with seven holes. Quartz veins up to 3m were intersected with the most notable result 7.74 g/t Au from 247-249m in S042. The intersection is a 2m quartz vein in an 8m section of anomalous gold in syenite quartz porphyry."
Don't let the thin trading on some of these ExplorerCos fool you—it only takes one well-placed hole (and a dash of luck) to generate a significant discovery.
Final thought
Some of these companies hold real geological potential—some may develop significant orebodies worthy of acquisition by a resource-hungry predator. In their current state, the majority of these co's might best be characterized as extremely high-risk/high-reward scenarios.
Your own due diligence is required here.
END
—Greg Nolan
Full disclosure: of the companies featured above, only Nexus has a marketing relationship with Equity Guru.