Plus Products (PLUS.C) is a proponent of the hyper-specialization approach in a sector which, at least once upon a time, prided itself on vertical integration across a wide swathe of products.
The company operates in California and Nevada, selling their consumer packaged goods (CPG) edible products which include gummies, mints and more.
A respectable cash stockpile of USD$34M as of June 30, 2019, inspires confidence that, even if profit margins remain slim, the company has time to streamline their supply chains and processes.
Apart from Dixie Brands (DIXI.U.C), Plus is the only publicly traded cannabis company dedicated to cannabis CPG, and they're firm adherents to an old Greek adage.
"The fox knows many things, but the hedgehog knows one big thing."

–Archilochus of Paros
In Q2 2019, the company commanded a 21% market share for the gummy edible market in California, according to BDS analytics. That's big.
California still has a black market cannabis problem, and due to banking regulations prohibiting companies from accessing traditional banking, much of their transactions happen with cash, presenting a moral hazard of sorts.
Banking is also needed to help eradicate the black market and deter internal theft, says Erik Knutson, founder of Denver-based Keef Brands, which produces cannabis-infused beverages, edibles and concentrates.

"Internally within the company, it's hard to track cash," says Knutson, who also is a founding board member of the American Trade Association of Cannabis and Hemp and the Cannabis Trade Federation. "There's a lot of it that goes unreported."
In an interview with Midas Letter, Jake Heimark, CEO, said if his competitors revenues started changing dramatically, it may be a sign of black market elements in their supply chains.
But Heimark didn't seem worried about the move towards cannabis banking or its effects on his supply chains: Plus has made a point of branding themselves as the antithesis to Monster (MNST.Q).
The company's partnership with John Legend came about due to the company's family-oriented structure and its commitment "setting a high standard within an industry that has to date been fairly unregulated," according to the artist.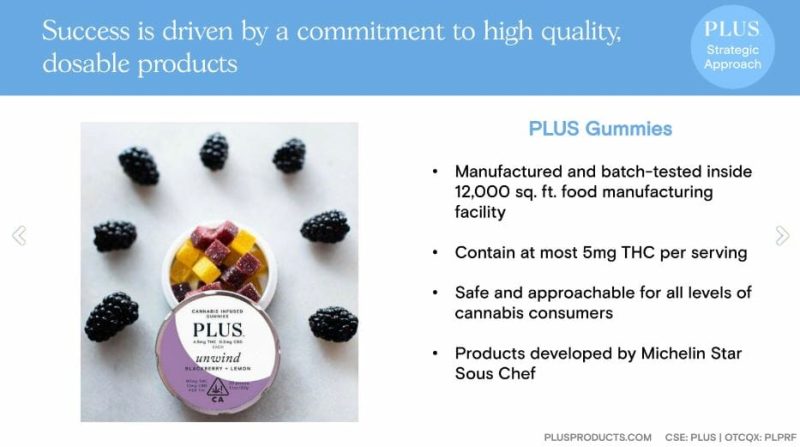 With "mood" branding, and a low-THC approach meant to garner widespread adoption in households sans-Bob Marley posters, Plus is focused on the lifestyle segment.
And it's been successful. Plus products look like something that can be found in the checkout line at Homesense, whereas its competition's branding does little to differentiate itself from products at outdoor cannabis festivals.
Gummies also seem like a logical choice, anecdotally at least. Chocolates and cookies certainly seem like sound ways to deliver cannabinoids, but baked good get stale remarkably fast whereas gummies and mints do not.
Bite-sized balance sheet breakdown
PLUS is still pre-earnings and pre-free cash flow, and losses have increased consecutively over both reported quarters during this fiscal year, but this is to be expected during a ramp-up.
During Q1, advertising and promotion budgets totaled $227,300. By Q2 that figure more than doubled, and in Q3 the company engaged in a $1M advertising campaign across California.
Gross margin has hovered around 20% for the first half of 2019, actually decreasing slightly in Q2. The company is still dealing with a burdensome cost of sales, but they're in a market segment which has high historical margins when compared to flower, according to the Grizzle.
According to Grandview Research, alternative ways of dispensing cannabinoids, such as edibles, are increasing in popularity, largely in part thanks to social stigma surrounding smoking cannabis.
"Moreover, doctors are not comfortable with their patients smoking as it has potential harmful components such as particles, tar, and other chemicals."
R&D is also up nearly 26 times since Q1, meanwhile, professional fees and consulting fees have come down a touch, indicating the company is spending money on actually building their business rather than enriching promoters.
One note of concern is the USD$19M in convertible debentures on the books, however: Convertible at CAD$6.50, PLUS is currently trading at $2.15, although the notes mature in early 2021.
Although the company's products dominate the Californian gummy market, expansion is integral to the company's directive.
The tourist-Mecca of Nevada is PLUS' first target outside of its home state, and with good reason: The state is a renowned hub for cannabis tourism.
Nevada's cannabis sales are "expected to top $1.2B1 by 2022 with proceeds coming from
consumers throughout the US," according to PLUS.
PLUS has a tight share structure at 43.3 million shares issued and outstanding, and a 34% insider ownership demonstrates management's confidence in the company's prospects.
We think PLUS is leading the way in the cannabis packaged goods segment.
–Ethan Reyes
Full disclosure: Plus Products is an equity.guru marketing client.