Years ago, I worked on Vancouver's skid row as a para-professional social worker. Thirty percent of my clients were indigenous peoples. I remember one stoic Haida man dying from AIDS who told me that four of his siblings had already died from alcoholism and misadventure.
Being forcibly removed from your home, forbidden to speak to your language and then raped by priests creates emotional trauma that is unlikely to be resolved in a single generation.
It's good to see the First Nations book some wins in the cannabis industry. But not everyone is happy about it.
"Since the arrival of legalized pot in Canada last October, dozens of unregulated pot shops have sprouted up on Tyendinaga Mohawk Territory, about 60 kilometres west of Kingston, Ontario. Some estimates place the number of stores on the territory between 40 and 50," stated CBC news.
"'I think the government has done it all wrong,' said Brian McLeod, who holds a "micro-grow" licence to produce cannabis for regulated stores.

McLeod says competition from unregulated shops on Tyendinaga Mohawk Territory has made it nearly impossible for regulated cannabis stores to keep up.

McLeod points to the staggering selection of illegal cannabis products on offer at the unregulated shops. Oils, edibles, bags of bud weighing up to nearly half a kilogram, live plants, THC-infused slushie drinks, hash and even cannabinoid-packed shatter are boldly advertised on neon signs."
Owners of a prohibited cannabis dispensary in Fort William First Nation, Ontario are suing the community's leadership, alleging they are being unfairly blocked from operating their weed business.
Stephane Lalonde, co-owner of Bubba's Bud and Smoke, filed a lawsuit against Fort William First Nation's band council. Lalonde and his business partner, Tim Ward are both members of Fort William First Nation.
The Fort William First Nation Chief, Ken Ogima, is in no hurry to greenlight weed dispensaries. He stated that all grow-ops and dispensaries are prohibited on reserve lands and any activity would be considered unlawful.
"We believe we're a sovereign nation, we do believe we have our own ability to write our own laws and our own regulations and I think that this can be achieved in a transparent and responsible way," said Lalonde.
Ontario has licensed 25 retail stores – but only two for northern Ontario. The nearest one to Fort William is in Sudbury – more than 1,000 kilometres away. Ontario recently announced 50 new cannabis retail licenses. Eight of them will be awarded to First Nations.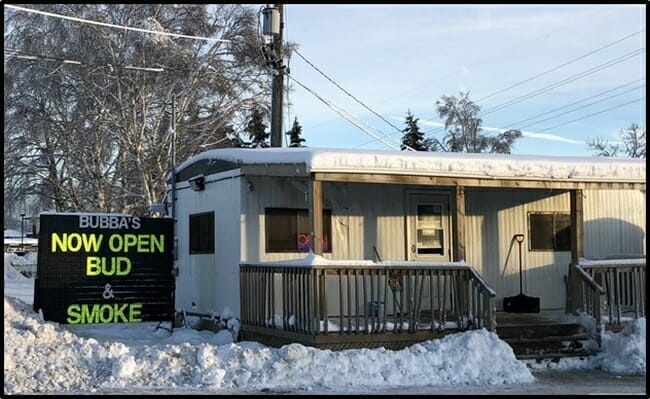 On March 8, 2019, Biome Grow (BIO.C) announced a memorandum of understanding (MOU) with the Mi'kmaw Native Friendship Centre in Halifax, Nova Scotia, to develop "job training, skills and employment opportunities for urban indigenous people in the region."
Biome sent the Friendship Centre a request to fill five new positions in Highland Grow's rapidly growing facility. These first five jobs will be in "supply chain logistics, packaging, quality control, and cultivation."
"This partnership offers Biome a unique opportunity to demonstrate its social responsibility," confirmed Biome Grow CEO Khurram Malik. "These are stable, long-term careers for local people to work in one of the fastest-growing and most innovative industries in the world."
"We have multiple challenges in this urban indigenous community," said Pam Glode-Desrochers, Executive Director of the Mi'kmaw Native Friendship Centre, "including internet access and housing."
"With Biome, we are at the ground level," added Glode-Desrochers in an interview with Equity Guru. "It's a grassroots approach. That is a big difference for us. Often things are done without the indigenous community, and then it's suddenly thrown on us. That doesn't work."
"The Thunderchild Nation in Saskatchewan holds a significant stake in Westleaf's (WL.V) Prairie Records," said Equity Guru's Chris Parry, "The nation partnered with Westleaf because of the knowledge their team had in designing a high-tech grow. Delta 9 also helped with the facility."
When complete, Thunderchild will be an approximately 130,000-square-foot indoor cultivation facility producing up to 14,600 kgs per year of high-quality cannabis flower and trim. Phase I will be an approximately 80,000-square-foot indoor grow facility which will expand to full capacity in 2020.
The facility is being built on land owned by the First Nation just outside Battleford, Saskatchewan and is anticipated to provide a source of long-term employment for Thunderchild band members as it will employ up to 150 people.
I once wrote a pessimistic column about the plight of the aboriginal community on skid row. A Ktunaxa reader admonished me: "The First Nations people I know are artists, social workers, martial arts instructors, playwrights, dancers, healers and educators."
Point taken.
And now First Nations people are succeeding in the cannabis industry.
– Lukas Kane
Full Disclosure: Biome Grow and Westleaf and are Equity.Guru marketing clients.