Artificial Intelligence (AI) investing is a hot topic. Largely thanks to ChatGPT taking the world by storm. It seems everyone's job will be in danger (according to my friends who work in computer science!) and everyone wants to invest in it.
In the next few days, I will be taking a look at AI plays from a technical analysis perspective. In this article, I will be focused on the top US stocks. Canadian AI companies will be covered in the near future so be sure to check bookmark or favorite Equity.Guru.
I will omit some of the obvious picks such as Meta, Alphabet (Google) and of course Tesla. Although, if you really are looking for AI in vehicles then Tesla is worth considering, given the current technical set up.
I will also omit the AI ETFs listed on US exchanges, but for those of you who are interested, here they are:

C3.AI Inc
When you search for the ticker "AI" you will come across C3.AI Inc. C3 AI is a leading enterprise AI software provider for accelerating digital transformation. The C3 AI Platform supports the value chain in any industry with prebuilt, configurable, high-value AI applications for reliability, fraud detection, sensor network health, supply network optimization, energy management, anti-money laundering, and customer engagement.
C3 AI software is used by some of the world's largest organizations — including Shell, Bank of America, the U.S. Air Force, Koch Industries, ENGIE, and others.
C3 AI has developed a rich partner ecosystem with leading technology and services providers globally, including Google Cloud, Microsoft, Amazon, Raytheon, FIS, Baker Hughes, and others.
The company's AI software can be used in various applications and industries including: manufacturing, oil and gas, utilities, financial services, defense and intelligence, government, healthcare, retail, telecommunications and transportation.
Applications include:
C3 AI Ex Machina to for analysis-ready data;
C3 AI CRM, an industry specific customer relationship management solution;
C3 AI Data Vision that visualizes, understands, and leverages the relationships between data entities,
C3 AI Inventory Optimization, a solution to optimize raw material, in-process, and finished goods inventory levels;
C3 AI Supply Network Risk, which provides visibility into risks of disruption throughout the supply chain operations;
C3 AI Customer Churn Management, which enables account executives and relationship managers to monitor customer satisfaction, as well as to prevent customer churn with AI-based and human-interpretable predictions and warning;
C3 AI Production Schedule Optimization, a solution for scheduling production;
C3 AI Predictive Maintenance, which provides insight into asset risk to maintenance planners and equipment operators;
C3 AI Fraud Detection solution that identify revenue leakage or maintenance and safety issues; and
C3 AI Energy Management solution.
The company recently announced the launch of the C3 Generative AI Product Suite with the release of its first product — C3 Generative AI for Enterprise Search. C3 Generative AI for Enterprise Search provides enterprise users with a transformative user experience using a natural language interface to rapidly locate, retrieve, and present all relevant data across the entire corpus of an enterprise's information systems.
Translation: C3 Generative AI Product Suite integrates the latest AI capabilities from organizations such as Open AI, Google, and academia, and the most advanced models, such as ChatGPT and GPT-3 into C3 AI's enterprise AI products.
The stock has been on a tear with big volume. We bottomed at $10 and formed a mini cup and handle reversal pattern. The major pattern breakout in my opinion occurred with a close above $15. I have marked this on my chart with a black line.
Going forward, as long as the price remains above $15, the uptrend is in play.
I want to highlight the blue square I marked on the chart. Notice we had a gap down. When a gap is filled, meaning price reverses and closes above the top portion of the gap, it is a very powerful sign. Recently, C3 AI filled the gap with a close above $18. We have a confirmed gap fill. Bulls are in control.
This should lead to another strong momentum wave higher to our resistance zone at $23.30. This zone has been resistance going back to 2022. If we can close above this, it would be an important technical break.
Currently, I would expect to see price hit this zone and then pullback as traders take profits or sellers jump in. However, with current momentum, it would just be a pullback providing bulls another opportunity to buy. Time will tell when we test this resistance zone, but just be aware a major level is approaching.
BigBear.AI Holdings
BigBear.ai provides AI and machine learning for decision support. BigBear.ai applies artificial intelligence (AI) and machine learning (ML) to create powerful data enrichment and analytics solutions that enable you to clearly see and understand the present, predict the future, and execute effectively.
The company operates through two segments, Cyber & Engineering and Analytics. The Cyber & Engineering segment offers high-end technology and management consulting services. It focuses in the areas of cloud engineering and enterprise IT, cybersecurity, computer network operations and wireless, systems engineering, and strategy and program planning.
The Analytics segment provides high-end technology and consulting services. This segment focuses on the areas of big data computing and analytical solutions, including predictive and prescriptive analytics solutions. Its solutions assist customers in aggregating, interpreting, and synthesizing data to enable real-time decision-making capabilities.
AI driven solutions to make better decisions, execute effectively, build resilience and agility, and gain a competitive edge.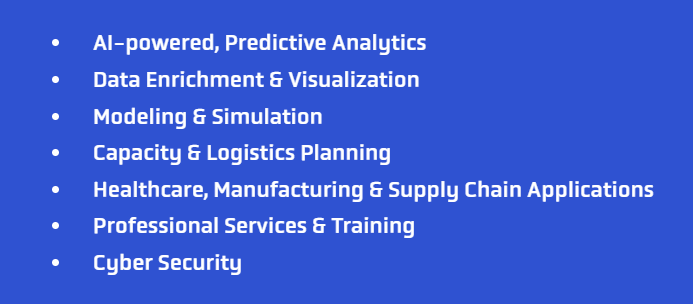 The company recently secured a 10 year $900 million IDIQ contract with the US Air Force. The contract vehicle allows BigBear.ai to compete for task orders delivering capabilities, systems, and synthetic environments to the Air Force as a prime contractor. The Air Force Life Cycle Management Center (AFLCMC) Architectures and Integration Directorate expects the work on awarded task orders to be completed by 2032.
Another stock which is approaching a major resistance zone.
BBAI had a huge gap up on January 12th 2023. We then pulled back to retest the $2.00 zone, which is now support or the price floor. As long as we remain above this level, more higher lows and higher highs are possible.
Resistance at $5.00 is an area where I would expect profits to be taken, or short sellers to enter. An entry on a deeper pullback would be an ideal play. Otherwise, the prudent way to play the technicals is to wait for the break and close above $5.00.
SoundHound AI Inc
SoundHound is an audio and speech recognition company. It develops speech recognition, natural language understanding, sound recognition and search technologies.
The AI component? SoundHound develops an independent voice artificial intelligence platform that enables businesses across industries to deliver high-quality conversational experiences to their customers. Its products include Houndify platform that offers a suite of Houndify tools to help brands build conversational voice assistants, such as automatic speech recognition, natural language understanding, wake words, custom domains, text-to-speech, and embedded voice solutions.
Last year the company inked a 7 year agreement with Hyundai to include SoundHound's Edge+Cloud voice AI technology, music recognition software, voice commerce solution, and multiple-language conversational intelligence in a broad range of vehicle models globally.
This year, the company is projecting profitability based on strong expected revenue growth and targeted cost reductions (layoffs).
This stock setup is quite interesting as it recently just broke out of a bottoming pattern, but it held down due to resistance. Resistance comes in at $3.00 and support at $1.75. A breakout has happened so technically, another wave higher is possible.
The interesting part is the fact we are pretty much testing the support zone. I would be watching this chart in the next few days to see if buyers jump in around this support level.
and an added bonus…
Palantir
Palantir has been a favorite with the retail and meme crowd. Most forgot it has a heavy AI element.
The stock fell back down to earth after an amazing rally. The company is still a growth stock, and many of them took a hit with rising interest rates. With the markets pricing in a Fed pivot or pause, growth stocks could be set for a reversal.
Palantir recently made all time record lows hitting $5.84. However, a wall of buyers stepped in. The stock is now currently battling at resistance around the $8 zone. A close above would be bullish, and set us up for a run to $9.