Guanajuato Silver (GSVR.V), Mexico's fastest growing silver company, today announced consolidated production for the three months ended September 30th 2022. Production results are from the Company's wholly owned El Cubo Mines Complex ("El Cubo") and the San Ignacio Mine ("San Ignacio") in Guanajuato, Mexico, and the Topia Mine ("Topia") in Durango, Mexico.
The big takeaway is that silver ounces produced in Q3 totaled 329,297 ounces, which is a 111% increase over Q2. Silver equivalent ounces produced increased 107%.
Ag equivalent ounces produced for the quarter totaled 700,264.
Other highlights are:
Average Silver recoveries of 88.5% and gold recoveries of 86.3% match or exceed historic production recoveries and demonstrate the efficiency of the processing facilities at El Cubo and Topia.
Significant lead and zinc sales commenced in August 2022 at Topia from which GSilver sells a lead-silver concentrate to Samsung C&T UK Limited, and a zinc-silver concentrate to Ocean Partners UK Limited.
"The dramatic increase in production from Q2 to Q3 of this year reflects the welcomed addition of the San Ignacio Mine and the Topia Mine into our growing production portfolio," said James Anderson, Chairman and CEO of Guanajuato Silver. "Having successfully enhanced our production status, we now look to continue the trend of quarter over quarter increases in mined tonnage, grade, recoveries, and most importantly, silver-equivalent ounces produced."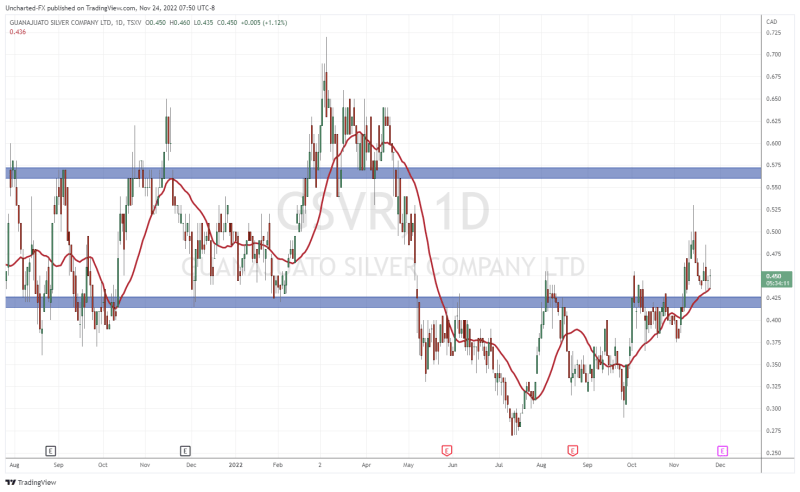 The stock is currently up 1.12% with over 247,000 shares traded on the news. Investors should be aware that US markets are closed for Thanksgiving and things are much slower to end this week.
The stock itself remains above our key support level of $0.42. As long as we remain above this price level, the uptrend will continue. The next resistance comes in at the $0.56 zone.
What is the next major catalyst for Guanajuato Silver? Financial results which are scheduled to be released on November 29th 2022.
The structure of the chart looks very similar to that of silver, which is looking to break above resistance at $22 to continue its momentum upwards. If this happens, the silver stocks will follow.
For more information on Guanajuato Silver, check out my deep dive article here.