Guanajuato Silver (GSVR.V), Mexico's fastest growing silver economy, is reactivating past producing silver and gold mines in central Mexico. The company operates four mines and three processing facilities.
The Company produces silver and gold concentrates from the El Cubo Mine, Valenciana Mines Complex, and the San Ignacio mine; all three mines are located within the state of Guanajuato, which has an established 480-year mining history. Additionally, the Company produces silver, gold, lead, and zinc concentrates from the Topia mine in northwestern Durango.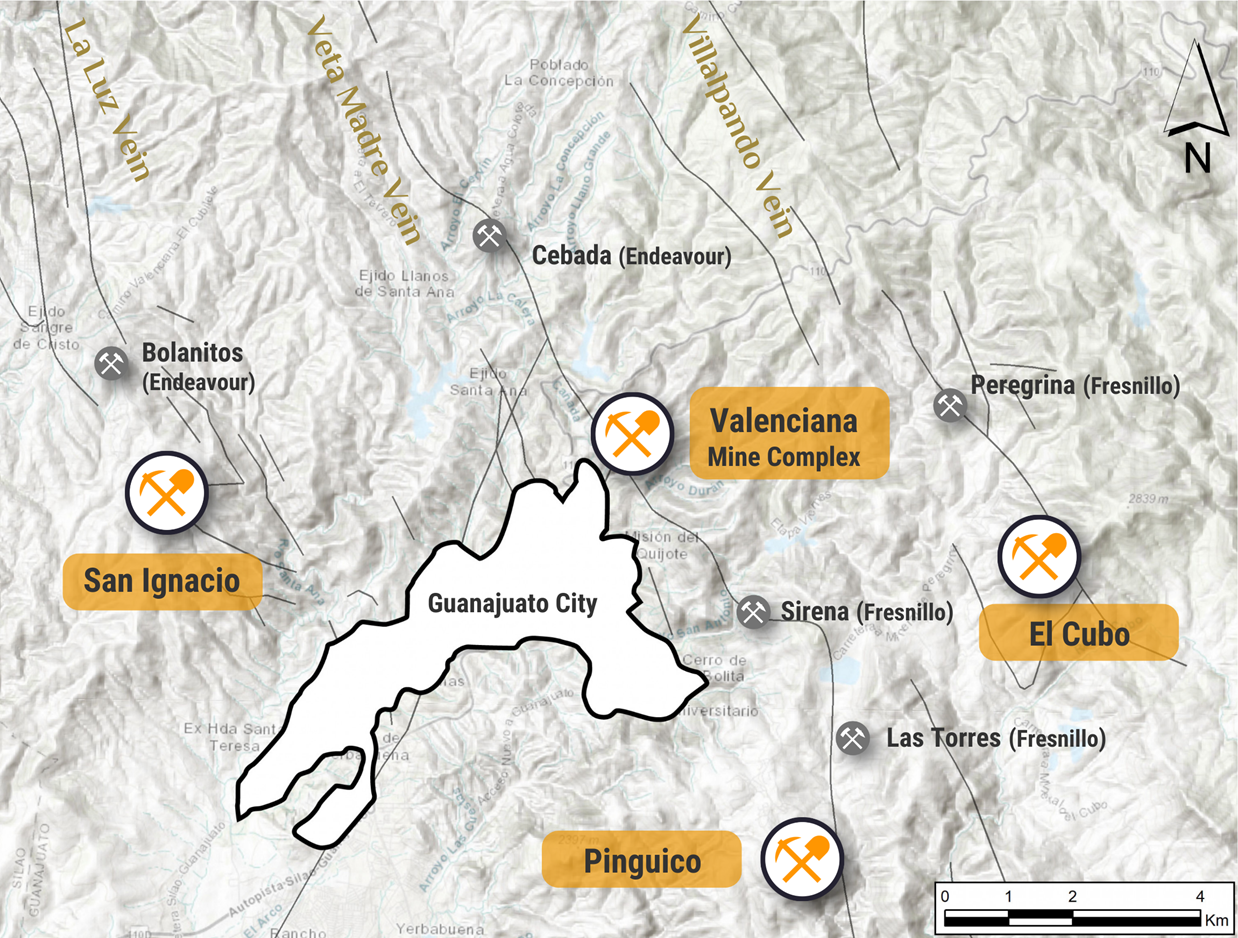 For you silver bulls, last year I gave a breakdown on this company, and why I am excited for their future. You can read that here.
Today, Guanajuato Silver announced consolidated production results for the three months ended December 31, 2022. Production results are from the company's four wholly owned mines mentioned above.
The big number is a record production during the quarter of 836,375 silver-equivalent (AgEq) ounces derived from 401,244 ounces of silver, 3,907 ounces of gold, 811,492 pounds of lead and 1,261,554 pounds of zinc. Silver-equivalent production for all of 2022 totaled 2.15 million ounces.
Here are other Q4 2022 production highlights:
Average silver recoveries of 86.8% continue to surpass historical recoveries.
The dry stack tailings project at El Cubo has been initiated and advanced engineering has been completed; the Company is awaiting regulatory approval to begin construction of a dry stack facility that would increase tailings capacity at El Cubo from 2.5 years to approximately 15 years of additional tailings storage.
A new gravity circuit at El Cubo was completed during the quarter with the objective of recovering gold and silver from the Mastrantos IV historical tailings pond (See GSilver news release dated June 22, 2022 – GSilver Discovers High-Grade Historical Tailings Material at El Cubo Assays 727 GPT AgEq Over 1.2m and 711 GPT AgEq Over 1.0m). The new gravity circuit is expected to begin commercial operations in Q1, 2023.
Installation of a new exhaust fan at El Cubo with the capacity to circulate 250 cubic feet per minute has been completed; ventilation at the mine has been substantially improved.
Substantial cost reductions were realized during the quarter through the purchase of compressors and a wholly owned scoop tram fleet; further savings were realized as the Company reduced the total number of outside contractors it utilizes in its mining operations.
All recently acquired mining assets are now in production; all assets acquired through the MMR transaction (San Ignacio, VMC and Topia) in August 2022 are now fully operational. Towards the end of the quarter, the Cata mill at VMC was recommissioned and is currently processing mineralized material from San Ignacio and the Los Pozos mine at VMC; the Topia mine in Durango did not lose a single day of production during the MMR ownership handover.
"We ended 2022 with record production of precious metals from five mines and three processing facilities," said Chairman & CEO, James Anderson. "Capital investments made during Q4 are already generating improved efficiencies and our operations team continues to look for opportunities to enhance profit margins as we strive to continue our trend of quarterly increases in silver production across all of our producing assets."
Consolidated silver production increased 22% to 401,244 ounces in Q4 2022 compared to Q3 2022; similarly, consolidated gold production increased by 21% to 3,907 ounces over the same period.
In Durango, third-party mill feed from local operations in the vicinity of the Topia mine added to production during the quarter; this supplemental production amounted to 20% of all tonnes processed at Topia during the quarter and contributed to higher grades.
Consolidated silver equivalent production in Q4 was 19% higher than the previous quarter. This increase reflects the continuing ramp-up of operations at all of GSilver's mining assets. Total production for 2022 was 2.15 million AgEq; the Company ended the year at a commercial run-rate of 3.5 million silver-equivalent ounces, which was approximately 8% higher than initially anticipated for 2022.
The stock is currently down 1.20% with over 233,000 shares traded.
When it comes to the stock, Guanajuato Silver is still in its range. This range has been held since December 12th 2022. This presents an interesting set up for those bullish on silver and the company. To play a range, you wait for the break in either direction. Obviously, bulls would want to see the break to the upside. A close above $0.425 would be a breakout of the range and could take us to test the major psychological zone of $0.50 and eventually $0.58.
Silver prices have also been ranging since mid December 2022 just like Guanajuato Silver. Silver investors are waiting for the break which will give direction to silver stocks. Perhaps next week's Federal Reserve interest rate decision will be the catalyst.