SKRR Exploration (SKRR.V) is a junior Gold explorer which owns three properties in the under explored Trans Hudson Corridor in Saskatchewan. This area can potentially be Canada's next emerging Gold district or the next Abitibi.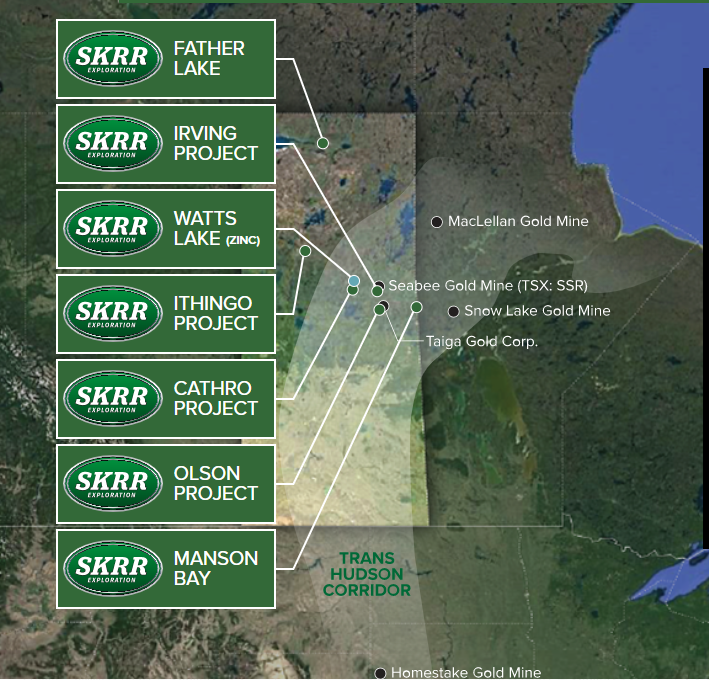 Despite being under explored, the region has two multi million ounce discoveries to date, Seabee and MacLellan. The Santoy mine and Seabee Mill are operated by SSR Mining and both are high grade/ high margin operations.
It is also important to note that the Homestake Gold Mine, a monster deposit, operated from 1878-2002 producing a total of 43.9 million ounces of Gold with robust grades approaching up to 10 g/t.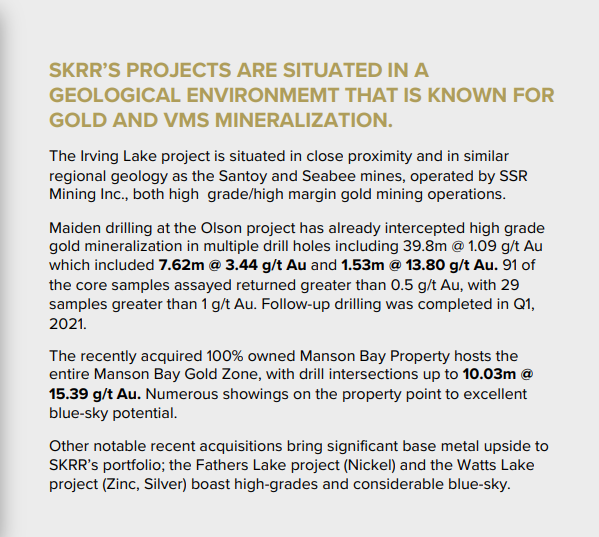 This is an exciting potential discovery play with properties near past producing mines, and in a district that has not seen nearly enough exploration. When you factor the technical setup, the risk vs reward looks even better. But we will get to that in just a bit. For those wanting a deeper dive into the geology, I recommend reading Lukas Kane's deep dive on Skrr Exploration, with a new piece also being released today.
Management is very important, and when Greg mentions SKRR being expertly helmed, he isn't just mincing words. Ross McElroy is a legend in the mining sector. With 30 years of experience and awards such as the PDAC award for exploration success and Northern Miner mining person of the year. If there is someone who knows Saskatchewan, it is Mr. McElroy. He has been instrumental in several major uranium discoveries in Saskatchewan (the world's largest source of high-grade uranium), the Triple R deposit and Cameco's McArthur River deposit (the world's largest high-grade uranium deposit).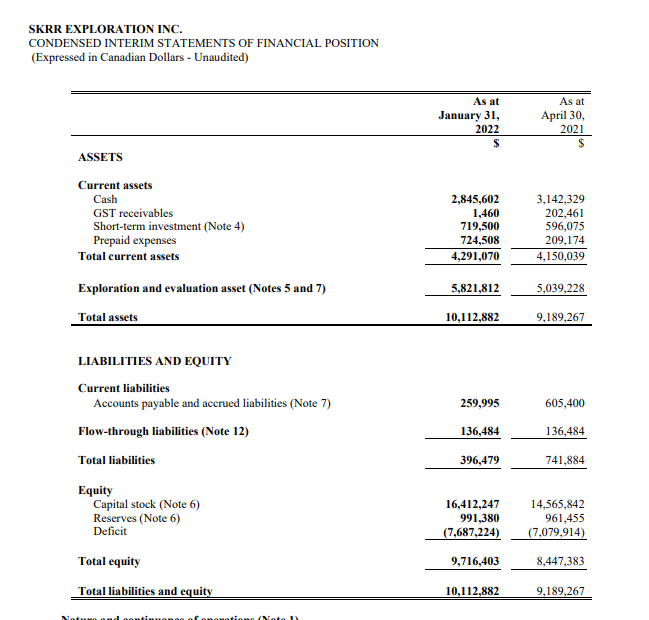 The interim balance sheet from January 2022 shows a cash position of $2.8 million. Skrr Exploration has been quite active for an early stage explorer in 2022.
Skrr announced a drill program at the Olson gold project which was completed on March 9th 2022. We are now waiting for results which will definitely be a catalyst for the stock. With geology that is hosted in Glennie domain, source of Saskatchewan's largest orogenic gold deposit, Seabee gold mine, prospects for nice drill results are high.
Skrr added a 100% interest in Edge Geological's Watts Lake zinc property consisting of 24 mineral claims compromising a total of 13,708,108 hectares.
Sherman Dahl, SKRR Exploration's chief executive officer, commented:
"High-grade intercepts like we have seen at The Watts Lake Zinc property are rare and very exciting. SKRR is a gold and base metal exploration company. SKRR's zinc and nickel properties should not be ignored by investors. Given the current low market cap, the battery metal option on SKRR common shares is real.
We are positively surprised by the high-grade zinc intercepts and the overall mineralization of Watts Lake. This is consistent with the often-overlooked nature of The Trans Hudson Corridor where the exploration and discovery potential is exceptional. SKRR has amassed a very high-quality portfolio of properties covering precious metals as well as strategic clean energy basemetals including Nickel and Zinc."
Airborne magnetic surveys are also in the works. On March 16th 2022 Skrr announced the start of an airborne magnetic survey at the 100% owned Irving Lake Project which is located within 10 km to 20km of SSR Mining's Seabee and Santoy mines, which are Saskatchewan's largest gold mining operation.
On the 22nd of March, Skrr Exploration followed up with the start of an airborne survey at the 100% owned Father Lake Project which is near the historic Axis Lake Nickel-Copper-Cobalt deposit, recently optioned by Rio Tinto Exploration Canada.
The last time I covered the technicals on Skrr exploration, I was highlighting the retest of a major support zone. The all time lows at $0.075.  The stock price actually fell a little more to print prices at $0.07.
I want to note the large volume when prices bounced at the all time low supports. We saw 553,700 shares traded on Feb 24th, and 666,300 shares traded on March 8th 2022. We know there will be a wall of buyers there.
With the recent drop in Gold, it does appear as Skrr will be retesting $0.07 again. For a company with a market cap of just over $5 million, drill results upcoming catalyst, multiple prospective properties, and led by Ross McElroy, the risk vs reward is very appealing. For those wanting to play things safe, I would be watching to see if Gold can climb back across $1920. If not, then the precious metal is looking to head to levels at $1840-$1860. In terms of Skrr Exploration stock itself, a daily close above $0.11 is what is required to confirm a breakout and a new uptrend. For those that did buy the bottom a few months ago, they saw a return of 40% plus on their investment from the bottom to the recent highs.