SKRR Exploration (SKRR.V) is a junior Gold explorer which owns three properties in the under explored Trans Hudson Corridor in Saskatchewan. This area can potentially be Canada's next emerging Gold district or the next Abitibi.
Despite being under explored, the region has two multi million ounce discoveries to date, Seabee and MacLellan. The Santoy mine and Seabee Mill are operated by SSR Mining and both are high grade/ high margin operations.
It is also important to note that the Homestake Gold Mine, a monster deposit, operated from 1878-2002 producing a total of 43.9 million ounces of Gold with robust grades approaching up to 10 g/t.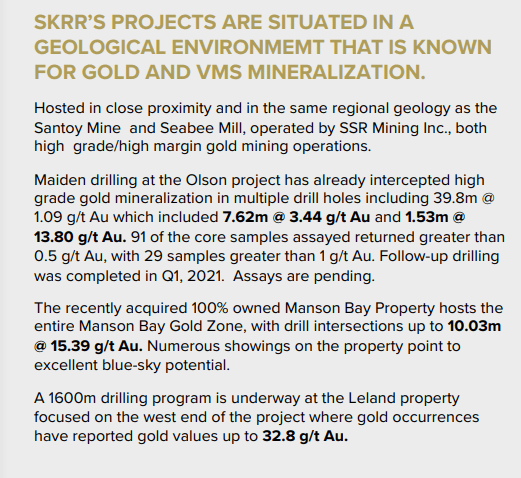 This is an exciting potential discovery play with properties near past producing mines, and in a district that has not seen nearly enough exploration. When you factor the technical setup, the risk vs reward looks even better. But we will get to that in just a bit. For those wanting a deeper dive into the geology, I recommend reading Greg Nolan's piece on SKRR Exploration and them being expertly helmed and strategically positioned.
Management is very important, and when Greg mentions SKRR being expertly helmed, he isn't just mincing words. Ross McElroy is a legend in the mining sector. With 30 years of experience and awards such as the PDAC award for exploration success and Northern Miner mining person of the year. If there is someone who knows Saskatchewan, it is Mr. McElroy. He has been instrumental in several major uranium discoveries in Saskatchewan (the world's largest source of high-grade uranium), the Triple R deposit and Cameco's McArthur River deposit (the world's largest high-grade uranium deposit).
If you tuned into our previous Investor Roundtable (the new one has been uploaded today), Chris Parry discusses placing your bets with highly experienced management teams. Ross McElroy has done it before, and will do it again. If it ever comes to raising money, Mr. McElroy will have no issue doing so. His name is good enough for Chris.
Chris also mentions the market cap. Last I wrote about SKRR Exploration back on September 20th 2021. The market cap was around $5.16 million. According to Marketwatch, we are now at a market cap of $4.69 million. This is really attractive given the current Gold market setup. If Gold moves higher, the juniors will follow but on steroids.
Above is my outlook on Gold in a video format.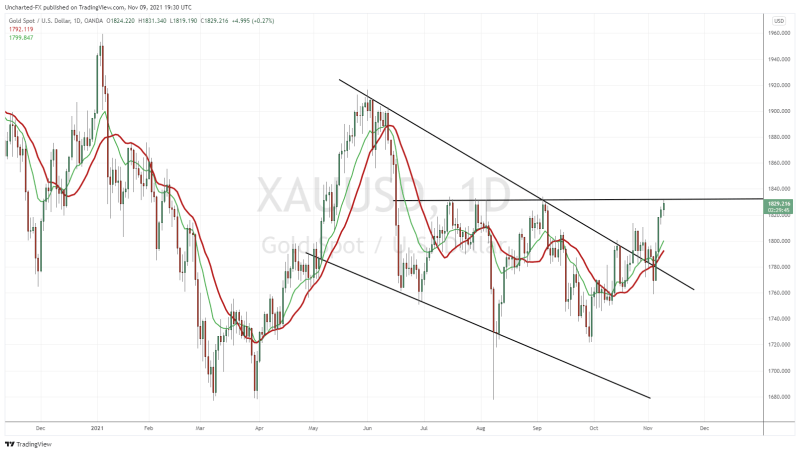 By the time this article comes out, Gold may be confirming a breakout. We liked the Gold breakout above our flag pattern. Federal Reserve news and rate decision caused some volatility causing Gold prices to drop below the trendline, but only for a bit. After the market digested the Fed's token taper, we climbed back above with a nice green candle. Followed by another strong green day. We are now at an important resistance zone around $1830. This zone has acted as resistance four times in the past. I will be watching this candle very closely in the upcoming days. A break would set up a return back to $1900, and will raise juniors and miners with it.
In my September post on SKRR's technicals, I mentioned a trendline shift. We got it, but there was no momentum. The stock stalled at the resistance zone of $0.14. This remains our key breakout zone for more upside momentum. Currently, we are at a major support zone. Pretty much near previous all time record lows. Bottom pickers will be looking at this, and the stock provides a good risk vs reward entry considering a retest to $0.14 would be a 46% gain from current price. If Gold can get a run, then these Gold plays near support can see some action.
Gold looks good. Great management team. Technically at a major support zone. Small market cap. In a good jurisdiction. It really is an appealing play here. In terms of recent news, the company has completed some drills with results here, and more drilling to take place in 2022. The most recent news regards an acquisition agreement to acquire a 100% interest in Edge Geological Consulting Inc's Watts Lake Zinc Property. The Property covers multiple, parallel basement conductive corridors, including the ~14km long Borys Lake Corridor, which hosts the historic Borys Lake lead-zinc deposit as well as numerous other mineralized occurrences. Watts Lake is located approximately 65 km north-east of the town of La Ronge, Saskatchewan and 20km northwest of the community of Missinipe, SK.
Sherman Dahl, CEO of SKRR states:
"Why Zinc?  Like copper, zinc has a range of applications across many industries, including agriculture, construction, pharmaceuticals, and transportation. Approximately half of the world's supply is used in corrosion-proof galvanized steel, which is widely used in infrastructure projects. Zinc sheeting is used for cladding, roofing, and gutter systems. Zinc-coated steel is widely used for building framing and bridge construction, and in reinforcing bar in concrete structures. Because of its anti-corrosive properties, zinc can make a crucial contribution to infrastructure projects – and in recent years, there has been a steady demand for galvanized steel from China. In addition, with the chemistries that zinc brings into play … this is a perfect fit for zinc batteries and one that we see significant growth in going forward. The electric vehicle demand is fueling demand for all metals including Zinc and Nickel. Watts Lake fits in with our Father Lake Nickel project and our well-advanced gold properties in the Trans Hudson Corridor – the home of giants SSR mining and Hudbay Minerals.