An incredible cryptocurrency rally. I called the XRP reversal last week, and yesterday, I gave a technical breakdown of Shiba Inu. The meme coins are looking ready for a rally. In fact, the entire crypto space is looking prime for a new uptrend. I prefer trading the major coins like Bitcoin, Ethereum, XRP, and XLM etc, but let's take a look at some of the NFT related tokens and companies.
You have probably heard of NFTs. But for those new to this market space, here is a quick definition from our friends over at Investopedia:
Non-fungible tokens or NFTs are cryptographic assets on a blockchain with unique identification codes and metadata that distinguish them from each other. Unlike cryptocurrencies, they cannot be traded or exchanged at equivalency. This differs from fungible tokens like cryptocurrencies, which are identical to each other and, therefore, can be used as a medium for commercial transactions.
WHAT YOU NEED TO KNOW
NFTs are unique cryptographic tokens that exist on a blockchain and cannot be replicated.
NFTs can be used to represent real-world items like artwork and real-estate.
"Tokenizing" these real-world tangible assets allows them to be bought, sold, and traded more efficiently while reducing the probability of fraud.
NFTs can also be used to represent individuals' identities, property rights, and more.
Many people believe NFTs are just for speculation. Others believe there is real value because they will be representing assets in the Metaverse. I'll be honest, to me it just shows a sign of the current market environment. People are running into anything to make yield. Celebrities, corporations and sports teams are cashing in. There remains a large retail market place and demand. I personally know a couple of people who became millionaires from creating their NFTs.
The NFT craze was strong last year, but perhaps interest will come back as crypto's rally. The overall stock markets are very volatile and are stalling, which may see more of the retail crowd shift to the crypto space. This could mean some big moves in the next few days.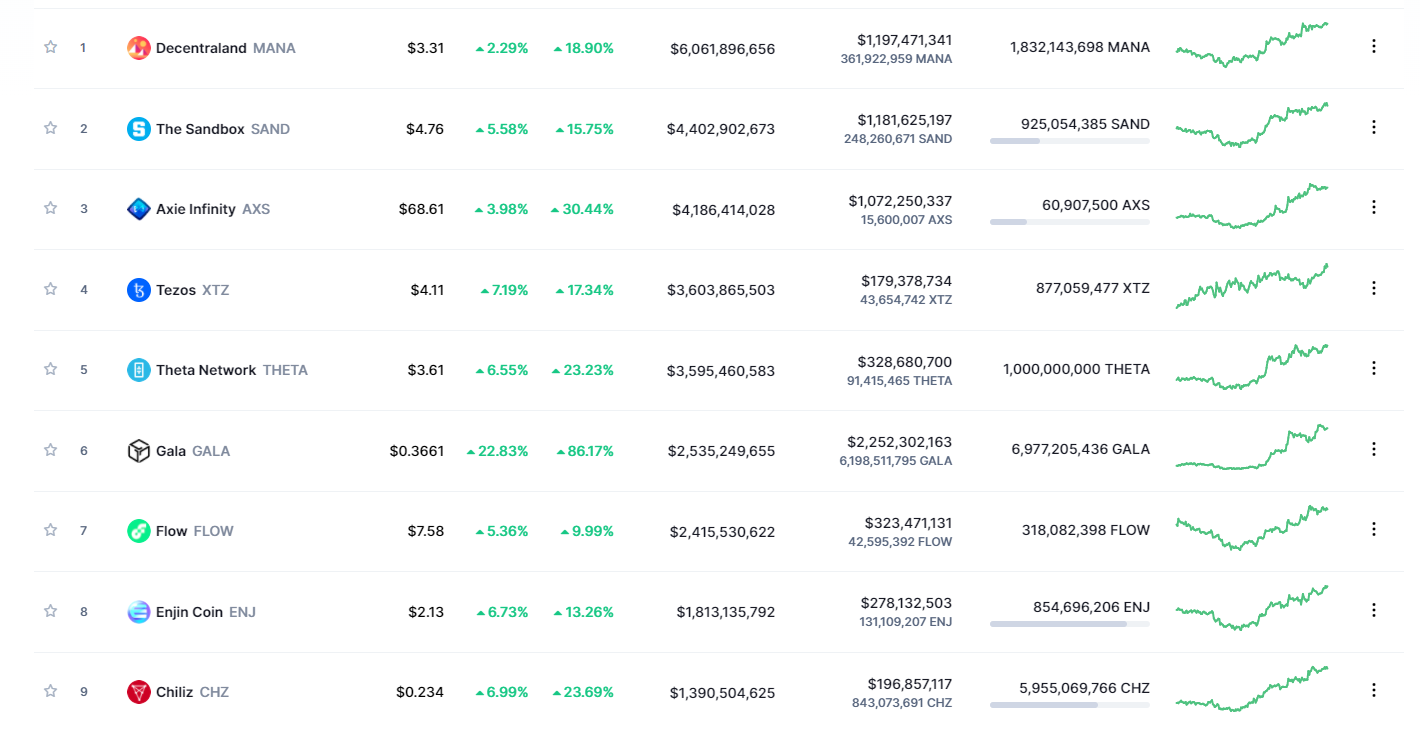 Taking a glance at the top collectibles and NFTs tokens by market capitalization on COinMarketCap, and I want to point your direction to the very right. Look at those charts. They look very similar.
Taking a look at Decentraland, MANA broke above a major resistance zone. I have drawn out what I would like to see for a higher low swing. A pullback, before continuing the uptrend. As long as we hold above support at around $3.00, the uptrend remains intact.
Meanwhile The Sandbox, SAND, has just confirmed a breakout above a major resistance zone above $4.50. The follow through so far hasn't been too strong, so I would really be watching for that pullback retest. We want to see buyers step in to initiate the wheels for the next higher low.
If one wanted to play the NFT space, I would speculate trading or holding the tokens listed above. Sure, you can try to speculate on actual NFTs over on Opensea, but that's not really my thing. Alternatively, you can trade some companies listed on the Canadian markets and on the Nasdaq.
Blockchain Foundry (BCFN.CN)
Blockchain Foundry is your gateway to the decentralized universe. They are at the intersection of design, strategy and blockchain technology. Their products, services and deep-rooted protocol development experience make them unique.
The NFT related product is Last Known:

The first artist sale were works by Chairman Ting. Today, a second sale will take place featuring SkooJAH and his Babylon Misfits NFTs.
The chart image speaks for itself. We are in a range. Those a bit more risk inclined can enter at the bottom of the support. We clearly see buyers stepping in at the bottom of this support with a nice engulfing candle. If the crypto run continues, it can be said with good probability that Blockchain Foundry bounces here. A catalyst is the upcoming sale.
I am someone who prefers to wait for the ranges to break. I don't really like seeing my money caught up in one. The trigger would be a breakout above $0.30. We get a daily close above this range, and the charts will look more appealing to me.
CurrencyWorks (CWRK.CN)
CurrencyWorks Inc is an award-winning, publicly-traded company that builds and operates FinTech Platforms for Digital Currencies, Digital Assets, and Security Tokens.
The company has partnered with Barrett-Jackson, a world leader in collector car auctions, to create and launch Motoclub, the first dedicated platform for the creation and sale of NFTs based on automotive vehicles and memorabilia. Total sales at Barrett-Jackson Motoclub NFTs reached over $95,000.
Another NFT project is MusicFX, an NFT platform that strengthens the bond between fans and the artist by delivering experiences money can't buy in exchange for support shown by fans. Parker McCollum is the first artist to partner with MusicFX and is creating the world's first NFT club.
Honestly, technical wise, I can't say much. The stock is also ranging and I would prefer a breakout above $0.39 in order to get remotely bullish the stock. A pass for me right now.
You can probably tell that I am not too enthusiastic about some of these companies. We do have technical setups that can trigger, but I would speculate by playing the actual tokens. MANA and SAND are what I would be focusing on. The other crypto's are looking very bullish too and provide some technical setups for us traders in the near term.