Week in Review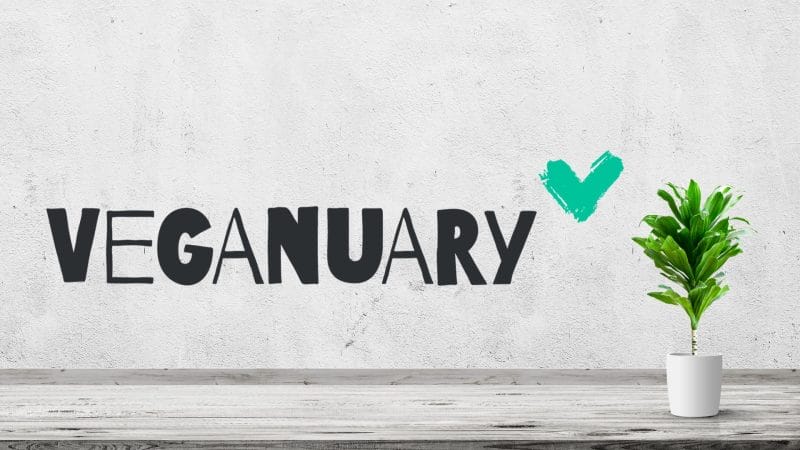 From No Nut November to Veganuary, the plant-based sector sure is wild. Personally, I don't quite understand what eating fewer nuts in November has to do with anything, but I digress. In case you didn't know, Veganuary refers to an annual challenge run by a UK nonprofit organization called, you guessed it, Veganuary. The organization encourages people worldwide to follow a vegan lifestyle for the month of January.
Since Veganuary began in 2014, the organization has inspired thousands to pursue a vegan diet. In fact, during Veganuary's 2021 campaign, more than 582,000 people took the pledge, while more than 825 new vegan products and menu options were launched in Veganuary's key campaign countries. With this in mind, Veganuary runs official Veganuary campaigns in the UK, United States, Germany, Argentina, Chile, and Brazil. Additionally, the organization has partner organizations running additional campaigns in Sweden, Italy, India, France, Switzerland, Singapore, Australia, and South Africa.
While I myself will not be participating, Veganuary will likely see even greater numbers this year relative to the plant-based sector's continued growth. Believe it or not, data from Kantar suggests that each year, ten times more people actually try following a vegan diet than register through the Veganuary website. In reality, this suggests that more than five million people took part in the 2021 Veganuary campaign.
Aside from Veganuary, a survey conducted by UK-based Atura Proteins revealed that 56% of food and drink brand owners and manufacturers are likely to invest in plant-based products in 2022. Of this demographic, 41% believe that vegan meats will be the biggest growing category in the plant-based sector, followed by cereals and cheese. Considering the Global Plant-Based Meat Market was valued at USD$4.19 billion in 2020 and is expected to expand at an outstanding compound annual growth rate (CAGR) of 20.4% from 2020 to 2028, I would have to agree with them.
Odd Burger Corp.
$63.64M Market Capitalization
Odd Burger (ODD.V), originally called Globally Local, was founded in 2014 by James McInnes. The Company started as a grassroots vegan organization, bringing organic fruit and vegetables from local farmers to the doorsteps of its customers. Odd Burger is now a chain of company-owned and franchised vegan fast-food restaurants.
Odd Burger is also a food technology company manufacturing and distributing its proprietary line of plant-based protein and dairy alternatives to its various restaurant locations. The Company is on a mission to disrupt the fast-food industry by offering plant-based, minimally processed, and sustainable ingredients. Through various marketing strategies, professional signage, menu boards, and branded packaging, Odd Burger is confident in its ability to expand its brand presence.
Latest News
Most recently, on January 4, 2022, Odd Burger announced that it has signed a franchise agreement for Victoria, the Company's first Victoria, British Columbia location, continuing its expansion plans throughout Canada and the west. Franchisees John Bowker and Luke Ceraldi are currently in the process of seeking a site to introduce Victoria to Odd Burger's unique portfolio of vegan fast food products. The Victoria location is projected to open within three months of site selection and permit approvals.
"Victoria is the ideal spot to begin our West Coast takeover, and our partners Luke and John are ready to bring our brand to their city…The community will love our indulgent, iconic fast food without the guilt, made from wholesome ingredients like chickpeas, jackfruit, and fresh veggies," said James McInnes, Odd Burger co-founder and CEO.
In the New Year, vegan fast food is most certainly a subsector to keep an eye on as companies like Taco Bell, Burger King, Subway, and Chipotle try their hand at vegan fast food. As a whole, more than 36% of children and adults eat fast food every day, according to the Centers for Disease Control and Prevention. That is a staggering statistic made slightly less terrifying by the prospect of vegan fast food, which will be significantly better for you in comparison.
With this in mind, Odd Burger's Victoria location will follow the model of the Company's successful restaurants in Ontario, which utilize compact footprints optimized for fast service, takeout and delivery, affordability, and simplified employee training. Additionally, Odd Burger's smart kitchens feature modern on-demand cooking technology, online ordering, self-checkout kiosks, and cashless transactions.
Odd Burger also announced loans of up to 90% of the cost of opening a new location through the Canada Small Business Financing Program (CSBFP), administered by CIBC, to dramatically reduce up-front capital requirements. Loans of up to $350,000 through the government-guaranteed program can be used for new store financing, renovations, and more, however, only Canadian franchisees are eligible for CIBC financing. I wonder if I would qualify as an eligible franchisee.
On January 4, 2022, Odd Burger announced that Michael Fricker has joined the Company's Board of Directors. Mr. Fricker is currently the CFO at Reunion Foods Inc. and Qvella Corporation. Previously, he was CFO of Bento Sushi, North America's second-largest sushi brand with more than 900 franchised locations. In connection with his Board appointment, Odd Burger issued an aggregate of 150,000 options to purchase Company shares exercisable at a price of $0.75 for a period of five years.
Odd Burger's shares opened at $0.76 on January 4, 2022, up from a previous close of $0.75. The Company's shares were down -2.67% and were trading at $0.73 as of 1:12 PM EST on January 4, 2022.
Modern Plant-Based Foods Inc.
21.28M Market Capitalization
Modern Plant-Based Foods Inc. (MEAT.C) is a plant-based meat alternative company based in Vancouver, Canada. The Company currently has two retail locations in Vancouver offering a smoothie bar and health products with a plant-based focus. Moreover, Modern Plant-Based Foods' top chefs have created a selection of healthy, gourmet vegan options crafted entirely from natural ingredients.
Additionally, Modern Plant-Based products are soy, gluten, nut, and GMO-free in addition to being made with no artificial preservatives or additives. Some of the Company's plant-based food products and services include meat alternatives, homemade style soups, vegan cheese, sauces, and candies. Modern Plant-Based Foods is recognized for its brands, KitsKitchen™, Modern Meat, Modern Wellness, and Snacks from the Sun.
Latest News
Most recently, on December 31, 2021, Modern Plant-Based Foods announced that it has increased capacity for its popular KitsKitchen soups to meet current and upcoming demand. Over the last period, the Company has been unable to fulfill a significant amount of orders due to capacity issues with its manufacturing. However, despite bottleneck issues, the current revenue growth at KitsKitchen from 2021 to 2022 was 43%. Additionally, volume growth in 2021 was 76,400 liters to 107,770 liters.
With increased production, Modern Plant-Based Foods intends to expand its KitsKitchen line into the eastern provinces of Canada in addition to expanding its existing presence in major retailers like Costco. While I may not be the biggest fan of soups, the same cannot be said for most of the population. According to Fortune Business Insights, the Global Soup Market is projected to reach USD$21.0 billion by 2027, growing at a CAGR of 2.79%. Trust me, I am just as soup-rised as you are.
Modern Plant-Based Foods also announced that it has appointed Avtar Dhaliwal as Chief Executive Officer, effective January 4, 2022. Mr. Dhaliwal studied at the University of British Columbia Okanagan and comes with years of experience in the food industry with a specialty in supply chain, compliance, and regulatory process. In addition to placing products into large box retailers and nationwide grocers such as Overwaitia and Safeway, Mr. Dhaliwal has also worked with partners including the BC Fruit Packers Association.
"I am excited to lead Modern Plant-Based Foods into the next step of growth and expansion in this fast and rapidly expanding market. I've been in the food industry ever since I can remember and will continue to work closely with the team and our aggressive growth strategy into other markets in North America and around the world. I will continue to focus on an aggressive growth pattern with a heavy focus on cutting-edge products, marketing techniques, and acquisitions," stated Mr. Dhaliwal.
To date, Mr. Dhaliwal is credited for navigating the Company through compliance and regulatory challenges related to the listing of products and distribution with Costco and other large-scale distributors. With this in mind, Mr. Dhaliwal is more than qualified to assist Modern Plant-Based Foods on its mission to expand throughout the eastern provinces of Canada and increase its presence in existing retailers like Costco.
Modern Plant-Based Food's share price opened at $0.57 on January 4, 2022, up from a previous close of $0.495. The Company's shares were up an impressive 53.54% and were trading at $0.76 as of 2:12 PM EST on January 4, 2022.
Beyond Meat Inc.
$3.824B Market Capitalization
Beyond Meat Inc. (BYND.Q) is an industry leader in plant-based protein, offering a beefy portfolio of products made from simple ingredients without GMOs, bioengineered ingredients, hormones, antibiotics, or cholesterol. Beyond Meat Inc. and Impossible Foods Inc. were pioneers of the plant-based sector, ushering in an era of sustainable, ethically sourced, delicious meat alternatives.
Furthermore, Beyond Meat has certainly been doing its part to lower its environmental impact by reducing greenhouse gas emissions, energy use, water use, and land use associated with the production of the Company's Beyond Burger.  According to a study published by the Center for Sustainable Systems, the production of the Beyond Burger generates 90% less greenhouse gas emissions, requires 46% less energy, has >99% less impact on water scarcity, and 93% less impact on land use than a ¼ pound of U.S. beef.
Latest News
On January 5, 2022, Beyond Meat and Kentucky Fried Chicken (KFC) announced the nationwide debut of the highly-anticipated plant-based Beyond Fried Chicken. Beginning January 10, 2022, KFC restaurants across the US will offer Beyond Fried Chicken for a limited time, while supplies last. Before we dip our hands in this succulent plant-based chicken bucket, let's talk about Yum! Brands. Yum! Brands (YUM.NE), formerly Tricon Global Restaurants, is an American fast-food corporation listed on the Fortune 1000. The company operated a variety of brands including KFC, Pizza Hut, and Taco Bell to name just a few.
Looking back at 2021, Yum! Brands performed exceptionally well across the board. According to the company's Q3 2021 Financial Results, Yum! Brands worldwide system sales, excluding foreign currency translation, grew 8%, with 5% same-store sales and 4% unit growth. In particular, KFC's foreign currency translation favorably impacted Yum! Brands operating profit by $10 million. In total, KFC opened 636 gross new restaurants in 61 countries. Additionally, KFC US same-store sales grew 13% on a 2-year basis.
"We couldn't be prouder to partner with KFC to offer a best-in-class product that not only delivers the delicious experience consumers expect from this iconic chain but also provides the added benefits of plant-based meat…We are truly thrilled to make it available to consumers nationwide," said Ethan Brown, Founder and CEO, Beyond Meat.
Referring back to Beyond Meat's latest announcement, the Company's stock climbed 10% to $67.60 in premarket trading on Wednesday following the news. Developed by Beyond Meat exclusively for KFC, the plant-based Beyond Fried Chicken is intended to taste the same as KFC's iconic fried chicken. Load it up with the same amount of grease and I am sure it will. KFC first began testing its Beyond Fried Chicken in August 2019 as part of a limited-run test in Atlanta. In the following year, KFC and Beyond Meat expanded this test to include select restaurants in Nashville and Charlotte.
Shortly after, KFC launched a "sneak peek" of Beyond Fried Chicken at select restaurants in Southern California. It is worth noting that in every instance of testing, KFC's Beyond Friend Chicken sold out. With this in mind, the new Beyond Fried Chicken will be served with your choice of dipping sauce, including Honey BBQ, Ranch, Honey Mustard, and KFC Sauce. Beyond Fried Chicken will be made available via the company's first-ever plant-based combo meal with Secret Recipe Fries and a medium drink, or à la carte in six or 12-piece orders.
Beyond Meat's share price opened at $58.50 on January 6, 2022, up from a previous close of $58.49. The Company's shares were up 4.09% and were trading at $61.00 as of 10:26 AM EST on January 6, 2022. 
Plant & Co. Brands Ltd.
$19.306M Market Capitalization
Plant & Co. Brands Ltd. (VEGN.C) is a modern health and wellness company curating plant-based foods. The Company offers a number of plant-based products through its two leading plant-based brands, Holy Crap Foods Inc. and YamChops, the vegan butcher. Holy Crap Foods is committed to creating products that promote a healthy gut through simple, quality ingredients. In particular, Holy Crap Foods' Holy Crap Cereal is an organic breakfast cereal intended to help maintain a healthy gut.
On the contrary, YamChops is a plant-based butcher shop based in Toronto, Ontario. YamChops offers a variety of plant-based meat alternatives including Tunaless "Tuna", Chick'n Schnitzel, Szechuan "Beef", and Montreal Style "Steak". The Company announced on October 21, 2021, that a range of YamChops' plant-based foods, dishes, and meals are now available through Hungerhub's meal delivery application, Uncatering™.
Latest News
Most recently, on January 4, 2022, Plant & Co. announced the acquisition of a majority interest in LumberHeads Food Co. The two parties have created a joint venture company that is intended to accelerate revenue of LumberHeads' Plant-Based Kettle Corn snack foods line by leveraging the management, branding expertise, and distribution network of Plant & Co. For context, LumberHeads is a boutique plant-based snack food manufacturer based in Milton, Ontario. The company was created to respond to a lack of plant-based snack options available to those with dietary restrictions.
"With this majority interest in LumberHeads Food Co., we are adding immediate revenue as well as taking a milestone step into expanding Plant&Co's family of brands into the snack food category. We plan to quickly expand distribution, first in Ontario then throughout the rest of Canada…

We are confident of the continued growth of our company organically and through accretive acquisitions such as LumberHeads. We made a commitment in September to execute on an organic and inorganic growth strategy, LumberHeads is an example of that strategy unfolding. This is the first of many brands to be welcomed into Plant&Co's portfolio as we continue to execute the company's 2022 roadmap," said Shawn Moniz, CEO of Plant&Co.
While LumberHeads is still building its presence in the snack foods sector, the company's LumberHeads Kettle Corn appears to have been received well by the consumers it has reached. With this in mind, LumberHeads is currently in the midst of launching a new website. With the expertise of Plant & Co., we will likely see LumberHeads presence increase substantially across all of its social media platforms including Instagram and Facebook. It is worth noting that for the past two years, LumberHeads has been operating profitably.
While this agreement will provide LumberHeads with the resources and experience to accelerate growth, Plant & Co. will acquire a 51% majority interest in a non-dilutive agreement in exchange for a CAD$75,000 shareholder loan. The transaction is expected to close on February 1, 2022, and will strengthen Plant & Co's foothold in the lucrative snack food market. Keep in mind, the Global Snack Foods Market was valued at USD$493.4 billion in 2020 and is expected to reach $732.6 billion by 2026, expanding at a CAGR of 6.7%.
Plant & Co's share price opened at $0.19 on January 6, 2022. The Company's shares were down -2.63 and were trading at $0.185 as of 10:00 AM EST on January 6, 2022.