An Oversaturated Market
It's time to address the elephant in the room. The plant-based market is hurting and this likely won't change anytime soon. According to the Good Food Institute (GFI) and the Plant-Based Foods Association (PBFA), retail sales of plant-based foods in the United States (US) grew 27% in 2020, bringing the plant-based market to a value of $7 billion.
Keep in mind that 2020 was a year filled with panic and confusion following the onset of the COVID-19 pandemic. People actually started washing their hands, eating better, and exercising. Many of us indulged in one too many sweets during the peak of the pandemic. Don't deny it. However, others claimed that eating better was their silver lining amidst all the chaos.
A survey conducted by Pew Research of over 180,000 Americans revealed that a majority of participants were able to think of at least one positive change brought on by the pandemic. In particular, 14% of those surveyed mentioned ways in which their well-being had improved during the pandemic. In some cases, this included positive lifestyle changes like eating healthier and exercising.
While this may not seem like a lot, in the grand scheme of things, it adds up. In 2021, the plant-based market continued to grow by 6.2%, reaching a high of $7.4 billion. At the time, this represented a three-year growth of 54%, with plant-based food retail sales growing three times faster than total retail food sales. Furthermore, in 2021 the plant-based segment's market share increased by 4%.
Needless to say, the pandemic was a blessing in disguise for the plant-based market. For example, Beyond Meat Inc. (BYND.Q), a titan in the plant-based sector, reported a record net revenue of USD$149.4 million in Q2 2021, an increase of 31.8% year-over-year (YOY). In the previous quarter, the company's retail sales increased substantially to USD$63.826 million as a result of consumer panic-buying.
The Year 2022
$1.575B Market Capitalization
So, where is our plant-based giant now? Looking at Beyond Meat's net revenues for Q3 2021 and Q4 2021, it's clear to see that the company's revenues have begun to stabilize. In Q4 2021, Beyond Meat reported net revenues of $100.7 million, a decline of 1.2% YOY. That's quite a glaring difference compared to Q2 2021. More recently, on May 11, 2022, the company reported its Q1 2022 results.
According to Beyond Meat, the company achieved net revenues of $109.5 million in Q1 2022, up 1.2% YOY. In particular, the company's US retail channel net revenues decreased 19.5% compared to the year-ago period. Beyond Meat attributes this decline in part due to lower demand, however, the company's food service net revenues have continued to grow.
"In the first quarter of 2022, we made good progress against our goal of building tomorrow's global protein company. Whether furthering strategic partnerships in the restaurant industry, the market success of our first product collaboration with PepsiCo, or the continued acclaim awarded to our products here in the U.S. and EU, we continue to lay a robust foundation for our long-term growth," said  Beyond Meat President and CEO Ethan Brown.
Looking forward, Beyond Meat is expecting net revenues in the range of $560 million to $620 million, or an increase of 21% and 33%, respectively, compared to 2021. To put things into perspective, the company's net revenues for full-year 2021 were $464.7 million, an increase of 14.2% YOY. In summary, Beyond Meat's retail net revenues are declining while its foodservice sales are increasing.
With fewer consumers panic-buying as a result of the pandemic, this isn't too surprising. Furthermore, the growth of Beyond Meat's foodservice sales indicates that consumer interest in plant-based hasn't necessarily waned, it's simply shifted. Instead of staying home, consumers are now eating at restaurants again. Keep in mind that Beyond Meat is offered at some of the largest restaurants. This includes A&W and Mcdonald's, among others.
From Sheeple to People
While the pandemic resulted in sizeable gains for the plant-based market, it also raised the expectation of consumers. As the dust began to settle around COVID-19, consumers started to consider the price, taste, and health benefits associated with plant-based products. However, in an effort to capitalize on the sudden success of the plant-based sector, an influx of plant-based companies flooded the market.
With this in mind, the plant-based market is comparable to the psychedelics market. In both cases, consumer expectations have become more critical as more and more companies flood the space. For our case study, let's look at Amy's Kitchen. The company's Organic Black Bean Veggie Burger contains 3oo milligrams (mg) of sodium, 18 grams (g) of carbohydrates, and just 6 g of protein per 71 g, or one patty.
On the other hand, 71 g of cooked ground beef contains 284 mg of sodium, no carbohydrates, and 18 g of protein. That being said, Amy's veggie burger contains more sodium and carbs while offering significantly less protein. However, there is a silver lining. Amy's veggie burger comes with fewer calories and fat by a fair margin. Still, it falls flat in terms of its nutritional substance.
A recent study conducted by Kerry, an ingredients company, found that sustainability and health concerns are two key factors driving consumer interest in plant-based meat alternatives. In a survey of 1,500 consumers across the US, United Kingdon (UK), Australia, and Brazil, flexitarians were the most critical of plant-based products.
Holy Cow Foods Inc.
$17.466M Market Capitalization
For context, a flexitarian refers to someone following a flexible diet. Someone on a flexitarian diet focuses on the consumption of fruits, vegetables, and whole grains. However, a flexitarian may also enjoy meat on occasion. The term itself is pretty broad. Still, the flexitarian diet is incredibly popular, ranking second on US News' Best Diet Rankings.
With this in mind, Holy Cow Foods Inc. (HOLY.NE) offers products that are ideal for flexitarian diets. The Vancouver-based plant-based company announced its listing on the NEO Exchange on March 15, 2022. Trading under the ticker symbol HOLY, Holy Cow is focused on the production and sale of its self-branded in-house products. So, what makes them unique?
"Our in-house 'Holy Cow!' brand is set to be a leader in the transitional segment of the plant-based foods market, enabling consumers to satisfy their health, animal welfare, and environmental sustainability goals without giving up meat altogether," said Chef Paul Rivas, CEO of Holy Cow.
All of Holy Cow's products, dubbed 50/50 products, are made using 50% plant-based and 50% conventional beef ingredients, perfect for flexitarians. The Company claims it is the first original concept of "bringing various aspects of food manufacturing under one roof." Holy Cow's business model focuses on four main pillars:
Commissary kitchens are licensed commercial kitchens while ghost kitchens are used entirely to fulfill delivery-only meals. With this in mind, Holy Cow offers the use of its kitchens to third-party companies. The Company's business model relies on the likelihood of these companies requiring co-packing, ingredient orders, and production, all of which Holy Cow is capable of providing under one roof.
Latest News
On April 1, 2022, Holy Cow announced that Geoff Balderson has resigned as Director, Chief Financial Officer, and Corporate Secretary of the Company, effective March 30, 2022. Replacing Mr. Balderson is Norm Shung, Holy Cow's current General Manager. Mr. Shung brings with him over 25 years of management experience at startups and publicly-traded companies, such as Thai United Food Trading Ltd.
"We all welcome Norm onto the board and in his position as Chief Financial Officer. He has been fantastic for us in his position as General Manager so far, so we are excited about his contributions to these new roles. I also extend my sincere thanks to Geoff for his services and contribution during his tenure," said Paul Rivas.
Earlier, on March 30, 2022, Holy Cow announced that it has retained the Financial Star News Inc. to provide marketing services. Holy Cow engaged the Financial Star to increase the Company's brand awareness and reach in the investment community. According to the terms of the agreement, Holy Cow will pay a fee of USD$30,000 for the initial marketing campaign, which is open to renewal.
Pricing
Referring back to Holy Cow's commissary and ghost kitchens, the Company's members can choose from hourly, part-time, or full-time memberships. This provides members with access to Holy Cow's kitchens geared with shared or private prep stations. These kitchens also come with a wide variety of features, including:
gas stoves
combination and convection ovens
deep fryers
commercial mixers
additional food preparation equipment
access to dry, refrigerated, and freezer storage
In terms of actually purchasing Holy Cow's memberships, the Company offers online booking, billing, and competitive all-inclusive prices. Regarding Holy Cow's co-packing capabilities, members can provide their recipes and the Company will take care of everything else. This includes the production and packaging of food items like soups and sauces.
Speaking of which, Holy Cow's facility is capable of producing and packaging over 5,000L of sauce. As for Holy Cow's products, the Company's 50/50 burger patties are comparable to the Beyond Burger. The Beyond Burger contains 270 calories per 113 g, whereas the 50/50 burger contains 220 calories per 112 g. However, the 50/50 patty has a slightly higher sodium content at 400 mg, compared to Beyond Burger's 340 mg.
With this in mind, Holy Cow's 50/50 burger patties aren't anything to write home about in terms of nutritional value. However, the Company's business model doesn't necessarily revolve around the sale of its products, although I am sure they will sell. As a concept, 50/50 protein has been around since as early as 2020 when Maple Leaf Foods announced its 50/50 products.
What makes Holy Cow interesting is everything else that characterizes the Company, from commissary kitchens to co-packing. Holy Cow doesn't need to rely solely on the sale of its products because it has a foot in the commissary and ghost kitchen segments. In particular, the ghost kitchen market was valued at $43.1 billion in 2019 and is expected to reach $71.4 billion by 2027. Let's see if this business model can keep Holy Cow afloat.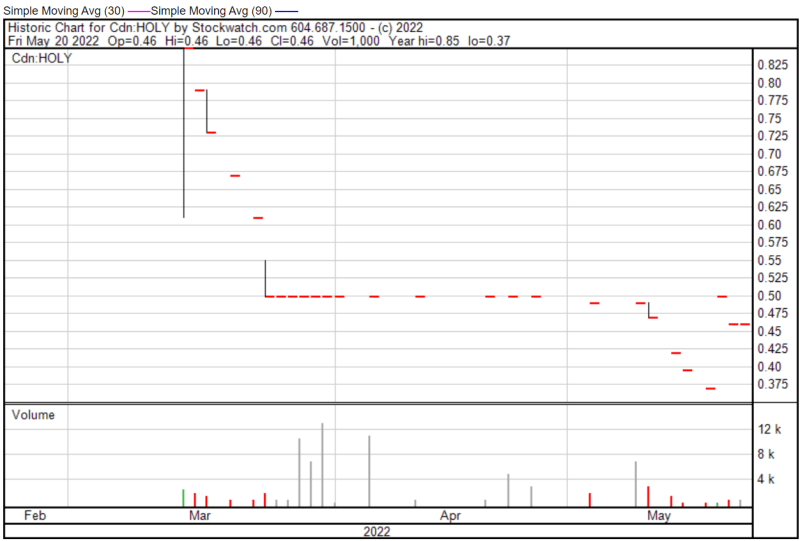 Holy Cow's share price opened at $0.46 and closed at $0.46 today.