Chinese stocks listed on the US exchanges are presenting us with some of the BEST looking opportunities. Not only do the charts meet my market structure criteria, but the risk vs reward ratio's are excellent! Trading is a business of probabilities, hence we look for multiple confluences to increase our probability of success.
In today's Market Moment, I will go over 4 Chinese stock charts that appear to be ready to make a good move into next month IF the triggers are met.
So why Chinese stocks? Right now, it seems cyclical. Cyclical in terms of my market structure. US Stock Markets did take a drop last week, but have recovered. S&P 500 and the Nasdaq continue to make record highs day after day. The Dow looks ready to catch up. Stock Market Bubble? According to Ray Dalio, we have some 'frothy' indicators, but still not in bubble territory like the early 1920's and the dot com bubble.
Technical Tactics
With the Nasdaq roaring, it won't come as a surprise that all these stocks are Nasdaq stocks. They have some catching up to do.
We will start with Ali Baba (BABA), as it sets the stage for our other set ups. BABA has a leg over the others because it has already triggered its breakout pattern. Also printed a double bottom reversal pattern. The breakout took out the $223 zone. This now becomes new support going forward.
What do I mean about this? As long as price remains above $223, we remain in the uptrend. I am expecting a higher low to develop here continuing the momentum. I see some resistance at $243.50, and then a major resistance zone at $265.30.
There was some controversy with Jack Ma a few months back. That seems to be subsided for now. BABA just presents a great entry here not only for a trade, but for a longer term hold. Oh and by the way…there are talks of a Reddit inspired short squeeze on the stock as well.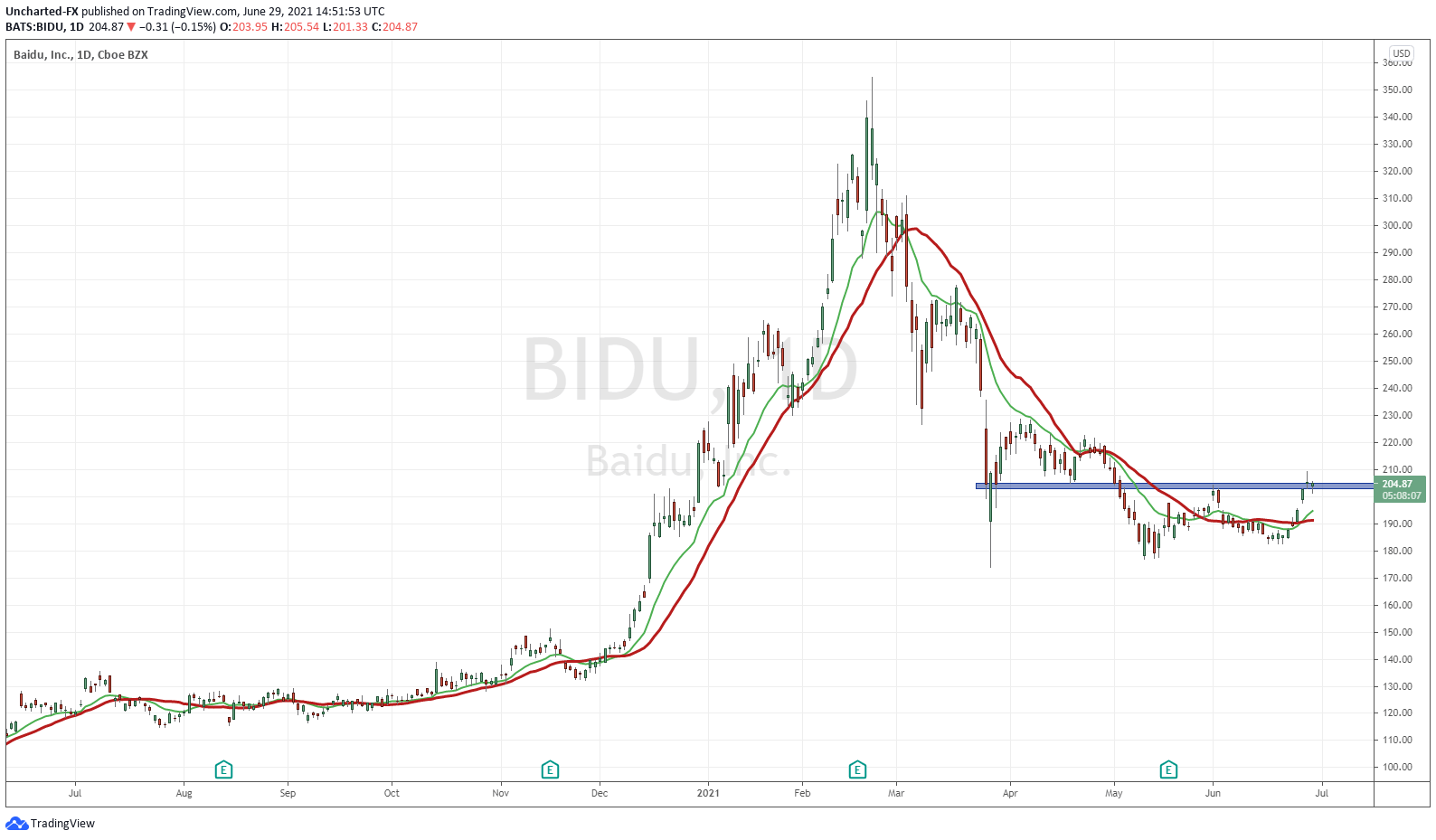 The other Chinese giant is Baidu. Look at that chart. Very similar to what we have seen on BABA. As I said, BABA will be the template for these set ups. What we need for BIDU is the breakout. This can be confirmed with a close above $205 today. Notice how yesterday we attempted to do so but failed. A big battle here between the bears and the bulls.
If we break above, then there is some resistance at $230. The bigger zone then is around $270.
Baidu is stepping up its game on driverless cars. Recent news includes the hiring of Frank Lu, formerly at Cadillac, to lead its design.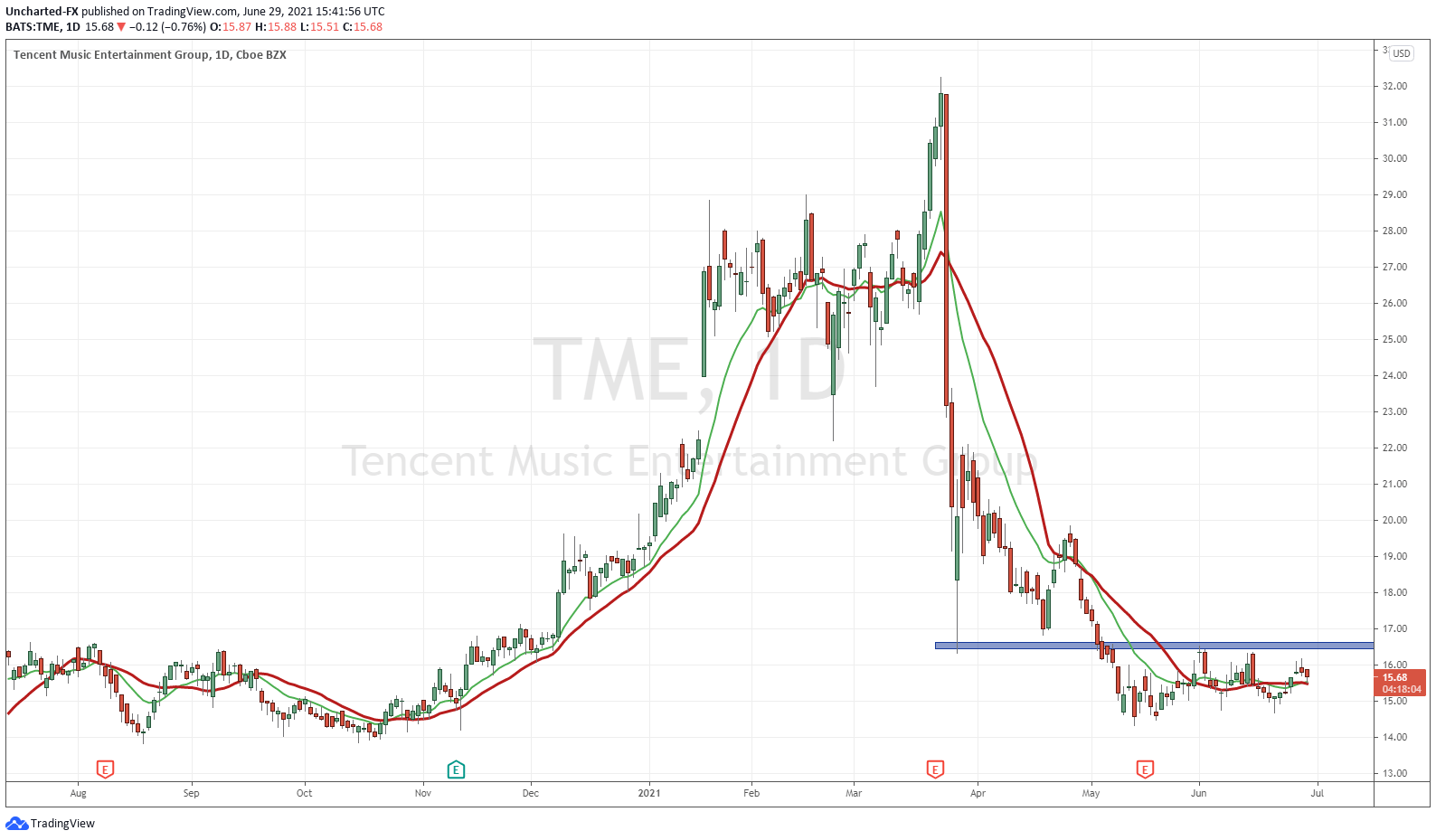 Another major Chinese company is Tencent. Tencent Music is China's most popular online music entertainment company. The chart is looking prime. Once again, similar market structure set up. We have had a downtrend, a range, and we are now looking for a breakout and a new uptrend.
The breakout is the trigger. Awaiting for a close above the $16.60 zone to trigger the pattern. Some interim resistance at $19.00, but this stock can have a big move up to $25.00 longer term.
Last but not least is JD. JD, or Jingdong, is a Chinese e-commerce company and some say is a major competitor to Ali Baba. In fact, you will see a lot of analysts pit the two companies against each other.
As a technical trader, I can't help but be a fan of JD. This is an inverse head and shoulders pattern setting up. The trigger is the break above $80.00. Targets to the upside are $100 and then new record highs.
In summary some amazing Chinese stocks that are indicating new uptrends on the technicals. Sympathy plays on US market strength, and with the Nasdaq ripping, we can expect money to run into growth stocks that haven't made a pop. These Chinese stocks are prime candidates.