Hollister Biosciences (HOLL.C) and Heavy Grass, a California-based cannabis brand, have partnered with Slipknot co-founder Shawn "Clown" Crahan to create special-edition HashBone packs featuring six half-gram prerolls and matches in a soft-touch matte black case.
"We are very excited to be launching our HashBone collaboration with Clown. We couldn't ask for a better partner and someone who is true to the plant. This partnership is our first step in combining hard rock/metal with cannabis in a truly authentic way…Additionally, we are happy that we get to bring Clown to market in tandem with our friends at Heavy Grass – leveraging their experience in music-inspired cannabis products will amplify our overall marketing efforts," says Carl Saling, the Co-Founder, CEO and Director of Hollister Biosciences.
If Hollister wasn't metal enough after partnering with Easyriders, they most definitely are now. Shawn "Clown" Crahan, one the Slipknot's primary songwriters, is a multi-talented artist who can be credited for directing most of the band's music videos. Additionally, Clown is the creative force behind Slipknot's visuals, having created the masks and uniforms, album covers, packaging, live staging and visuals, as well as all merchandise. Even if you aren't a heavy metal fan, you have more than likely heard of Slipknot at some point in your life. After all, the band's last three albums debuted as No. 1 on both the Billboard 200 and the U.K. Album's Chart.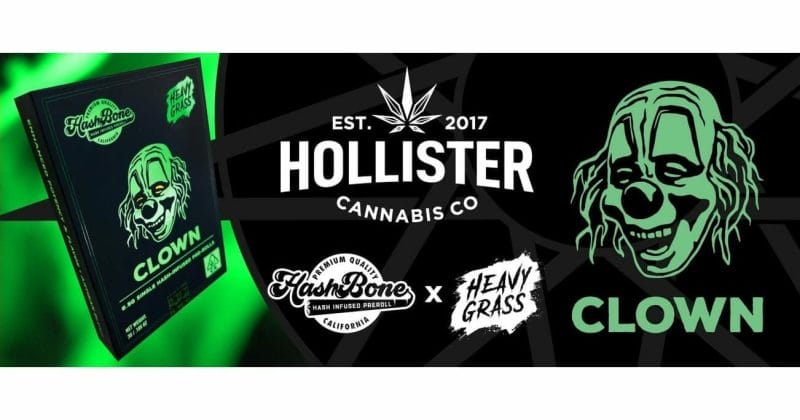 In collaboration with Shawn Crahan, Hollister's HashBone line will be getting a "Clown" makeover, containing an uplifting blend of 75% indica flower and 25% Paradise Citrus bubble hash, adding a layer of full-body relaxation according to Heavy Grass. Hollister's special edition Clown HashBone products have been lab tested to ensure that each hand-infused preroll contains THC levels above 40%.
Heavy Grass, the self-proclaimed "loudest weed brand in the world,"  is a cannabis brand with deep roots in the hard rock and heavy metal music community. The company's partnership with Hollister and Clown represents the first collaborative release between Hollister, Heavy Grass and one of its artists. In celebration of the release of Clown Cannabis, Clown and Heavy Grass are offering a "Green Ticket" experience. The winner of Clown's Green Ticket will receive unlimited entrance for two into any Slipknot shows in the world for the next three years. Although I had hoped the Green Ticket would be hiding in a pack of Clown Cannabis prerolls, no purchase is actually necessary to qualify for a chance to win. Details regarding Clown's Green Ticket can be found here.
Hollister Biosciences' share price opened at $0.245 and is currently trading at $0.245 as of 11:35AM ET. The Company's shares are currently down -5.77% indicating that there has been some change following the news.
Photo credit to Kerrang's Jonathan Weiner who took the image of Clown used for this article's thumbnail.