EarthRenew (ERTH.C) posted their Q1 2021 revenue generation results from their Strathmore Plant, which can generate up to four megawatts per hour by using low-cost natural gas to operate their 'Rolls Royce' turbine.
From January to March of 2021, EarthRenew sold 1,016.42 MWh into the Alberta energy grid for an estimated $382,928, up 170% from their 2020 revenue for the same period of $141,327. They also generated an additional $122,169 from Fortis Option M payment credits in January and February, bring their total revenue to $505,097.
Because the Strathmore Plant operates as a peaking plant (meaning they only sell electricity into the grid when minimum price thresholds are met), they managed to generate an 83% gross margin on the electricity production. Being able to operate as a peaking plant is a strong competitive advantage for ERTH's Rolls Royce turbine, allowing them to sell power to the energy grid when it is most profitable.
"We continue to generate strong revenues from our power peaking activities at the Strathmore Plant enabling us to offset costs in our primary line of business as a regenerative agriculture input provider," commented EarthRenew CEO Keith Driver.
EarthRenew also received an updated Environmental Protection and Enhancement Act (EPEA) approval from Alberta Environment and Parks (AEP) for their Strathmore Plant. Their original EPEA approval was going to expire in 2019 before it was extended to October 2021. The new EPEA approval lasts for 10 years, allowing them to operate under it until April 14, 2031.
EarthRenew believes they can maintain this strong revenue once their previously announced deals with ENEL-X and crypto mining are in full swing. ERTH will be providing power for ENEL-X's operating reserves program in Alberta, allowing them to profitably produce power during non-peak times. Their crypto mining deal also creates a customer for EarthRenew's electricity during off-peak hours, allowing them to generate more revenue.
"EPEA approval to operate our power facility at Strathmore has now been secured for another 10 years, giving us the stability we require to move forward with power agreements like that signed with ENEL-X and a cryptocurrency mining firm. These types of arrangements allow us to squeeze further revenue from this asset as we build our regenerative crop input business," stated Keith Driver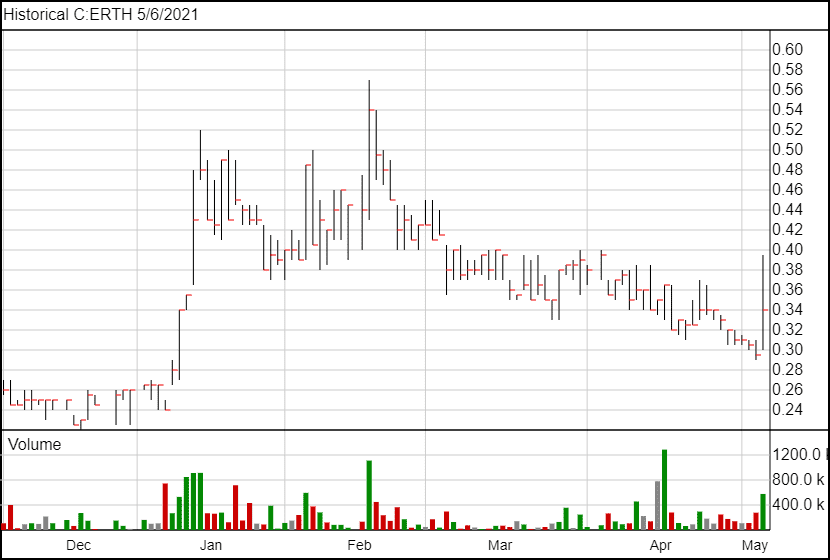 Following the news, EarthRenew shares jumped up over 8 cents, representing a 28.8% increase, before going down 4 cents. The stock is currently trading at $0.34.
Full disclosure: EarthRenew is an Equity Guru marketing client.