Delic Holdings (DELC.C) announced that it has acquired Complex Biotech Discovery Ventures (CBDV).
"CBDV has shown they have the foresight to see what is needed in industries before it is normal practice. We expect to see the same professional expertise they show in cannabis, in this new psychedelic industry. This is another milestone that shows our commitment to increasing shareholder value," commented Matt Stang, CEO and Co founder of Delic Holdings.
So, what exactly has Delic acquired? CBDV is a licensed cannabis and psilocybin research laboratory that specializes in chemical analytics, extraction optimization, and process design. Furthermore, CBDV has commercialized and received its first research orders for Advanced Analytical Testing services through its new online payment platform. Seeing as Delic is a psychedelic focused wellness company, I'm sure the benefits of this acquisition are already starting to make sense.
This represents a significant milestone for Delic, enabling the Company to add scientific-base research and analytics to its product offerings. To sweeten the pot, CBDV recently received its Section 56 Exemption from Health Canada, enabling CBDV to focus on the research and development of psilocybin related intellectual properties (IP). Essentially, CBDV has the greenlight to explore psychedelic mushroom compounds and develop psilocybin derivatives. In doing so, CBDV hopes to produce psilocybin compounds and analogs that advance clinical testing and can be used in future medical treatments.
Additionally, CBDV has just launched its Advance Analytical Testing service. CBDV's service offers an in-depth analysis and characterization of a client's submitted plant material and products. This is intended to assist clients with eliminating impurities, adjusting potencies, optimizing extraction and manufacturing processes, and determining necessary improvements. Moreover, the process itself is streamlined allowing clients to order tests online and ship their samples to CBDV's lab. Various tests include the analysis of cannabis flower, concentrates, formulations, and vapor/smoke.
"We saw the need for chemical analytics beyond compliant testing to enable producers to develop the next generation of cannabis products. Therefore, we wanted to bring the high precision tools we are using in our own research directly to Canadian producers. And to enable an efficient customer experience, while giving us a scalable platform, we put a lot of effort into this webstore," stated Chief Executive Officer, Dr. Markus Roggen.
With this in mind, CBDV's Advanced Analytical Testing service sounds like the Holy Grail for cannabis companies looking to make a mark on the industry. CBDV already has a extensive list of customers who rely on the company's cannabis research. Now that CBDV has been granted a Section 56 Exemption, the company will likely be able to offer psilocybin analytics in the future to both new and old clients. Ultimately, Delic will benefit greatly from the IPs generated by CBDV in the future as new jurisdictions begin to decriminalize and legalize psilocybin. Through acquiring CBDV, Delic is well-prepared for the growth of the psilocybin market.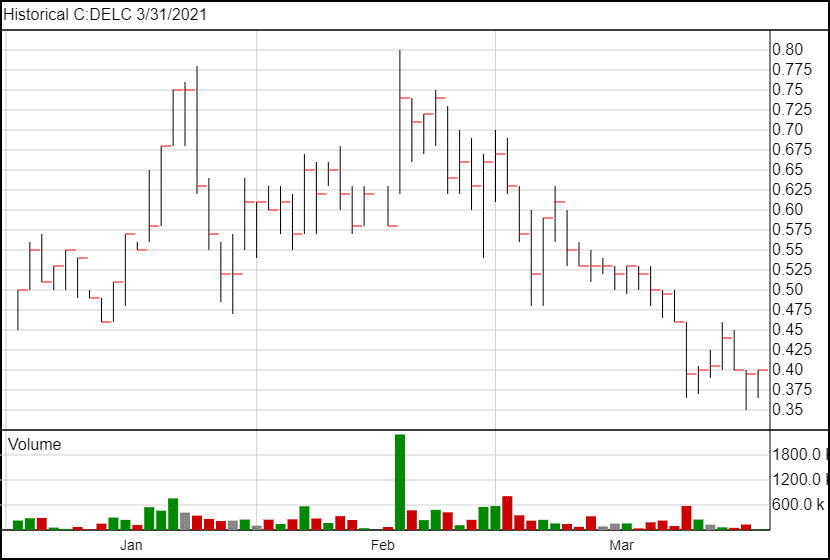 Delic's stock price opened at $0.365 and quickly spiked to $0.40 following the news. The stock price continues to ride this high at $0.40.
Disclaimer: Delic is a client of Equity Guru.