Empower Clinics (CBDT.C) and MedX Health have entered into a memorandum of understanding between the companies to pilot MedX's DermSecure screening platform. 
"Empower exists to make testing, screening and diagnostics as convenient as possible for patients…providing our patients with easy access to quality virtual services like teledermatology complements our current COVID-19 testing amid the ongoing pandemic. MedX is an ideal teledermatology partner, as their screening platform is second to none. We look forward to the results of this pilot and making the platform more widely available throughout our network," said Steven McAuley, chairman and chief executive officer of Empower Clinics
As virtual medical records and telemedicine are pushed to the forefront of the medicinal field, teledermatology has seen increased popularity. As its name suggests, teledermatology is a subspecialty of dermatology. It eliminates the need for in-person appointments with a dermatologist by offering virtual care patient screening, assessments and diagnosis. Although alternative teledermatology screening tools are available, DermSecure features high-resolution image capture technology for moles and various skin conditions. Additionally, the screen platform can complete a virtual dermatological assessment within just 72 hours.
"With only about 500 dermatologists available to serve over 37 million Canadians, the wait times to see a specialist in person can be anywhere from five months to one year….the COVID-19 pandemic has nearly doubled the average wait period. We know that early detection of melanoma greatly increases the patient's survival rate and reduces the cost to the health care system. Partnering with Empower allows us to dramatically grow our patient base, and ultimately save more lives," said Mike Druhan, president, dermatology services, MedX Health
According to the Canadian Dermatology Association, last year there was an estimated 8,000 Canadians diagnosed with melanoma skin cancer. Out of the recorded 8,000 Canadians, approximately 1,300 died of the disease. With this in mind, both companies acknowledge the importance of rapid detection and treatment. The broad implementation of DermSecure screening platforms would enable faster diagnostics while also proving a more convenient and accessible means for patients to obtain their results.
DermSecure screening platforms will be set up at two select Empower Clinics locations in Ontario. The initial pilot program will be in place for four moths with an estimated 13,500 patients.  Furthermore, there are plans for a more expansive market rollout of the platform pending the completion of a successful pilot.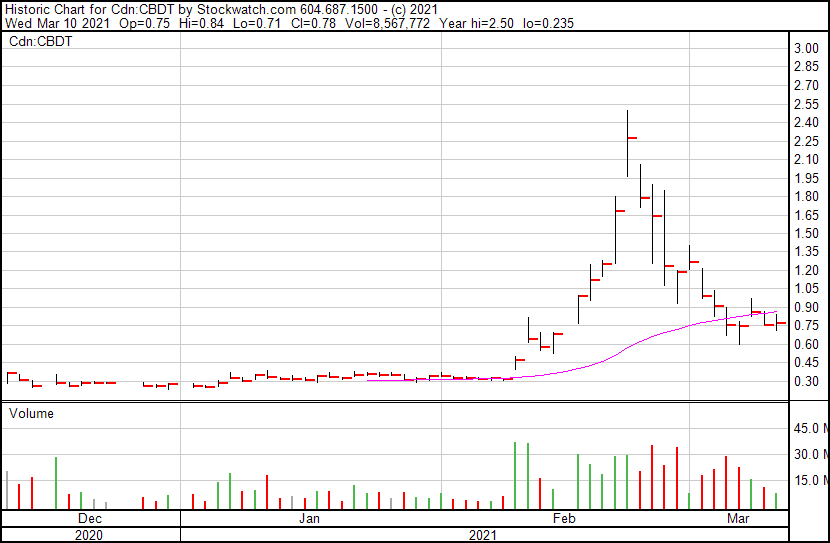 Empower Clinic's stock price opened at $0.75 and reached a high of $0.84. The stock price currently sits at $0.78.