On December 22, 2020, Tocvan Ventures (TOC.C) announced that it has completed its maiden drill program at the Pilar gold-silver project in Sonora, Mexico.
"Tocvan's flagship Pilar Gold Project is located along the historic Sonora gold district within the Sierra Madre Occidental geological province," wrote Equity Guru's Greg Nolan on May 14, 2020, "The project is road accessible and is located roughly 140 kilometers south-east of the city of Hermosillo".
"Sonora is a friendly jurisdiction steeped in the mining culture," added Nolan, "It's currently credited for nearly 37% of Mexico's annual gold production (the country's largest Au contributor)".
TOC investor cheat-sheet:
Controls an under-explored Mexican gold-silver asset
Only 25 million shares out
Gold (we believe) is in the early phase of an extended bull market
Management has a magic mix of rock-kickers and deal makers
A micro market-cap of $7.2 million Canadian pesos.
The Pilar Gold-Silver property is an epithermal project. Hydrothermal fluids carrying gold and silver are transported through the pre-existing structures to become mineralized veins.
Three zones of mineralization have been identified: the Main Zone, North Hill and 4 Trench Zone.
"A total of 1,505 metres of reverse circulation (RC) drilling was completed in nine drill holes," reported TOC, "All samples have been submitted to the lab in Hermosillo; results are expected in early 2021 and will be released in batches as they are received".
The phase 1 program was designed to provide important structural information for defining drill targets along the main mineralized trend and across the deep-seated feeder-pipe like structures interpreted from geophysics.
"The ability to efficiently execute our first drill program at Pilar is an important milestone for Tocvan," commented President and CEO Derek Wood. "As we await drill results, planning has begun for the next phase of exploration. Two thousand twenty-one will be an important year for the corporation as we look forward to the continued advancement of Pilar."
As TOC advances the Pilar project, a phase 2 drill program to test these targets is planned for early 2021.
Drone footage of the drill camp below:
"Just a little over a year ago Tocvan finalized their agreement to acquire up to 100% of the Pilar gold project located in the Sonora state of Mexico," stated TOC, "What attracted Tocvan to the Pilar property was the amount of successful drilling that had occurred on a very concentrated area of the Pilar property".
"17,700 meters of previous drilling from surface to a maximum depth of just 150 meters led TOC management to believe the property likely contained an at surface deposit amenable to an open pit within the known mineralized zone."
"Tocvan completed detailed geophysical and ground analysis of the property prior to defining drill targets and making application for drilling. Most of the year was spent gaining valuable information relating to structure of the epithermal system as well as identifying brand new targets never explored on the property".
Exploration progress at Pilar over the last year included:
Discovery of High-Grade Gold & Silver Surface Mineralization at Two New Showings, extending Known Mineralized Trends: Highlights included 323 g/t Silver & 9.3 g/t Gold
Geophysical Survey Results identified Several New Targets not previously explored
Results from Property Scale Soil Survey, Included Highest Soil Results to Date with 8 g/t Gold & 317 g/t Silver at New East Zone Discovery
Initial Results from Structural Analysis; Identified possible Major Structures or "Plumbing" for Gold Silver-Mineral-Rich Fluids
Began Drill Program at the Pilar Project in Sonora
On December 22, 2020 Tocvan Ventures CEO Derek Wood joined Steve Darling from Proactive for an update on the company and to talk about the Phase 2 drill program at the Pilar.
"Phase 2 what we're planning on doing is continue to hopefully expand this known zone, getting it close to providing evidence that we can open pit, and actually get this to production," stated Wood at the 1:55 mark of the video interview, "But we also want to test some of the deeper and lower targets".
Wood believes that "some of the information that we're going to get from this Phase 1 exploration program, will help to define those deeper targets before we actually sink money into drilling them."
In 2021, TOC also plans to advance the Roger Creek property located in Southern British Columbia. Rogers Creek is a large property showing promise for a potential porphyry copper-gold discovery.
Following the receipt of Phase I drill results expected early in 2021, a Phase II drill program will be designed to test deeper drill targets and continue the expansion of the known mineralized trends
In addition, metallurgical work to determine the amenability for potential heap leaching is planned. Surface exploration work will continue with mapping and sampling along the expanded mineralized trends recently defined by soil and rock sampling.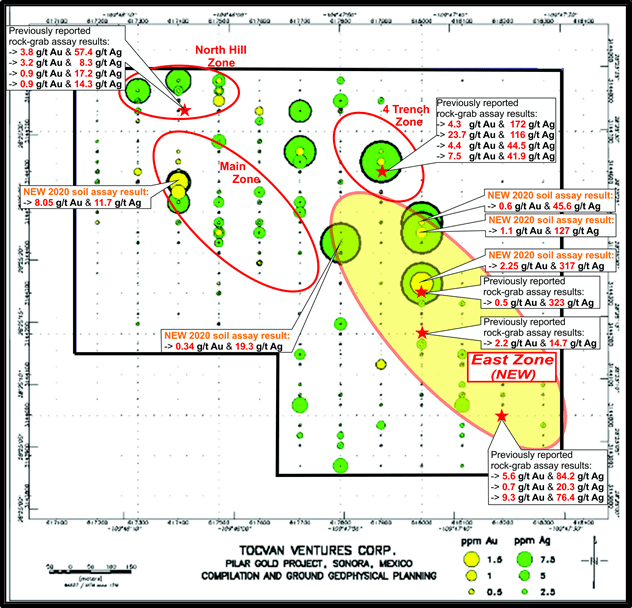 "Although the shares have already rewarded early investors," stated Wood in a corporate update, "We still believe that the current valuation represents tremendous value as we continue to de-risk the Pilar project and move towards demonstrating Pilar as both near term production story and an exciting exploration opportunity".
Full Disclosure: Tocvan Ventures is an Equity Guru marketing client.