Netflix (NFLX.Q) lost $30 billion (-6%) in value today after the latest financials revealed that that company can not walk on water.
NFLX's Q3 earnings reported disappointing new paying-customers growth, and muted expectations for the future.
I was reared on "appointment TV" – my family used to watch "The Wonderful World of Disney" on Sunday nights.
When we wanted to change to one of the other three available channels, we'd walk to the TV and twist a knob.
I've been a Netflix subscriber for 8 years.
In 2012 – Netflix blew my mind. Documentaries, action films, classics, foreign films – I could watch whatever I wanted, whenever I wanted.
Unfortunately, my affection for the service did not alert me to the early investment opportunity.
If I'd sold my $400,000 Vancouver apartment at that time (2012) and used the proceeds to purchase Netflix shares (@ $7.78), I'd be worth $25 million now.
A purchase of Netflix shares early this summer would've provided no gain or loss.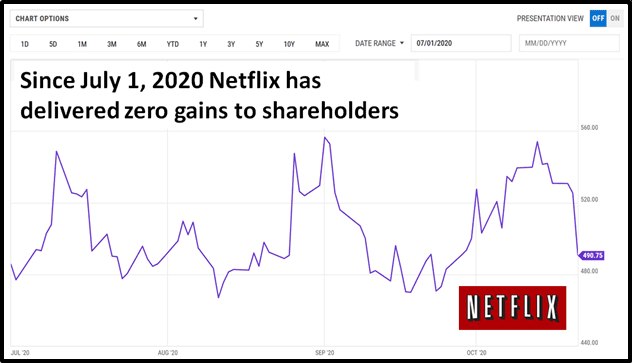 In Q3, 2020 Netflix added 2.2 million subscribers – below Wall Street's and Netflix's expectations.
NFLX had previously forecast adding 2.5 million paid streaming customers in Q3, 2020 after COVID-19 catalyses adds of 10.1 million in Q2 and 15.8 million in Q1.
Netflix posted revenue of $6.44 billion (up 22.7%) and earnings of $1.74 per share (versus $1.47 in the year-ago period). Wall Street analysts on average expected third-quarter sales of $6.38 billion and EPS of $2.13.
As of Sept. 30, Netflix reported 195.15 million paid streaming customers worldwide, up 23.3% year over year. Subscriber growth plummeted in Latin America, where Netflix added 260,000 subscribers in the most recent quarter (vs. 1.49 million in the year-prior period).
For Q4, 2020 Netflix forecast 6 million paid net adds — versus 8.8 million in the year prior. That would be a record 34 million paid net adds for 2020, well above its prior annual high-water mark of 28.6 million in 2018.
Netflix has restarted production on original programming including "Stranger Things" Season 4, action film "Red Notice" starring Dwayne Johnson, Gal Gadot and Ryan Reynolds, and "The Witcher" Season 2.
This summer, it has completed principal photography on more than 50 productions and is "optimistic we will complete shooting on over 150 other productions by year-end."
The Charlize Theron-starrer "The Old Guard," the most popular title in Q3, had 78 million subscriber households viewing the action-thriller movie in the first 30-days of release.
Netflix games these numbers by counting a "view" as lasting at least two minutes, rather than reporting average-minute audience as is the TV industry's standard.
If 80 million people check out a new Netflix show, watch 3 minutes say "yuk!" and toggle to Amazon Prime, that registers as a Netflix hit.
Netflix's competitors are: Amazon Prime, Hulu, Disney+, YouTube TV, HBO Go, Sling TV, Crunchyroll, Apple TV+, Twitch, and Crackle.
The company is compensating for the increased competition by aggressive marketing in foreign markets.
Netflix recently announced a program to give users in India free access for a weekend as part of a test to expand its reach in the country.
Netflix picked India – where it competes with Disney and Amazon – to test this idea of a "free weekend" with the possibility of rolling it out in other foreign markets.
"We think that giving away everyone in a country access to Netflix for free for a weekend could be a great way to expose a bunch of new people to the amazing stories that we have," stated Netflix, "and hopefully get a bunch of those folks to sign up."
For the latest quarter, Netflix did add one million subscribers in Asia, 760,000 in Europe and the Middle East and 260,000 in Latin America.
Netflix has a notoriously "quick trigger finger" in canceling shows.
"Netflix decides to renew or cancel its shows based on a viewership-versus-cost-of-renewal review process," reports Wired Magazine, "which determines whether the cost of producing another season of a show is proportionate to the number of viewers that the show receives".
"The biggest thing that we look at is, are we getting enough viewership to justify the cost of the series?" confirmed Netflix.
Netflix courts high-end show-runners by giving them bonuses if a series is renewed. For this reason, shows on Netflix shows get more expensive after season 2, and incrementally more expense with each successive season.
Financially, it makes more sense for Netflix to commission a new show (that might become a hit) than to renew a show with mediocre ratings and rising costs.
2020 cancellations:
Glow – a popular wrestling drama
The Society – a young adult drama
I Am Not Okay With This – a fantasy
Teenage Bounty Hunters – a teen comedy
The Dark Crystal – incredible puppet work
Altered Carbon – cyberpunk series
Patriot Act with Hasan Minhaj – American talk show
Turn Up Charlie – Idris Elba's DJ sitcom
V-Wars – vampire drama
October Faction – a fantasy series
Chilling Adventures of Sabrina The Riverdale spin-off
Spinning Out Ice skating drama
Messiah – Michelle Monaghan thriller
Netflix recently endured a raging controversy over the movie "Cuties," a hard-hitting film about preteen French girls growing up too fast in the age of social media.
Netflix was attacked for a marketing campaign that showcased 13-year-old female actors in provocative poses. Netflix acknowledged the salacious trailer (2.1 million thumbs down) distorted the message of the film.
Over the last eight years, Netflix shares have appreciated 63X (rising from $7.78 to $491).
The company has grown from a sapling, to a mature oak tree.
With hydration and good soil conditions, big trees can continue to grow.
But the rate of growth will be less dramatic (profitable) for shareholders.