My introduction to poker and blackjack (and casino gambling games in general) came at the behest of 8-bit Nintendo game Casino Kid when I was maybe nine or ten. I'd wander up the street to Blockbuster Video and select it from the video game rack, and take it home on a three day loan, where I'd basically learn the rules of how to play both of these games from doing it. The algorithm on these games wasn't that great, though, and I soon discovered that you could game the system to a 70%ish victory ratio by button mashing, whereas you could win maybe 40% if you used actual strategy. But in terms of low-stakes gambling, it served quite sufficiently as an introduction.
It was a hobby. A game. Something fun to do on the weekend when we were dirt poor and a way to spend my meager allowance. But it was generally understood that these were throwaway skills of no consequence and that nobody ever got rich from playing video games. Looking back on it from my lofty perch of 2020, it's one of the multitude of handmedown misconceptions from my parent's generation that I've since jettisoned.
Granted, back in the 80's, there's no way we could have foreseen twitch.tv streamers and esports championships, and you'd best believe that I bring up these points whenever I can to members of the earlier generations, and how maybe if they had just gotten off my case about the hours I spent playing Street Fighter 2 as a kid, we'd all be rolling in it. But no.
At least we have more options today as adults.
For example, take Askott Entertainment, proposed acquisition target of our client FansUnite Entertainment (FANS.C). They have recently joined forces with The Ear Platform to add their casino aggregator hub to Askott's Chameleon gaming platform.
"As a leading provider of B2B betting solutions in the esports market, we are pleased to announce this integration with The Ear Platform which will serve as an additional revenue stream for our partners and a highly scalable channel partner for us. With the addition of 6,000 casino games, our partners are now in a position to provide additional betting options for their customers while providing a larger product offering to increase customer retention and the lifetime value of each unique user," said Scott Burton, CEO of Askott Entertainment.
Askott is a software development company that's been winning awards for their gambling software since 2013. Their core product is the Chameleon Gaming Platform, which sports an esports focus geared to attract the next generation of online bettors, casino players, and maybe even button-mashers and algorithm watchers like me. The platform has products for pre-match betting, in-play betting, daily fantasy, content and certified random number generation (RNG) for casino style chance games. The company has also been using the chameleon platform for their own free-to-play brands and their external partners using real money.
The Askott Chameleon Gaming Platform was shortlisted for EGR Esports Provider of the Year Award, and until now has its primary purpose as a way for Askott partners to launch their own esports betting platforms. Now it's a gaming vehicle in its own right. You download it onto your phone, jab in some information, and then get access to thousands of games you can play on your commute.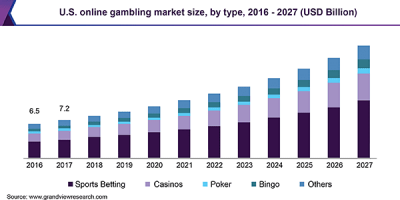 "By plugging in our aggregator hub with an esports focused betting platform we have opened up an additional channel to distribute thousands of casino games to a growing and new demographic. We look forward to developing this partnership with Askott and engaging their customers further with the addition of new betting options," said Andrei Siomela, commercial director, The Ear Platform.
Grandview Research dropped a report last year that estimated that the online gambling market, worth USD$53.7 billion in 2019 would grow at a compound annual growth rate of 11.5% from between 2020 and 2027. They pointed at the high internet penetration, increasing use and reliance on mobile phones for online games from both home and public places as well as legalization and cultural approval, including celebrity endorsements and corporate sponsorships, as driving the market. But there's no way they could factor in COVID-19.
Sometime in the next six months there's a strong probability that we're all going to be locked in our houses, waiting for either the COVID-19 months to end or a vaccine to arrive. If there's any takeaways from our previous experience in quarantine it's that toilet paper isn't as important as we think it is, settling into a diet and exercise routine is essential, and we're going to need activities.
Having 6,000 games at our disposal would be a serious plus.
—Joseph Morton
Full disclosure: Fans Unite is an equity.guru marketing client.