In baseball, the best trade between teams, it's often been said, is one in which both teams think they got the better end of the deal. Today's announcement between Fans Unite (FANS.C) and privately held but long considered public listing-bound Askott Entertainment appears to be just one of those deals.
The pair have entered into a definitive amalgamation agreement as of yesterday to create one of 'Canada's leading online gaming companies, focused on sports betting, esports wagering, and casino games.'
The deal, which is still subject to shareholder approval, is worth some $26 million, as Askott shareholders will receive 65 million shares in FANS at a value of $0.39 per share – a 10% discount to Monday's closing price, which in itself was up 7.3%.
Fans Unite told us earlier in the month that they were looking at new pieces to acquire, but few would have expected them to pick up one of the more anticipated private-to-public deals left in the e-sports space.
"We are recognized globally as a leader and pioneer in esports betting technology," said Scott Burton, CEO of Askott Entertainment. "As an early entrant in the sector we have already had a  number of milestones, including the launch of the first ever daily fantasy site dedicated to esports, the first esports betting site to receive an Isle of Man license gaming license in 2017 and more recently being shortlisted by EGR Magazine for the Esports Betting Supplier of the Year Award. This year, part of our growth strategy was to round out our offering with traditional sports and casinos to make us a complete iGaming solution. Merging with FansUnite accelerates our growth strategy and will bring us the scale and offerings to make our combined group the leading iGaming entity in the Canadian public markets."
This deal brings Askott what it doesn't already have – which is a sportbook license and casino gaming – and brings Fans unite what it didn't have – a solid e-sports gambling front with white label clients and a large membership base. The total of the two entities brought together makes for something much larger than the sum of their individual parts, with years in business, revenue incoming, and a shared level of respect.
As if to demonstrate how keen these groups are to work together, Askott CEO Scott Burton becomes CEO of the new entity, and will see former FansUnite CEO Darius Eghdami serve as company President. The former share holders of Askott will now hold approximately 50% of Fans Unite on a non-diluted and on fully diluted basis.
Rather than worrying he might be giving up too much, Eghdami told me the deal was, for him a no-brainer.
"To be clear, we wanted an e-sports arm, they're an esports company looking for a sports betting arm, we'd been talking for a while about what it might look like to work together and, really, there was a desire on both sides to make it happen," said the new President. "They've raised $9 million to date, their tech is strong, their team is world class, and as we talked over the last couple of months, we realized the benefits of going together rather than splitting the same market and fundraising potential were just too obvious."
Ego-free and genuinely accretive – you really don't see many amalgamations like this.
The deal will be by way of a three-cornered amalgamation: Askott and a newly incorporated subsidiary of FansUnite will amalgamate under the Business Corporations Act (British Columbia) and continue as one corporation. The combined FansUnite and Askott will have four live business-to-consumer ("B2C") platforms that have generated over CDN$350 million in wagers since inception and will have over 300,000 registered members
One of the big lures for this deal is the expanded business base for FansUnite, which has long said it had ambitions to provide white label options for other companies. Under the plan, the new group will have four – count 'em – four executed B2B contracts, two of which are already live and generating revenue.
Eghdami says, "This combination creates a leading online iGaming company, and positions us strongly for significant growth with new offerings and market opportunities."
Upon completion of the Transaction, FansUnite expects to have approximately 138 million FansUnite Shares issued and outstanding. The new board will be split two ways between the two entities, with a fifth board member to be agreed upon mutually.
The existing Boards of Directors of the two companies have unanimously approved the Transaction and the Board of Directors of Askott has concluded that the Transaction is in the best interests of its shareholders and has resolved to recommend that Askott shareholders vote their shares in favour of the Transaction. All of the directors and officers of Askott have agreed to vote their Askott Shares in favour of the Transaction.
I'm told those directors and officers on both sides make up about 30% of the shareholder votes required to approve the transaction.
A $5 million financing is expected to be announced upon approval of the deal, at a share price to be decided.
Prior to the announcement, FansUnite was charting erratically in its early stock market life, but is generally moving upwards.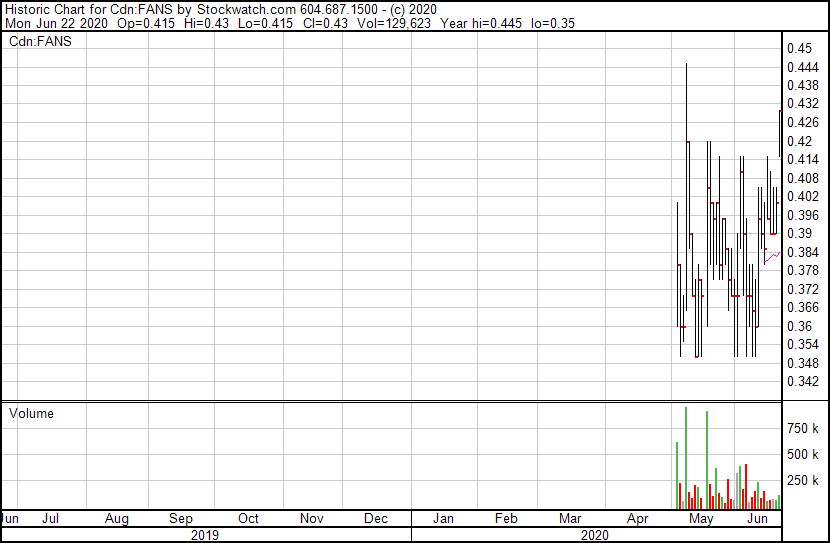 The new deal should bring an approximately $50 million market cap to the combined entities.
My take: Askott is one of those groups that has been courted hard through several spikes in e-sports interest over the last few years. They're at every investor conference and always busy. FansUnite had a blind spot in exactly the area Askott does work and have made a great move to close that gap, using only stock to make it happen.  I would have invested in the Askott RTO if they were coming out solo, but believe they're far stronger together. Genuinely exciting play.
— Chris Parry
FULL DISCLOSURE – FansUnite is an Equity.Guru marketing client.