FansUnite Entertainment Inc. (TSX: FANS) (OTCQB: FUNFF), a player in the sports betting and entertainment industry, has made a transformative shift in business. The company first found public market interest during the initial craze of esports and online sports betting. All you had to do was hang a sign with some blue sky promises and retail investors threw their hard-earned money at you.
However, the industry evolved and like legal cannabis, many sector operators fell by the wayside. Esports was dead in the water and online sports betting and iGaming was an incredibly hard nut to crack for unlike Field of Dreams, you couldn't just build it and players would come. To run a successful sports book, you had to have pockets deeper than MGM Grand for a relentless never-ending marketing onslaught.
In the beginning, FansUnite was a one-stop-shop, running both B2B and B2C operations, but as time passed and the legislative landscape for online sports book companies became increasingly harder and more expensive to navigate, FANS management knew something had to change, or it could very well become an unsuccessful statistic.
Equity Guru founder, Chris Parry, recently analyzed FansUnite's performance and provided an overview of the company and its strategic shift towards the affiliate business model.
The company's hard right turn was cemented with the sale of their McBookie Scottish bookmaking operation and Chameleon betting platform. Initially investors were spooked by the daring maneuver, but Scott was positioning FansUnite for future success in a competitive landscape. This was illustrated with the company's latest quarterly financial report.
Scott Burton, CEO of FansUnite, commented, "The work we began in 2022 to reduce costs and streamline operations are being reflected in our results. The first quarter of 2023 saw an increase in gross margin to 62%, a decrease in net loss to $6.4 million as compared to $9.2 million in Q1 of the prior year while we generated positive cash flow from our operations."
Q1 2023 was busy on many fronts with the sale of FANS' affiliate brand, BetPrep, to Stram Entertainment Limited (d.b.a. BestOdds). This enabled the company to reallocate resources to other high-revenue segments, continuing to bolster their affiliate business strategy.
Furthermore, Betting Hero, FansUnite's customer acquisition, retention, and development brand, demonstrated significant progress by registering over 6,700 new depositing customers for its sportsbook partners during the Super Bowl LVII weekend. This set a new company record for customer acquisition, reflecting the potential for exponential growth in this high-margin segment.
That's not all, FansUnite's recent wins at the 2023 EGR North America Awards, where the company won three out of six shortlisted award categories, marked an impressive achievement in an intensely competitive market.
The future of FansUnite hinges on their ability to effectively leverage high margin and profitable U.S. affiliate-centric businesses, primarily Betting Hero and its new divisions. So how do they intend to power this newly focused direction?
The completion of a $3.04 million non-brokered private placement offering in March 2023, led by Tekkorp Capital, that's how. Also, Tekkorp's decision to invest in FansUnite demonstrates the company's potential to other investors in the digital gaming industry. Not to mention that Tekkorp Capital and FansUnite's insiders and management collectively invested a total of $1.4 million, showing their faith in the company's strategic direction and future prospects.
Burton stated, "The focus moving forward will be to execute on new revenue opportunities while driving improved margins and positioning FansUnite as a business that generates significant cash flow in the global gaming market."
As well, the sale all of the shares in FansUnite's wholly-owned subsidiary McBookie Ltd. ("McBookie") and the completion of a transaction involving its Chameleon Gaming Platform's source code to Betr Holdings Inc. ("Betr"), resulted in total considerations of approximately $10 million, leading to a substantial reduction of debt, and giving the company more flexibility for future business maneuvers.
Despite the sale of Chamelon, FansUnite retained the right to further develop and maintain the platform, along with the ability to sell its use to another buyer in the future. This move signifies the company's strategic foresight in maintaining control over its key assets while also making sound financial decisions to stabilize its fiscal position.
Technically speaking with Vishal Toora
FansUnite (FANS.TO) is currently at a major inflexion point. The stock is testing a major support/price floor zone and this same zone is where the stock has printed recent record all time lows. The stock printed record lows on May 17th 2023 hitting $0.055.
Support is a zone where we expect buyers to be. When you combine this with the stock potentially bottoming after printing record recent record lows, you can see how important this $0.06 zone is going to be. Any daily candle close below $0.06 would be bearish and set up for more new record lows since support has broken.
However, FansUnite has been able to hold above this support zone since late 2022. In 2023, we have seen the stock range with support at $0.06 and resistance at $0.075 since March. Investors just await the break to give us direction. They buyers are still holding onto this zone as we have seen with engulfing candles and candles with large wicks. This indicates there is a strong presence of buyers here.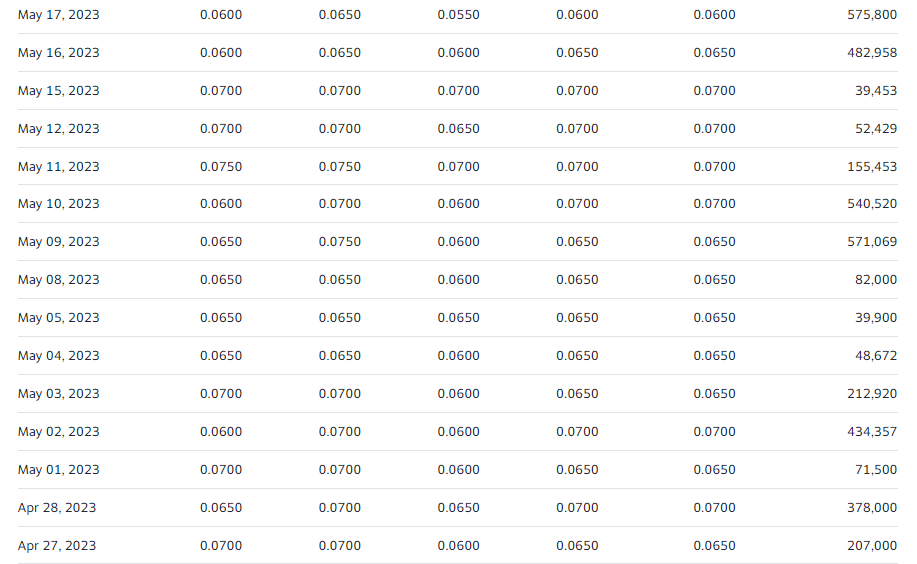 Looking at the recent historical data, volume has been quite consistent and high at this major support zone just as one would expect at such critical support.
I also want to highlight what happened at this support earlier this year. At the beginning of 2023, FansUnite popped from this support zone providing a return of over 100% from support at $0.07 to highs just above $0.15.
As long as we remain above support, we remain in this range/consolidation phase. Buyers have not been able to lift the price above $0.075, and hence the stock has developed an interim range here. A strong candle close above $0.075 would be a major bullish trigger as it would trigger a breakout. Going forward, we want to see a daily candle close above the $0.075 zone to trigger a breakout. This would lead to the momentum shifting strongly to the side of the bulls and see the stock run up to $0.11 and higher.
More Info
If you want more, Burton recently spoke with Equity Guru's own Jody Vance.
Looking towards the future, FansUnite will continue to expand its affiliate operations into new markets, diversify its revenue streams, and improve its service offerings through its Hero Research and Hero Hotline services. The company is also committed to streamlining various business units to maximize cost efficiency and bolster overall revenue growth.
In conclusion, by successfully navigating the market dynamics and optimizing its business model, FansUnite is gearing up to realize its vision of becoming a substantial cash flow generator in the global gaming market.
Full disclosure: FansUnite is an Equity Guru marketing client