If you were to press X-Terra (XTT.V) management on which of their two main projects bear flagship status, they'd likely point to both with equal measures of enthusiasm.
There has been a lot of recent activity in the vicinity of the company's wholly-owned 93 square kilometer Troilus East property along the Frotet-Evans greenstone belt in northern Québec.
Troilus East shares a common border with Troilus Gold's (TLG.T) Troilus Gold-Copper project which boasts a current resource of 6.4 million gold equivalent ounces (AuEq)—4.71 million ounces of Indicated AuEq and 1.76 million ounces of Inferred AuEq.
X-Terra's property boundary is also less than 2 kilometers from Inmet Mining's historic open-pit mine which saw production of 2 million ounces of gold and 70,000 tons of copper between 1996 and 2010 (adjoining TLG's resource, lower southwest corner, above map).
TLG's 6.4M AuEq mineral resource broken down…
"A technical report completed in 2019 confirmed there are significant open pit and underground mineral resources remaining at Troilus, where mineralized gold grade and thicknesses are very continuous and the mineralization remains open at depth."
According to TLG's project page, the Troilus gold-copper deposit exhibits the following characteristics:
Hosted in Troilus Diorite, and in porphyritic felsic intrusions
– Two main zones of Au-Cu sulphide mineralization: Z87 and J4 (Chalcopyrite, pyrite, pyrrhotite);
Mineralization is focused on the margins of Troilus diorite (metadiorite) in breccias, amphibolite, and quartz – chlorite (±tourmaline) vein swarms;
Disseminated mineralization accounts for ~90% of Troilus ore zone;
Quartz veining related to possible source of higher grade material (+50 g/t Au).
The market is developing an appetite

In a recent Equity Guru round-up piece – Guru's $20M — $80M shortlist of gold and silver ExplorerCos (those with endgame potential) – we marveled at the current climate where high-quality junior exploration plays are concerned.
Another indication that it's game on in the junior arena: Nearly every private placement (PP) that crosses my screen goes into oversubscribed mode. Fast.

Those who understand the underlying dynamics—lean project pipelines, Peak Gold, Printing Presses Gone Wild—are piling into high-quality junior exploration companies in the expectation of a bull run of epic proportions.
Here, X-Terra's resource-rich neighbor recently announced an upsized bought deal financing.
Troilus Announces Upsized Bought Deal Financing to $22 Million
X-Terra gets busy in Que
On June 12, X-Terra put boots on the ground at Troilus East…
X-Terra Resources Begins 2020 Exploration Program on Troilus East
The Frotet Evans Greenstone belt has seen limited exploration when compared to the
Abitibi Greenstone Belt.
X-Terra's claims along this under-explored belt of metamorphosed volcanic-sedimentary rocks stretch more than 22 kilometers.
With a multi-million oz resource shaping up next door, not to mention significant historic production, X-Terra could be onto something here.
This more than a closeology play. Much more.
"The Troilus East property straddles a structural zone parallel to the Troilus Deposit. For a strike length of about 20 kilometres, highlighted mostly by a mafic volcanic sequence which is interlayered to elongated mafic to ultramafic intrusions. Historical governmental mapping programs have already highlighted a prominent potassic alteration taking the form of biotite. In addition, more than 23 sulfides occurrences were documented during these mapping program which were completed by the provincial government (Sigeom, Énergie et Ressources Naturelles Québec)."
Recent work on the Troilus East property included:
a detailed magnetic survey flown at 75 meter spacings;
a 3D inversion VOXI modeling for magnetic intrusions;
an electromagnetic survey;
property wide till surveys.
The company is using good stack-able science to prioritize drill targets.
Regarding the Troilus East till sampling program, of the 78 samples extracted, 72 tested positive for gold grains, using both visual cues and the ARTGold recovery technology developed by IOS Geoservices.
Adding an element of intrigue to this till sampling campaign…
"Of the 283 gold grains, a total of 71 have been classified as pristine, meaning that the location of the till samples in which such gold grains have been recuperated is most likely located less than 500 meters from the source of the gold sample."
The truth machine (drill rig) will have the final say, but this positive correlation between gold grain and source bodes well for a new discovery.
"Additional analysis was carried out over the samples that highlighted scattered platinum group metals grains in the mineral concentrate of the tills, suggesting a possible link with mafic to ultramafic intrusions common in the Troilus East structural corridor."
For this current phase of exploration, X-Terra has engaged Technominex of Rouyn-Noranda to assist its team where the focus will be systematic prospecting and sampling of predetermined targets on the property.
"The exploration team will fly over the territory using a helicopter to maximize the program efficiency. Manual outcrop stripping and channelling could also be completed depending on the presence of mineralization. Depending on the results received, additional works such as an Induced Polarization survey could be necessary before undertaking additional exploration work, including a first ever diamond drill program."
Michael Ferreira, president and CEO of X-Terra:
With Troilus' numerous surface discoveries including the high grade sample of 110 g/t Au, approximately one kilometre from the J4 open pit (see Troilus Gold press release dated December 4, 2018), confirms the presence of high grade gold in the area. The potential to identify new near-surface gold occurrences over X-Terra's Troilus East property remains high.
Having chatted with CEO Ferreira recently, I learned we could see a drill rig mobilized to the project later this summer.
On the following map, note the prioritized exploration targets as represented by red stars. Note the scale on the map (lower right). Note the proximity of these exploration targets relative to TLG's 6.4M AuEq resource and Inmet's historic open-pit mine…
(nice map fellas)
The New Brunswick assets
X-Terra's 280 square kilometer Grog and Northwest projects, located along the McKenzie Gulch Fault in Northeastern New Brunswick, delivered a new gold discovery in recent weeks from an 11-hole drilling campaign staged earlier this year.
Grog
The target at Grog and is a large intrusion related epithermal system.
Management is drawing comparisons to the Appalachian Belt which hosts the Haile gold deposit in South Carolina (approx 4 Moz in resources).
The discovery at Grog is in hole GRG-20-012 which tagged 0.41 g/t Au over 36 meters (including 0.46 g/t Au over 31 meters and 7.59 g/t Au over 0.6 meters) at a vertical depth of 81 meters.
No, the grade isn't especially fat or sexy, but it's a broad intercept of mineralization suggesting a (potentially) large mineralized system lurking in the project's subsurface layers.
Thus far, GRG-20-012 is the only hole drilled into this newly identified structure.
It's important to understand that epithermal systems are often defined by sub-one-gram material. It's the scale and near-surface nature of the mineralization that moves the needle for these types of deposits.
With discovery hole GRG-20-012 and a disciplined approach to exploration—stacking both geophysical (induced polarization – magnetic surveys) and geochemical (surface sampling and trenching) data—the company can vector in on additional mineralization along the Grog target area with much greater confidence.
This new data will also allow the company to refine and generate additional high-priority drill targets across the entire setting.
CEO Ferreira again:
This is a significant exploration breakthrough on a property that's never been drilled and reinforces our expectations that a large epithermal system is present. While more in-depth geological work, which includes drilling is needed, X-Terra's management believes that the 11 holes (1,499 metres drilled) only covered a very small fraction of the targeted environment. Reaching a significant mineralized interval this shallow (from 107 metres to 143 metres, in GRG-20-012) is a milestone we were relentlessly pursuing after completing the limited field exploration programs based predominately on roadside trenching. The information obtained in this program will allow the detailed follow up on the Grog target but also allow X-Terra to refine and generate more high priority targets carrying the same geological characteristics to that of the Grog target. This provides a monumental shift moving forward.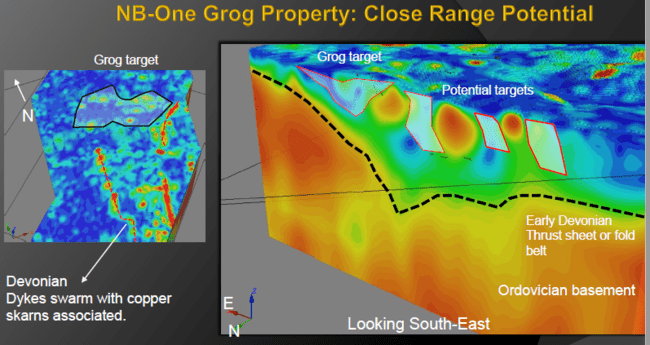 Northwest
On the Northwest portion of the company's NB land position, note the high-grade till samples suggesting a network of orogenic veins…
Bulk sampling on Northwest's Bonanza vein back in 2012 gave up 16-tonnes of material grading 24.37 g/t Au. That's some uber rich rock.
Initial drill results from a limited first pass drilling campaign tagged modest values, including 6.93 g/t over 0.5 meters at a depth of 34 meters. The company plans additional geochemical work to better home-in on the area's higher grade subsurface potential.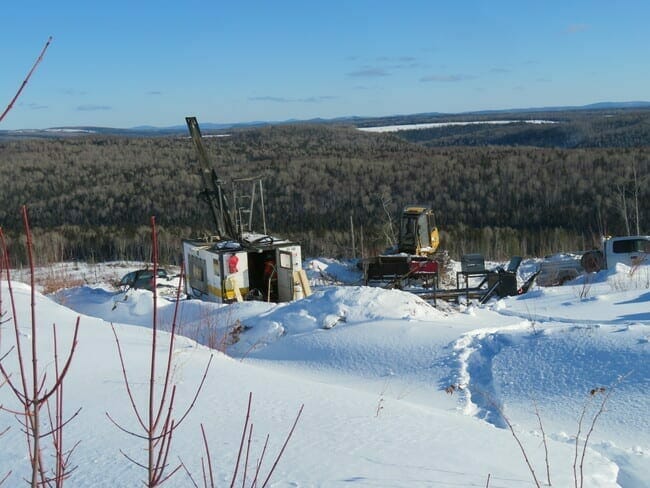 No matter how you size up the results, these are early innings at Northwest.
In a recent news release, the company stated:
X-Terra has put a temporary hold its work programs in New Brunswick due to provincial government response to the recent increase in Covid-19 cases in the Campbellton region zone 5, where the Grog and Northwest projects are located, which has led to significant restrictions on non-essential travel in New Brunswick. X-Terra will be closely monitoring the provincial government efforts in re-opening its inter-provincial borders.
At the helm
We quoted CEO Ferreira twice in this piece. The following adds a little more depth to the man in charge:
Mr. Ferreira is a successful entrepreneur who has provided strategic vision, planning and implementation for public and private companies for more than 9 years, primarily in the junior mining sector. He has experience in building effective exploration teams and delivering quality exploration results. He has established a deeply rooted network in the mining and finance community which have helped shape several publicly traded exploration companies.
X-Terra's key geo-consultants include:
Martin Demers, P. Geo
"Mr. Demers brings over 20 years of field geology, geophysical, data analysis, mineralogy (descriptive and applied), geochemistry, and 3D modelling. A graduate from UQAM (Bachelor's Degree in Geology) in '96, Martin has succeeded on many fronts, including that of the re-opening of the Casa-Berardi gold mine, the discovery of new zones, which ultimately led to the sale of Aurizon Mines to Hecla Mining in 2013 for $796 million."
Jeannot Théberge, P. Geo
"Mr. Théberge, a graduate from the University of Laval in '94 with a Bachelor's Degree in Geology, served as the mine geologist and chief geologist for both the Wrightbar and Donalda gold mines. He has held many consulting roles along his career, and participated in the discovery of the Moriss showing for Vantex Resources in 2010, and the Wasa Creek showing along the Cadillac Fault in Abitibi."
Final thoughts
X-Terra currently has a market cap of $4.71M based on its 62.8 million shares outstanding and $0.075 share price.
With drilling at its highly prospective Troilus East project set to begin in the coming weeks, this play should begin attracting a wider audience. Between Troilus East and Grog, we should see significant newsflow over the balance of the year.
END
—Greg Nolan
Full disclosure: X-Terra is an Equity Guru marketing client.