X-Terra Resources (XTT.V) is a junior explorer concentrating its efforts in James Bay Quebec and Eastern Canada.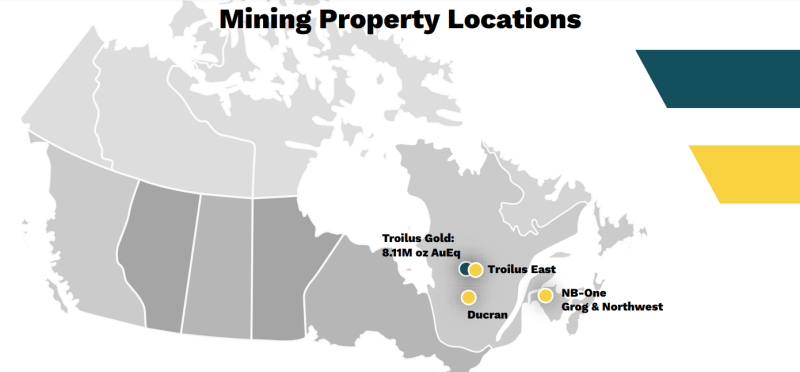 The property of focus is the Troilus East property. It sits adjacent to Troilus Gold which has an indicated and inferred deposit of 8.11 Million ounces. X-Terra's East Troilus property is only 2 km away from the former open pit.
X-Terra is betting on the vein to continue, and a new discovery to be made. This sets up an acquisition angle. Troilus Gold has acquired a property of UrbanGold for a total transaction of $19 million on March 23rd 2021. If X-Terra finds and develops a resource here, then we can theorize Troilus buying the property out to increase their 8.11 million ounce reserve.
There are a lot of criteria which increases the chance of a new discovery. The geology of X-Terra's property is similar to that of Troilus Gold!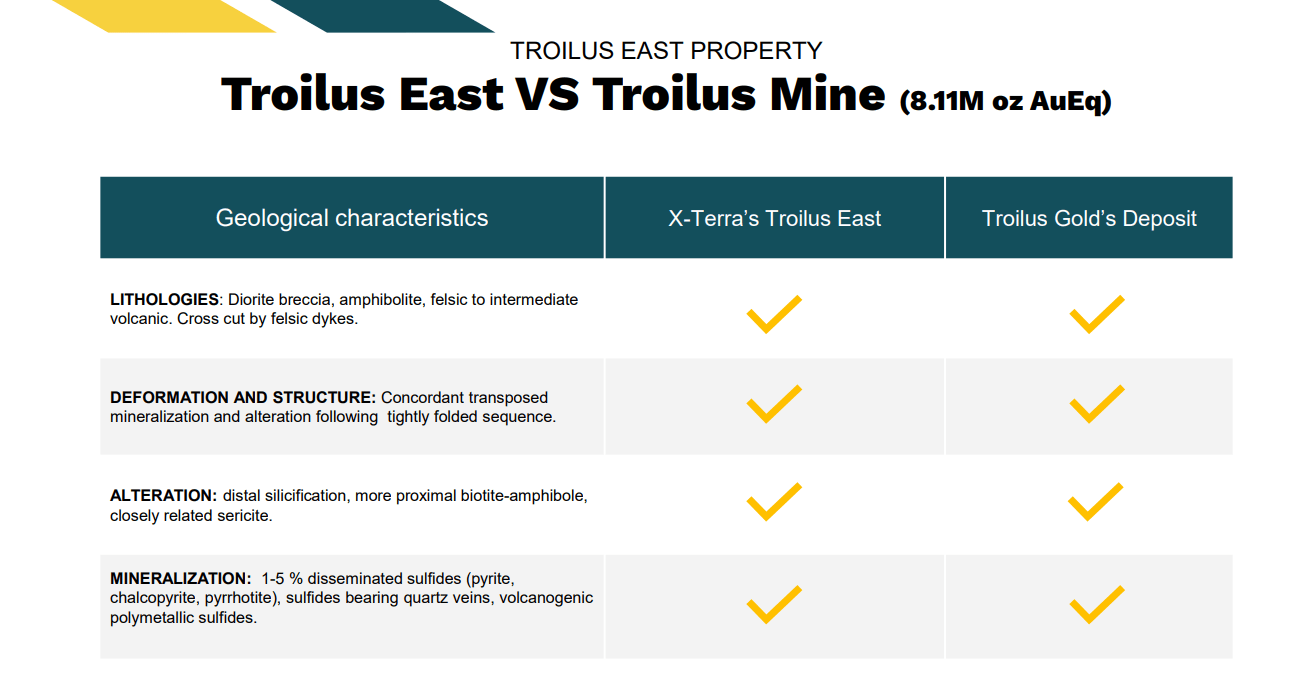 Many who read my mining pieces know I am bullish Gold and Silver. I trade the futures, I hold royalty and streamers for the long term, and I play the juniors since they follow Gold when it moves up, but on steroids. The criteria I look for are jurisdiction, management, and cash position. But it also helps when the property is adjacent to a previous discovery or producing mine, and/or shares similar Geological features.
Take a look at X-Terra's property in New Brunswick, and the similarities in Geology it shares with Haile Gold mine, a producing mine in South Carolina.
In terms of the other criteria, management is something we discussed in our investor roundtable. CEO Michael Ferreira provides a young fresh face in the mining industry. An up and comer. Other members of management have years of experience in the mining and financial sector.
Jurisdiction wise, Quebec and New Brunswick are good. Lot of producing mines in Quebec, and I would not call any of them 'Ak-47' jurisdictions. Seriously. Jurisdiction is important when considering investing in juniors.
Cash wise is always difficult for juniors. Since they are not making a profit, they will need to raise in order to have the funds for drilling.
Recent news from X-Terra details the completion of their phase 1 drill exploration program on Troilus East, where an important alteration system has been found and supports the initial validation of a high priority anomaly on the property. A second round of drilling is being planned and will be finalized after current assays are received and compiled.
Also a financing:
X-Terra announces that it intends to conduct a non-brokered private placement financing for aggregate gross proceeds of up to $2.1 million. The private placement will consist of up to 28,000,000 units to be issued at a price of $0.075 per unit. Each unit will be comprised of one common share and one common share purchase warrant of X-Terra. Each Warrant will entitle the holder thereof to acquire one additional common share of X-Terra at a price of $0.11 per share for a period of 24 months from the closing date of the private placement.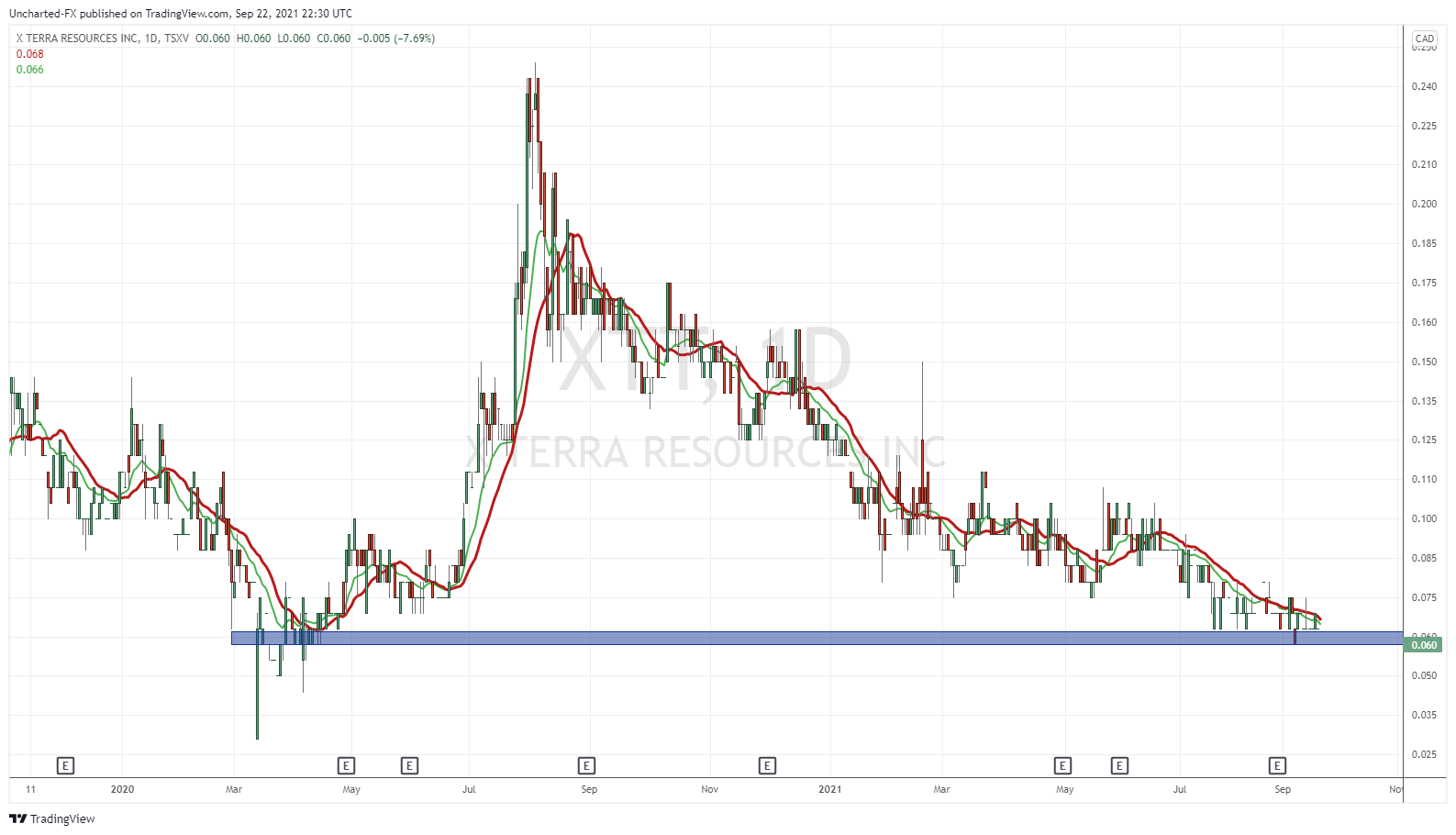 The chart is providing a potential bottoming entry as it is basically testing near recent record lows. If this $0.06 level breaks, we can see $0.05.
What the stock needs though is a catalyst. It needs a good reason for the stock to jump. It is this low for a reason. Management needs to raise cash in order to create a catalyst from drilling. This means the stock could range for a long time here until a catalyst triggers a pop. The market cap of X-Terra is just over $5 million and we have seen some days with plenty of volume. September 17th saw 334,000 shares traded.
I want to highlight price action back in June and early July of 2020, where X-Terra jumped from levels we are testing right now. Not saying this is going to happen again, but it tells us how important this support is. Again, cash is required, and I would personally wait a bit until some news comes down the pipeline otherwise my money may just be left ranging here.
Earlier I mentioned Gold moving and juniors following. This could be another trigger for XTT to pop. On a rise on Gold. Post Fed on Wednesday, Gold has rejected $1790. If we can close above this level and make a nice run over $1800, we might have a nice breakout pop on X-Terra.