Peak Gold—is it possible we've reached a peak in discovery, that we're now in a cycle of steady annual production declines? It's a subject/theory we've covered in some detail here, in these pages.
For sure, the low hanging fruit is mostly gone, plucked as it were. The vast majority of our planets high-grade near-surface ore bodies have already been discovered, and are either in production, under development, or exhausted… tapped out.
Miners are going deeper, where the quarry is elusive, and once delineated, costly to haul to surface. The Mponeng mine in South Africa is currently being mined to a depth of 4+ kilometers.
Speaking of South Africa, the country's current predicament may be proof positive—the smoking gun—that 'peak gold' is the industry's new reality.
Once boasting over 1,000 tonnes of annual gold production a half-century ago, South Africa produced a mere 101.3 tonnes in 2019.
When asked for his views on the subject two years back, consummate gold miner Ian Telfer stated:
"Are we bad at finding it? Or have we found it all? My answer is we found it all."
Read: 'We're right at peak gold': All major deposits have been discovered, declares Goldcorp chairman
Here's a telling little chart I pulled up the other day from S&P Global Market Intelligence…
That's the latest evidence. And that about sums things up.
Nexus Gold (NXS.V) dropped news today (May 21) that it had increased its landholdings in the Red Lake Camp, aka the high-grade mining capital of the world.
Read: Nexus Gold to Expand McKenzie Gold Project, Red Lake, Ontario
The two new claim blocks add 50 hectares to the company's holdings along the western section of McKenzie Island.
I know what you're thinking, "50 ha's is jack squat". Well, no actually. As a silviculture contractor, when I put crews to work on a 50-hectare setting, it required 60,000 seedlings (on a 3.2-meter grid) and upwards of 500 man-hours to cover and reforest.
50 ha's can be a substantial piece of ground.
All told, with the addition of these new claims, the McKenzie Gold Project now covers approximately 1,400 hectares.
The company acquired these additional hectares on the cheap: 400,000 common shares and a one-time cash payment of $4,000.
Nexus CEO Alex Klenman:
"We're happy to add ground to the McKenzie project, particularly on the island. Some of the more robust historical assays were obtained on McKenzie Island. By adding significantly to our island land position, we feel we've added value to the project prospectivity. We will look to implement a prospecting and sampling program on the new ground in the next couple of months".
Earlier this month, the company announced it had prioritized drill targets and that a phase one, (minimum) 1,000-meter, 10-hole campaign is on deck.
Nexus Gold Sets Drill Targets at McKenzie Gold Project, Red Lake, Ontario
This first phase program—expandable if the company likes the looks of the core—is designed to test the mineralized potential to depths between 100 to 200 meters on several gold targets occurring within a corridor located in the southernmost section of their claim block.
There appears to be no shortage of drill targets at McKenzie.
CEO Klenman again:
"We're eager to test and expand areas that have already shown high-grade mineralization in the past. There have been some narrow high-grade intercepts in this particular target zone, so we're hoping to build on that. We are also reviewing additional targets in the immediate area and could expand the scope of this initial campaign," continued Mr. Klenman"
This first pass with the drill bit will test targets along the southern contact of the Dome Stock (with felsic Volcanics) of the Balmer Assemblage where historic drilling tagged 7.49 g/t Au over 8.2 meters, 15.54 g/t Au over 0.8 meters (includes 23.4 g/t over 0.3 meters), 4.47 g/t gold over 1.4 meters, 17.02 g/t Au over 0.5 meters, 23.87 g/t Au over 0.2 meters, and 2.1 g/t Au over 5.5 meters.
Demonstrating continuity will be key with these narrow high-grade veins.
The precise location of these first phase targets are plotted on the map below: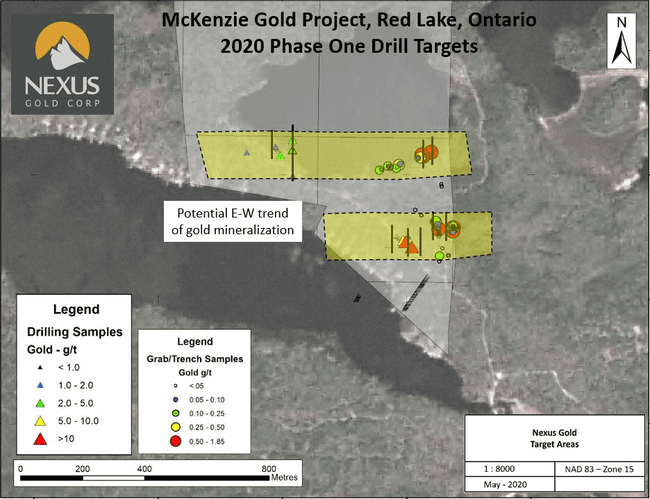 Note the scale on this map.
This drill plan is bolstered by a 2019 prospecting program that generated values like 135.4 g/t Au and 9.3 g/t Au.
Read: Nexus Gold (NXS.V) tags high-grade gold at McKenzie project, Red Lake Ontario
Also, some important historic data came into play last fall, courtesy of project consultants Rimini Exploration:
"Rimini compilation summary produced historical data the Company was previously unaware of regarding multiple historical grab samples taken on the McKenzie claim block. The Company had previously disclosed several high-grade historical grab sample results on the property, including 331.14 g/t Au, 18.02 g/t Au, 212.8 g/t Au, 313 g/t Au, 18.02 g/t Au and 9.37 g/t Au. In the summer of 2019 Nexus conducted its first ground reconnaissance program at McKenzie and results returned notable sample assays, including 135.4 g/t Au and 9.3 g/t Au (see Company news release dated June 25, 2019)."
"Additional high-grade historical grab samples previously unknown to the Company and revealed in the Rimini summary include several high-grade assays, including 142.49 g/t Au, 115.2 g/t Au, 114.57 g/t Au, 93.71 g/t Au, 68.03 g/t Au, 53.01 g/t Au, and 16.65 g/t Au from areas located on McKenzie Island (north block)."
Read: Nexus Gold (NXS.V) tables plans to drill Red Lake project
A drum role is appropriate at this juncture. Word of mobilization for rig and crew could come at any time.
There'll be eyes on this one as Nexus probes McKenzie's subsurface layers.
END
—Greg Nolan
Full disclosure: Nexus is an Equity Guru marketing client.