Last Friday I met an old friend – nicknamed "Fin" – for the first time six months.  We ate souvlaki in a noisy Greek restaurant.
A successful craniofacial surgeon, he talked about the challenges of his job and the joy he gets from his two grown sons (one is a professional skateboarder, the other writes code).
He also complained about the coronavirus assault on his blue-chip stocks.
After dessert, Fin's head dropped and he told me somberly, "Tonight, I'm going to ask Mary for a divorce".
When I asked why he wanted a divorce, he described the marriage as "No fun, no laughter, no sex".
Given our endemic psychological quirks (impatience, disillusionment, narcissism, horniness, detachment) and the intrinsic difficulty of marriage – a high failure rate is inevitable.
But this did surprise me.
Mary and Fin have been a couple since their senior year in high-school.
What happened over the next five days, surprised me even more
On Monday Fin texted: "We're doing better".
On Tuesday, Fin told me that he and Mary had made passionate love the previous night.
Yesterday, Fin sent a contemplative e-mail speculating that the laughter and fun in the marriage had stopped only because their physical connection had died.
"It's amazing," said Fin, "All this great sex is taking our minds off our joint equities portfolio which is getting absolutely destroyed."
In the midst of collapsing equity markets, Fin and Mary's resurgent marriage is not an anomaly.
During The Great Depression (1929-1933) divorce rates declined 25%.
During The Great Recession (2008-2009) all race and ethnic groups (except Asians) experienced declines in their divorce rates.
"Economic stress, job loss, and home foreclosure tend to be associated with marital tension and thus might be expected to increase the number of divorces," stated the Council on Contemporary Families, "But couples who can't sell their homes, or who have suffered a job loss, might end up postponing or foregoing a divorce."
"The National Marriage Project dubbed the drop in divorce 'a silver lining' to the Great Recession," stated The L.A. Times, "arguing that tough times were pulling many husbands and wives closer together."
The temporary good vibes between couples like Fin and Mary do not always spin out to the offspring.
One study showed that mothers were more likely to spank their children when they are fretting about money.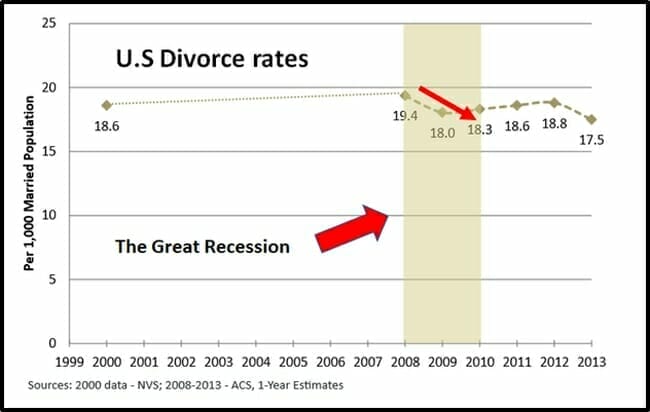 Late Wednesday night, U.S. President Donald Trump addressed the nation in an effort to assure the U.S. citizenry that he had a bigly masterplan.
"The virus will not have a chance against us," claimed Trump, "No nation is more prepared or more resilient than the United States."
Mr. Trump "painted a rosy picture of an economy that is already taking a beating from the virus fallout," stated CNN, "The President unveiled several measures to help on that score, to help workers who have to self-isolate and hard-hit by shutdowns, though his call for a payroll tax cut is not popular in Congress.
Trump announced a 30-day ban on travel to the US by Europeans and restrictions on cargo. The President later rushed to clarify on Twitter that he was stopping travel and not trans-Atlantic trade in goods.

Trump also said he had convinced health insurance providers to waive all co-payments for coronavirus treatments. A White House official later clarified the President had meant to say that co-payments would be waived for coronavirus tests – not treatments for the disease.

"This is the most aggressive and comprehensive effort to confront a foreign virus in modern history," Trump said, misrepresenting his own and his https://e4njohordzs.exactdn.com/wp-content/uploads/2021/10/tnw8sVO3j-2.pngistration's catalog of missteps, including the mass firing of scientists and a chronic shortage of testing kits.
After Trump's calming speech, Dow Futures dropped another 4%.
"Stock futures are pointing to more losses in U.S. stock markets Thursday after President Donald Trump delivered a speech on the coronavirus outbreak," reported U.S. News.
My parents were each married just once – to one another.  Through violent financial ups and downs, their union lasted 57 years.
When I passed their bedroom about a month before my Mother died, I heard them roaring with laughter – their voices tangled musically in the air.
Despite frequently disappointing results, our species is addicted to formal unions (marriage is wildly popular in all 196 of the world's countries).
This market carnage is giving sexless couples like Fin and Mary an opportunity to re-evaluate the intrinsic value of their marital union.
– Lukas Kane